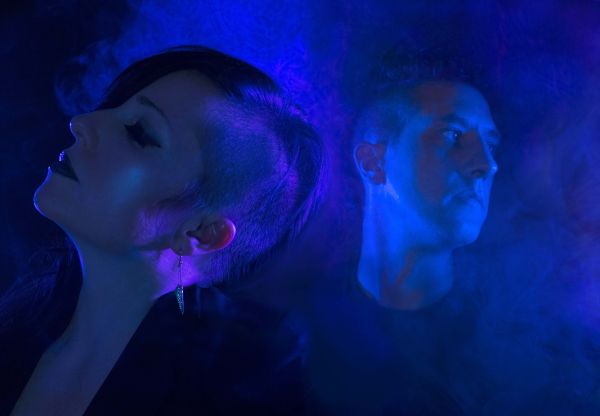 26 March 2019
LUCKYANDLOVE – Photo Credit: Chelsea Ray of TANGIENTS
It's not every day that a world-renowned artist gives you a pat on the back. Even more rare for one to pay you a compliment. Hey, most bands crave to even get a moment of their time – a foot in the door, so to speak. But for Los Angeles-based duo LUCKYANDLOVE, to their credit, they can at least say that they've had and held the attention of one Mark Burgess (The Chameleons), who had this to say about their debut album, released in 2017. "This music is fuckin great". Who can argue?
Now the band has announced their second album Transitions, which is going to be unleashed on the world in late May. These ten new tracks are preceded by the seductive, dark, and intensely beautiful single "Soul Alive", which sounds like it was created especially for a film like Strange Days. It is totally possible to imagine Ralph Fiennes falling into the groove on this track while engaging in some trippy virtual reality.
The Big Takeover is supremely pleased to host the premiere of this richly and deliciously atmospheric noir track.
Spectral synths expand into the void while a peppering percussive churn keeps the dazed-dreamy feeling from totally disappearing into the ether. April Love's dispassionate to wistful vocals diffuse into this mesmerizing sonic split, at first rich and velvety and then airy and hovering.
This music calls to mind such artists as Glass Candy, Ladytron, Crystal Castles, Metric, Le Tigre, and Phantogram. But you should not limit your expectations to these groups alone. Here you'll find the future but in a way that pays homage to synth heroes of yesteryear. Clan of Xymox's album Phoenix also makes for nice kinmanship with LUCKYANDLOVE.
LUCKYANDLOVE is April Love and Loren Luck. As with their 2018 debut album, the duo recorded Transitions with Grammy-winning engineer Be Hussey of The Comp-ny Studio.
"This is a very transformational record. Making it was an emotional journey with both heart-breaking and fun experiences because we are always in transition," says Loren Luck.
Continually inspired by U.S. 21st century music from Chromatics, Washed Out, Tycho and Phantogram, and still obsessed with U.K. 20th century gems from Cocteau Twins, Human League, and Gary Numan, LUCKYANDLOVE's sound dichotomy is dancing with darkwave vs. synthwave, electropunk vs. indiepop, electronica vs. dreamgaze. This electronic music often sounds indie because their Kraftwork-like analog control voltage synth layers are often reminiscent of noise pop guitars.
"We're having fun; at same time, there's much reflection on fun moments, like dancing in clubs or going to the beach… But we transition, going deeper into the unknown. On our first debut record, there were a lot of sky and space concepts introduced. For this second album, we get down right spooky. Like my brain keeps imagining a transition into 'rainbow body' while I'm playing 'Soul Alive'" says April Love.
"I play typical loud and bassy, control filter synths, and Loren has psycho beats and our spoon bending lyrical concepts brush up against danger, and suspense like in 'Dangerous Run Away'. These songs are up for interpretation cause this ride is totally up to you."
With support globally from Southern Record Distributors and Forced Exposure, the Transitions LP will be released on May 24 and will be available in record stores. However, the best bet for fans to secure their own copy (and to more directly support the band) is to pre-order it from their Bandcamp
LUCKYANDLOVE will be supporting their new album with a string of live West Coast dates that kick off on March 30 at Synthplex L.A., the West Coast's favorite analog synth festival and exhibition, which will also be featuring such music legends as Thomas Dolby. In June, their adventures bring them to the UK, where they will perform at London's Synthwave Live Festival, co-headlining with B-Movie, among other appearances. More dates will be announced soon, but for the ones below, you can order tickets already now at SongKick
TRACK LIST
1. Soul Alive
2. Animal (Wanna See You)
3. Dangerous Runaway
4. Bottomline
5. Dancing Alone Again
6. Summertime Frolic
7. It's a Mistake
8. Telekinesis
9. Medicine Woman
10. Rosary
TOUR DATES
Mar 30 Burbank, CA – Synthplex L.A. Mariott Convention Center
Apr 2 Oakland, CA – The Golden Bull
Apr 5 Portland, OR – Out From the Shadows Festival, Tonic Lounge
Apr 6 Olympia, WA – Le Voyeur
Apr 7 Santa Cruz, CA – The Crepe Place
Apr 13 Highland Park, CA – Highland Park Bowl
Apr 27 Pioneertown, CA – Deathwave Festival
May 16 Los Angeles, CA – Downtown L.A. Art Walk, The Lash
June 22 London, UK – Synthwave Live 3, Electrowerkz
June 24 Manchester, UK – The Peer Hat
June 26 Sheffield, UK – The Mulberry Bar
If we peer through the looking glass to a few years ago, we can also find what else LUCKYANDLOVE was up to. 'Digging in the Earth' and 'Sexy' are both on their debut self-titled album', released in 2017.
LUCKYANDLOVE
Website
Facebook
Bandcamp
SoundCloud
YouTube
Instagram
Twitter
Spotify
SongKick