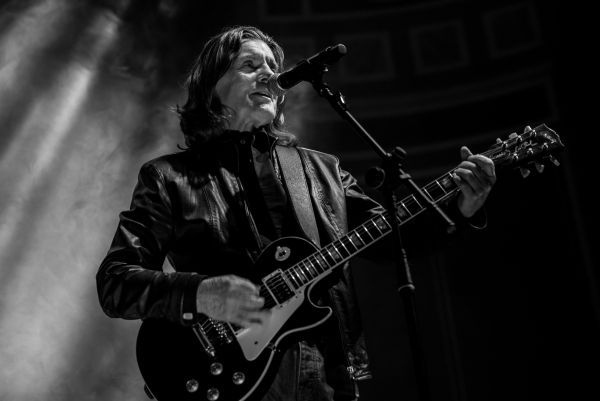 28 May 2020
Vince Melouney – Photo Credit: Michael Kohlhaas
"Women (Make You Feel Alright)," released via Burger Records, is the latest single from Australian guitarist Vince Melouney, who was a member of The Bee Gees during the band's initial wave of worldwide popularity from 1967 to 1969.
The track was originally recorded by Melouney's mates The Easybeats in 1966. Melouney's version was recorded earlier this year with legendary producer Shel Talmy, whose credits include The Easybeats' "Friday On My Mind," in addition to classic tracks by The Kinks, The Who, The Creation, and others.
Big Takeover is pleased to host the premiere of "Women (Make You Feel Alright)," which features Melouney on vocal and lead guitar. He's joined by Clem Burke of Blondie on drums and Jonathan Lea of The Jigsaw Seen on additional guitars, along with Alec Palao on bass and Paul Kopf on backing vocals, both of whom are members of the San Francisco-based band Strangers In A Strange Land and also play in the current version of veteran garage rock band The Seeds.
As a member of The Bee Gees, Melouney appeared on seven US Top 20 singles; "New York Mining Disaster 1941," "To Love Somebody," "Holiday," "Massachusetts," "Words," "I've Gotta Get A Message To You" and "I Started A Joke" plus five US Top 20 albums; Bee Gees' First, Horizontal, Idea, Odessa, and Best Of Bee Gees.
Melouney appears in The Bee Gees' forthcoming official documentary produced by Frank Marshall ( Raiders Of The Lost Ark, Back To The Future ) and Nigel Sinclair ( The Beatles: Eight Days A Week, George Harrison: Living In The Material World ) This film will be released by Universal Music Group later this year.
"Women (Make You Feel Alright)" in Melouney's hands turns into a brisk and gritty garage rocker, sliding along with jags of sharp guitar, a pouncing drum beat, jittery percussion, and snappy retro-vocals that will have listeners bopping along to the tuneful track.
Melouney comments, "This is a song I've always liked by my mates The Easybeats. I recorded it at a session recently in Los Angeles with producer Shel Talmy. We had a great time working on it, I'm very pleased with the finished track."