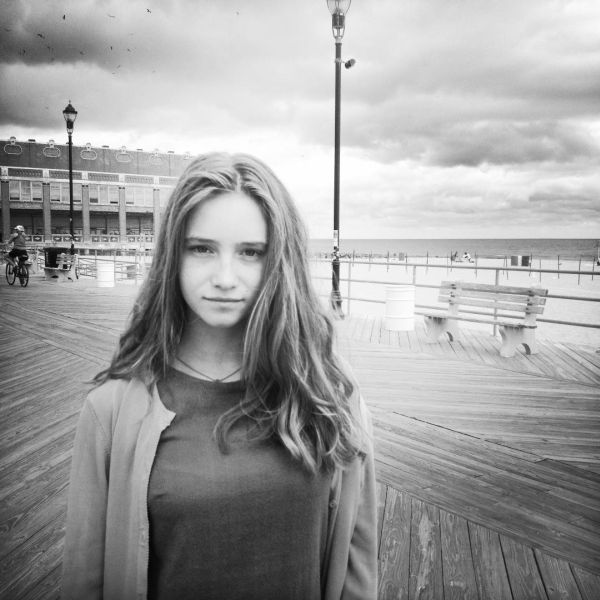 27 May 2020
Juniper – Photo courtesy of Michael Shelley
Fifteen-year-old Juniper Shelley has been singing for as long as she can remember. She grew up in a deeply musical home in northern New Jersey, absorbing the sounds around her and basking in the eclectic tastes of her dad, seasoned singer-songwriter and longtime WFMU DJ Michael Shelley.
Juniper is on the cusp of releasing her self-titled debut album, which arrives June 1st via Confidential Recordings and FabCom! Records. The 12 LP tracks reflect the young artist's expansive musical sensibility, while also embodying the interests of a normal teenage girl in 2020.
Juniper's catchy and enjoyable tunes range from lavish widescreen pop extravaganzas to understated studio performances, echoing the spirit of vintage pop, as well as Juniper's contemporary musical sensibility. Instrumentation runs the gamut from the typical guitar and drums set-up to added touches of keyboards, electric sitar, Latin percussion, harp, vibraphone, and Farfisa organ (which Juniper plays).
The album, which was produced by Michael Shelley, is also jam-packed with an all-star line-up of guest songwriters and musicians. Most of the songs were written by Juniper, or her and her father, but there are also some penned by Tommy Dunbar (Rubinoos) and Kyle Vincent, the now dearly departed Kim Shattuck (the Muffs) and Lisa Marr (cub), and Francis Macdonald (Teenage Fanclub).
Instrumentally, the Shelley family got an assist from the illustrious likes of Marshall Crenshaw, Dennis Diken (Smithereens), Chris Geddes (Belle & Sebastian), Jay Gonzalez (Drive By Truckers), Steve Goulding (Mekons, Nick Lowe), Ira Kaplan (Yo La Tengo), Chris Collingwood (Fountains of Wayne), Mark Spencer (Son Volt), Greg Townson (Los Straitjackets), and more.
Lead single "Boys! Boys! Boys! Boys! Boys" came out last year and it got spun a bunch by Rodney Binginheimer on Sirius' Underground Garage and was #1 at Radio Free Americana, as well as #1 at WPRB and WFMU.
Big Takeover is super-psyched to host the video premiere of the sweet ode to young love, "I'm Sticking With My Henry." The delightful DIY video focuses on the song's lyrics, with Juniper (well, her hand is what's seen) writing out the words in various bright marker colors, with some cute flourishes popping up here 'n' there.
Juniper gives some details about the song and the video, commenting, ""Sticking With My Henry" was a really fun song record. My dad wrote it, and I immediately loved it. I think he was inspired by a nylon string guitar we found at a Salvation Army store for $15."
"I find the main character really charming, and I liked that she was being true to herself. In some ways, the song is the opposite of [another album track] "Punk Rock Boy.""
"I made the "Sticking With My Henry" video sitting at my kitchen table. I stuck my phone to a microphone stand using a rubber band so that I could keep it still. It was fun to make, though there was definitely a learning curve. When I finished, there were a lot of crumpled up pieces of paper on the floor!"
Pre-Order digital download at Bandcamp
Pre-Order CD at Confidential Recordings
Pre-Order vinyl release at FabCom! Records