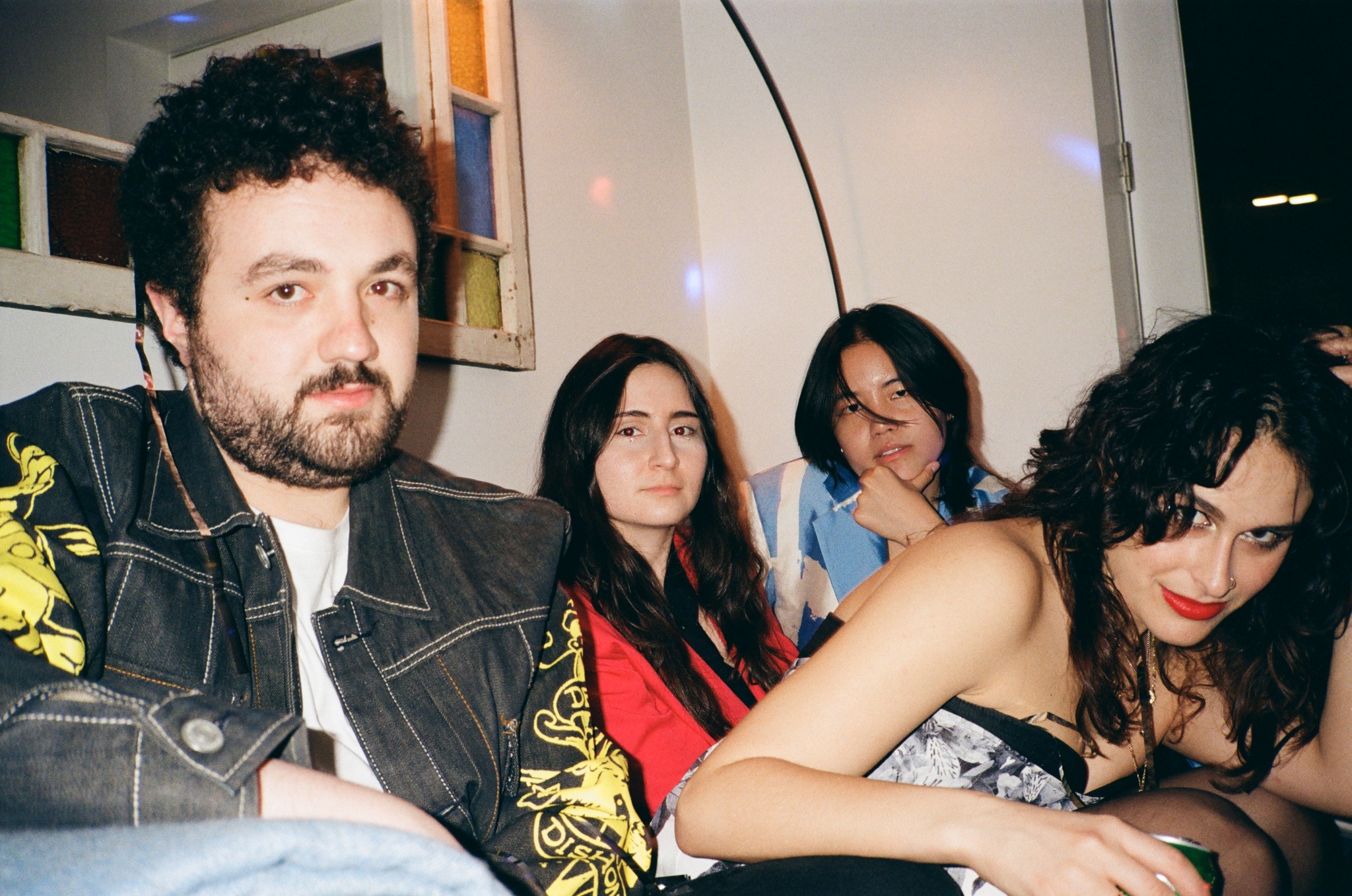 23 June 2022
Photo Credit: Natalie Tischler
Brooklyn alt-rock project partygirl is doing something incredibly important with their platform. The imaginative, maximalist indie rock band (formed by long-time musical partners Pagona Kytzidis and Colby Lamson-Gordon at Columbia University) write songs depicting the experience of Survivorship (those who identify as Survivors of sexual assault and rape) as a radical political identity and as a space for radical political action. As a Survivor, musician, and political organizer, Kytzidis formed partygirl to try to process her own sexual assaults and the resulting psychological and political trauma, and to challenge popular discourse on sexual assault and the violence of misogyny.
It's heavy. It's groundbreaking. And it's like nothing we've heard before. Drawing inspiration from artists such as Queen, Mitski, Fiona Apple, Elliott Smith, Led Zeppelin, Radiohead and St. Vincent, partygirl creates a unique and forward-looking sound that is completely its own. Through their music, partygirl imagines a new world based on feminist praxis, radical Survivor identity, and a rejection of our present-day dystopia.
Today, The Big Takeover is excited to debut this brand new project with their lead single "good night" (the first song off their upcoming EP). "good night" is a rock song you can dance to while also crying. The guitars, bass and drums move and groove; the horns add a countermelody that emanates sadness, and the lyrics are both sardonic and desperate. It's a song about searching for control in a world that is falling apart, and yearning for meaning, permanence, and truth in this reality. It is about the moment you realize 'things are falling apart, and the center cannot hold' and through that all you are clinging for the center as it is dissipating (and you with it).
We sat down and had a chat with frontwoman Pagona Kytzidis about what partygirl means to her.
The Big Takeover: Hi Pagona! First of all, we wanted to say how excited we are about this new project, partygirl. What an amazing platform you're making to talk about these issues. Could you tell us about what inspired the project and what brought y'all together as a band?
Pagona Kytzidis: The idea for partygirl began in the early April 2021 when I [Kytzidis] had survived what amounted to my fourth sexual assault, and so I found myself reckoning with my Survivorship, or my experience as a person who has endured multiple sexual assaults, in a more visceral way than ever before. As a musician, organizer, and writer, I wanted to create a multidisciplinary project to ground Survivorship as a radical political identity and a site for radical political action. As I see it, Survivors have a lived experience; we have a language to speak to each other; we have a natural solidarity; we have a materialist consciousness. We do not have a real movement or genuine space in popular discourse. This is what partygirl seeks to begin to develop.
Colby and I [Kytzidis] have been playing together since Fall 2017, which was our freshman year of college. When the idea for 'partygirl the project' hit me, Colby was the first person with whom the idea was shared and was the first person to help make the idea, musical and political, in my head a reality. Alec [saxophone/vocals] came on board in September – Alec, Colby and I are all friends from Columbia – and Colby and Alec were actually roommates through the 2020-2021 academic year. I then dreamed of finding a person to join the band as a lead guitar player and producer, and then, Colby, attending the show of one of our friends, met Fran [lead guitar/production]. Fran was exactly the person we were looking to find so Colby pitches Fran the project, and Fran joined partygirl in full a month later in November 2021. And in good time: a month later, we began working on the EP with Fran as our producer. In April 2022, we were incredibly lucky to see an ad that Jonathan [drums] posted on Instagram and so we contacted him. Almost immediately during our first rehearsal together, we knew he'd be perfect as partygirl's drummer and he was in by the end of that night.
BT: Thank you for sharing this with us. What an incredibly meaningful and important project. I'd love to hear more about your sonic influences too. I love how maximalist your sound is — it really is larger than life and very cinematic, especially on your debut single "good night." Who are some artists that influenced your sound?
PK: We pull from a lot of influences – from classic rock (Led Zeppelin) to jazz (Charles Mingus) to today's experimental art rock (Moses Sumney). Our most all-encompassing influences (everything from chord voicings to song structure to vocal performance to production) are Queen (A Night at the Opera), David Bowie (Ziggy Stardust and the Spiders from Mars), Radiohead (The Bends), St. Vincent (Strange Mercy), Fiona Apple (When the Pawn…) and Hiatus Kaiyote (Choose Your Weapon). We write and arrange our songs with this maximalist goal as a critical part of partygirl's political project: not only does the ensuing drama of the songs reflect the emotional and psychological experience of Survivorship, but also by making everything bigger, more complex, and intricate, we are that the music is meant to express that the world must change because how we are living is unacceptable – an assertion that seeks to combat the "end of history" thread of neoliberalism and the cynicism and nihilism that plagues our society.
BT: Yes! Love all those artists. So… we gotta ask… you're gearing up to release your debut EP. What can you tell us about the record and what it means to you?
PK: The EP is a six-song introduction to partygirl. In each song, the EP seeks to capture snapshots of Survivorship, from grappling with the pain of 21st century impermanence and instability, to the emptiness that arises when I [Kytzidis] reduced my Self to be intelligible to others, to the rage I've felt when my Survivorship is pathologized. To us, the EP represents the very beginning of the partygirl project and as such, a means to bring the spirit of radical Survivorship to the public arena.
BT: What do you hope fans/listeners take away from it?
PK: I [Kytzidis] hope fans and listeners, especially Survivors, are able to connect to the music and find comfort in knowing they are not – they are never – alone. I hope we can come together to build Survivor worlds – through art and politics, where everyone's Selfhood is celebrated. To people who have not endured sexual assault, I hope the music offers a window into our experience and a means for empathy to transform into actual political, social, and cultural change. And of course, I hope that fans and listeners will want to help us revolutionize rock n' roll, merging the old with the new, and flipping the epistemological script, to be "extra" because things matter and if we don't try, we'll have nothing left.
Stream "good night" early below. It comes out tomorrow (June 24th) on all DSP's. Give them a follow at @partygirl.band and stay tuned for more music coming from them soon.
website
facebook
twitter
instagram
bandcamp
soundcloud
youtube