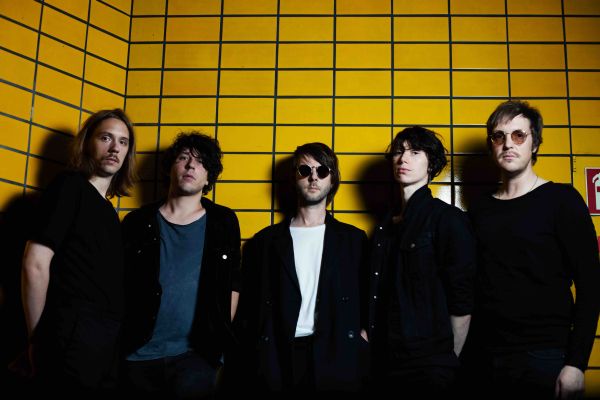 12 October 2018
HOLYGRAM – Photo Credit: Yves Christelsohn
Today we present you with the North American premiere of "A Faction", the second single to be released from HOLYGRAM's new album Modern Cults. Comprised of eleven tracks, this album will be released on CD and double vinyl, as well as digitally via Cleopatra Records in North America and Oblivion / SPV in Europe on November 9th. We're also pleased to announce that today the band kicks off their 40-date tour of Europe and North America with electronic buzz artist VNV Nation.
Produced by Maurizio Baggio, who also produced The Soft Moon's Deeper and Criminal albums, this is the first major release for the Cologne, Germany-based outfit since their 2016 self-titled EP. With the obvious references to such bands as Jesus & Mary Chain, The Chameleons, Clan of Xymox, and Section 25, there is something incredibly enticing about a band who so seamlessly combines New Wave, post-punk, Krautrock, darkwave, and shoegaze. The result is a heady dose of reverberating ecstasy.
HOLYGRAM is comprised of Patrick Blümel (vocals), Sebastian Heer (drums), Marius Lansing (guitars), Pilo Lenger (synthesizers), and Bennett Reimann (bass). Formed in 2015, the band's approach to making music references the past, while remaining future-oriented. Hard-to-combine elements cleverly come together to become the soundtrack of a city that can appear mysterious and ominous in the twilight.
The new video underlines the themes HOLYGRAM explores on this album – large urban spaces, alienation and anonymity, hope and memories, love and identity. These reflections interact closely with the band's unmistakable signature sound. A drifting atmosphere oscillates between the brutal sounds of the big city and the fragility of the people who lose themselves in it – intelligently observed scenarios of a world falling apart in which individuals have long ceased to play a leading role.
"Faction" is cloaked in a New Wave guise that belies emotionally torn lyrics, elevating the deeply melancholy chorus ("Sometimes when I close my eyes I see you walk away / And every time the sun comes up the feeling is the same") to a pop-like anthem, illustrating that in this world people are only cogs in a much bigger, increasingly autonomous machine.
The band recently accompanied British synth-pop legends OMD on their 2017 European tour and have played numerous festivals, including Mailfeld Derby, Wave-Gotik-Treffen, and New Waves Day. Wrapping themselves in dense wafts of mist and cool lighting on stage, they've made quite a name for themselves on the live circuit.
As of November 9th, the Modern Cults LP will be available everywhere. In North America, it can already be ordered via Cleopatra Records on CD and vinyl, and also digitally via Bandcamp.
HOLYGRAM will be touring Europe and US/Canada this fall with one of the biggest electronic bands on the planet, VNV Nation, as well as DE/VISION for the North American tour. They will hold two release shows – the first, in Cologne on Nov. 9th, marks the end of their European tour, while the Los Angeles release show on Nov. 14th (at The Viper Room) kicks off their North American tour.
TOUR DATES
EUROPE with VNV Nation
Oct 12 Dresden (DE), Alter Schlachthof
Oct 13 Erfurt (DE), Stadtgarten
Oct 14 Stuttgart (DE), Im Wizemann
Oct 16 Prague (CZE), Futurum
Oct 17 Warsaw (PL), Progresja
Oct 19 Eindhoven (NL), Effenaar
Oct 20 Cologne (DE), E-Werk
Oct 21 Sint Niklaas (BL), De Casino
Oct 23 Amsterdam (NL), Melkweg
Oct 24 Bielefeld (DE), Ringlokschuppen
Oct 26 Berlin (DE), Columbiahalle
Oct 27 Magdeburg (DE), Altes Theater
Oct 28 Munich (DE), Muffathalle
Oct 30 Frankfurt (a.M.) (DE), Batschkapp
Oct 31 Leipzig (DE), Haus Leipzig
Nov 01 Rostock (DE), M.A.U. Club
Nov 02 Hamburg (DE), Mehr Theater am Großmarkt
Nov 03 Albertslund (DK), Forbrændingen
RELEASE SHOWS
Nov 09 Cologne (DE), Gebäude 9 with Whispering Sons & Swirlpool
Nov 14 Los Angeles, CA The Viper Room
NORTH AMERICA with VNV Nation & DE/VISION
Nov 16 Austin (TX), Barracuda
Nov 17 Houston (TX), White Oak Music Hall
Nov 19 Atlanta (GA), Masquerade
Nov 20 Ft. Lauderdale (FL), Culture Room
Nov 21 St.Petersburg (FL), Jannus Live
Nov 23 Philadelphia (PA), Union Transfer
Nov 24 New York (NY), Irving Plaza
Nov 25 Boston (MA), Royale
Nov 27 Montreal (QC), Corona Theater
Nov 28 Toronto (ON), Danforth Music Hall
Nov 30 Detroit (MI), St. Andrews
Dec 01 Chicago (IL), The Metro
Dec 02 Minneapolis (MN), Skyway Theatre
Dec 04 Denver (CO), The Oriental Theater
Dec 05 Salt Lake City (UT), Metro Music Hall
Dec 07 Seattle (WA), Neptune
Dec 08 Portland (OR), Roseland Theater
Dec 09 Vancouver (BC), Imperial Theatre
Dec 12 San Francisco (CA), Regency Ballroom
Dec 13 Los Angeles (CA), The Wiltern
Dec 14 Tempe (AZ), Marquee
Dec 15 Las Vegas (NV), Backstage Bar
We also recommend you check out two other videos for tracks on this album.
HOLYGRAM
Website
Bandcamp
Facebook
Instagram
YouTube
Spotify
iTunes
Deezer