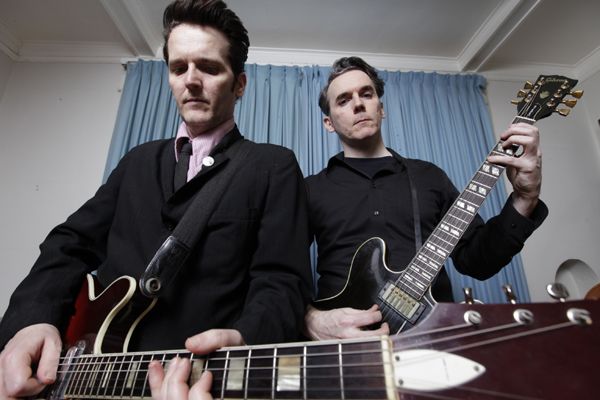 12 October 2018
The Safes (L-R): Frankie O'Malley – Patrick O'Malley/Photo Credit: Andrew Ballantyne
Chicago-based rock 'n' roll/power pop duo The Safes, composed of brothers Frankie and Patrick O'Malley, spend much of their time on the road, touring the world to promote their music. This non-stop, can-do attitude has led to many opportunities, from touring Japan for the first time earlier this year to landing two record labels and touring Spain this past September.
And some of their good fortune has been unexpected, but welcome, like joining the roster of American Laundromat Records and recording a 7" tribute to legendary alternative rockstar Juliana Hatfield, one of the band's favorite artists.
This record comes out today and was engineered by the renowned Steve Albini at Electrical Audio. To turn this up to 11, The Safes asked their friends Ted Ansani and Mike Zelenko of Chicago's one-and-only legendary power pop trio Material Issue to be the rhythm section for this recording.
The Safes crank it up for two of Hatfield's earlier hit singles, with Side A being "Universal Heart-Beat" from her 1995 Universal Records release Only Everything and the B-Side being "I See You" off of Hatfield's 1992 debut solo album Hey Babe on Mammoth Records, which American Laundromat did a 25-year anniversary reissue on vinyl earlier this year.
The Big Takeover is pleased to host the premiere of the video for The Safes' kicky, rocking cover of "I See You", one of the two tracks off the record. In the video, which was directed by James William Glass, found footage unreels, from vintage commercial clips and film snips. All of this is overlaid by a graphic artist hand's drawing out designs in black ink over the moving images.
Juliana Hatfield herself reveals her feelings about the band's tribute to her, stating, "I'm so tickled by The Safes' joyful, lovable versions of my two songs! I think they really captured the essence of what the songs were, and still are, trying to say, which is that there is always hope to be had."
Tour Dates:
October 13, 2018 – Leftys – Des Moines, IA
October 19, 2018 – Loose Cobra – Tolono, IL
October 20, 2018 – The Sinkhole – St. Louis, MO
November 2, 2018 – Mickeys – Madison, WI
November 3, 2018 – Eagles Club – Minneapolis, MN
November 9, 2018 – Quarters Rock'n'Roll Palace – Milwaukee, WI
November 10, 2018 – Lyric Room – Green Bay, WI
November 16, 2018 – Digbys – Lafayette, IN
November 17, 2018 – Tip Top Deluxe – Grand Rapids, MI
November 21, 2018 – Schubas – Chicago, IL