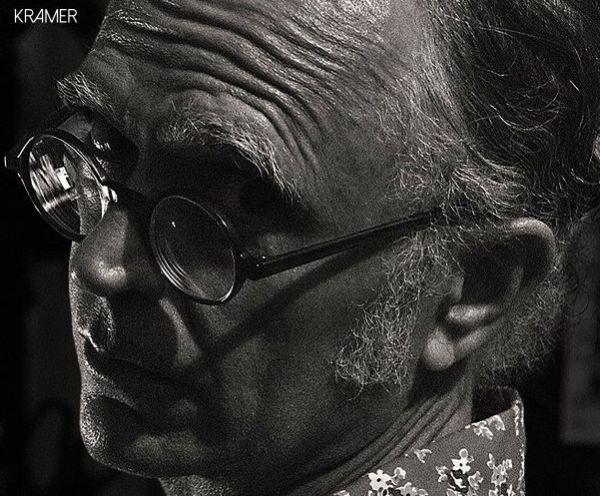 12 November 2021
Kramer – Photo Credit: Kramer
Today, the renowned producer, musician, and curator Kramer shares his brand new LP, WORDS & MUSIC, Book One, via his own label Shimmy-Disc, as well as Joyful Noise Recordings.
Alongside the release, he has shares the album's focus track, "AT APOLLINAIRE'S GRAVE," with words by legendary poet Allen Ginsberg, music by Kramer, and a music video by Ryan & Debbie Hover.
Big Takeover is pleased to host the premiere of the rambling, yet reflective track and music video.
Speaking of "AT APOLLINAIRE'S GRAVE," Kramer comments:
""AT APOLLINAIRE'S GRAVE" has always been one of my favorite poems by Allen Ginsberg. I'd seen/heard him read it at St Marks Church more than once in the 1980s (including one time in particular, when Gregory Corso was heckling him from the crowd), but i had never heard this Library of Congress recording of him reading it until Michael Minzer sent it to me."
"When Allen and I were working together at Noise New York in 1987 on a song called "Dear M," I had told him that I'd wanted to compose music for his ode to Apollinaire, but we'd just never got around to it, as our respective schedules just never coincided. He was their hardest working poet on earth, always accessible to any young writer or poet, looking for guidance. And now he is gone."
"But his words will never die, and the gentle thunder of his voice rings eternal. Few poets wielded the kind of power Allen possessed. He was Zeus tossing words of lightning down from Olympus, like so many raindrops. I was lucky enough to have been caught up in a few of those storms, at least for a little while."
"This piece from my WORDS & MUSIC, Book One LP has been in-the-making for almost 40 years. I hope it speaks to you, just as Allen always spoke to me…with Love."
Kramer also delved into his new record and its concept. Excerpts are below:
"It all began with a commission from Michael Minzer for me to compose music for Gregory Corso's 'ARMY.' Once I'd put music beneath that extraordinary voice, I simply couldn't stop."
"Ed Sanders (who'd ushered me into that scene) once told me that when he came to NYC, it was easy to go into a cafe or to St Marks Church and hear Burroughs, Corso, Ginsberg, Snyder, Waldman and all the greats, reading their poetry. He said that even if you were just "a nobody, like I was", you could just walk right up to them and start a conversation. They were totally accessible."
"I finally made WORDS & MUSIC, Book One. The words are [the poets']. The music is mine. Together, they're yours. And they're on vinyl, where they belong." Kramer is already working on Book Two.