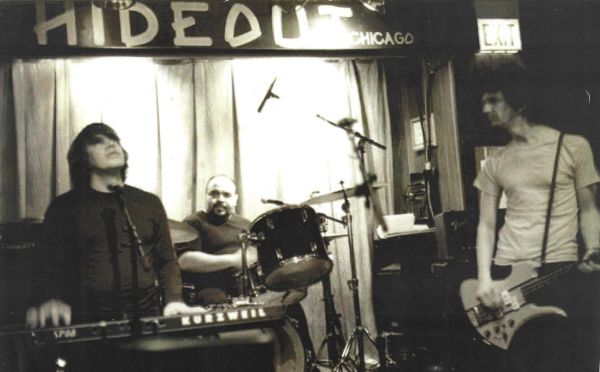 11 November 2021
Hushdrops – live – Photo Credit: Kim Beatty
The Static is the latest and potentially last final release from Chicago-located indie rock supergroup, Hushdrops.
Big Takeover is pleased to host the premiere of the turbulent to contemplative, gritty, and tuneful album in its entirety today. The LP runs from slacker indie rock to sincere Americana and trippier psychedelic rock.
Restless and rumbling rock guitar riffs to psychedelically meandering guitar lines, shadowing low-end bass, emphatic drum strikes, and heartfelt, yet casually wandering vocals sometimes bolstered by twinning harmonies punctuate each reflective to rousing indie rock number.
Touches of strings and/or organ/piano notes grace specific segments of various songs, and even the smoothest number usually packs some fiery guitar power.
Work on The Static was completed just after the tragic, sudden, and untimely death of Hushdrops drummer Joe Camarillo (at 52), and now exists – in part – as a final tribute to Camarillo's inimitable musical gifts.
Bandmates John San Juan and Jim Shapiro have always regarded Camarillo as the soul of the band – not only for his unparalleled feel and creativity as a drummer, but also his ability to crucially drive the musical direction of each project, performance, and song – typically as a modest, unseen hand ("The Soft Alpha").
San Juan feels that The Static features some of Camarillo's most free and magical drumming: "Better to celebrate than to mourn him, and he has given us an abundance of very special playing to celebrate."
Though all three have given freely of their time and talents over the years (San Juan to Material Issue, Liam Hayes / Plush, Josh Caterer, the Webb Brothers, Kevin Tihista, etc., Shapiro to Veruca Salt, and Camarillo to the Waco Brothers, NRBQ and many more), it was Hushdrops that each considered his musical and spiritual home.
"None of us played like this with anyone else," says Shapiro. After briefly drifting apart following the touring/promotional cycle for 2014's Tomorrow, the music on The Static was developed with all of the renewed dedication, energy, and purpose of three friends/musical soulmates – more thankful than ever to have returned to their natural collaborative state.
Singer/multi-instrumentalist John San Juan muses, "Early on in the making of this record, I joked about it being 'our Abbey Road' – never having any idea just how much truth that statement would contain in the end."
"If it is to become our finale, we could do much worse – it seems to cover a lot of bases: the ephemeral nature of our peak experiences and our best selves, the scarcity of effective interpersonal communication, and – musically – our unending quest to perform as if the tape weren't rolling."
"Every record I've made with Joe and Jim has started out as a love letter to my band: I'd say this one takes that premise to its logical conclusion. If the only thing we captured was 'spirit', that seems perfectly fine."