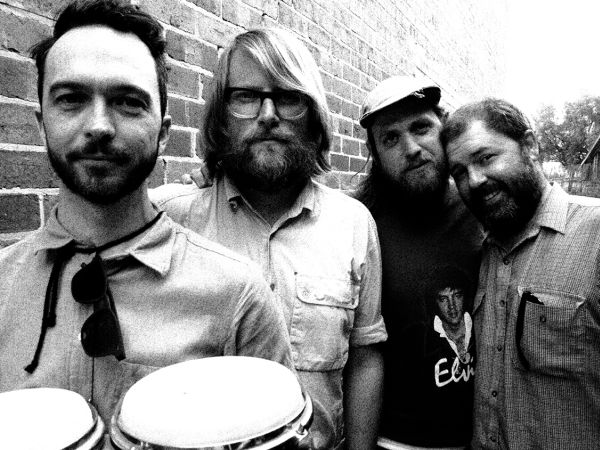 21 March 2019
Monnone Alone – Photo courtesy of Monnone Alone
After recently releasing their first new material in over five years, beloved Melbourne outfit Monnone Alone has returned for seconds with the single "Do It Twice" late last month and a new video for the tune which premieres right here at The Big Takeover.
Despite a misleading nom de plume, the off-kilter indie pop group, led by ex- Lucksmiths bassist and Lost and Lonesome label head Mark Monnone, continue to build from their humble solo beginnings while maintaining a winsome haze of collective introspection.
Now featuring Joe Foley (Aleks & the Ramps) on bass, Louis Richter (Mid-State Orange) on guitar, and Gus Franklin (Architecture in Helsinki, The Smallgoods) returning to the throne having played drums on (and co-produced) the outfit's first album Together at Last, Monnone Alone have finally resurfaced with recent track "Cut Knuckle" and newcomer "Do it Twice", out via The Lost And Lonesome Recording Co.
Recorded and mixed by Gareth Parton, assisted by Franklin, "Do It Twice" is Monnone's rollicking mid-life sing-along is an ode to second chances and graciously sabotaging life's opportunities – just for kicks. On the song, Monnone asks to see his past moments of interpersonal discomfort, and then raises them a double-whammy to see if they'll all crash and burn one more time so he can revisit that awkward adrenaline rush and feel those "fever sweats and forever shakes."
The video for the brisk, sweeping, and harmony-laden power popper features Monnone and the rest of the band members playing their instruments and performing in front of the camera while projected vintage footage runs in the background. The band create a glorious racket with Monnone's growing collection of fuzz pedals and layers of shining vocal harmonies. "Do it Twice" showcases Monnone's proclivity for a winsome turn-of-phrase and bruised-but-beautiful melodies.
Mark Monnone has graciously taken the time to explain the meaning of "Do it Twice" in more detail, as well as going into the process of making the cool video for the track:
"Our new single "Do it Twice" is written from the point-of-view of a mid-40s gentleman, looking back over the years and realising his greatest achievements – the things that have really left an imprint on his being and still bring a twinkle to the eye – are the things that didn't work out so well; awkwardly handled social interactions, frustrating miscommunications, situations that went monumentally wrong and made the heart beat ever faster and really fire up the perspiration glands."
"When it came time to making the video with director/cinematographer Lily Youngsmith we felt it needed to convey the same sense of clumsy nostalgia that the song was dealing in. With this in mind, it was obvious the first thing we needed to get our hands on was a green screen."
"As a young chap, growing up in the 70s and 80s, I was a sucker for the magic of the green screen – maybe it was the Dr Who fan in me, but when done 'badly' it had other-worldly qualities to it. I think, to this day, badly executed green screen remains one of my favorite memories of childhood."
"Bands like Madness, Talking Heads and Orange Juice all left an impression with their hilarious performances which, I now realize, could be attributed to performing in front of a chintzy green curtain."
"Accordingly, the guys in the Monnone Alone band – Joe, Louis and Gus – really brought something special to the early morning shoot, and Lily (with her budget level mini DV camera) had it all wrapped up within a few rather painless hours."
"The final aesthetic touch was to find the right background for the clip and, as luck would have it, our friend Miles had recently come across some super-8 home movies from what looks to be 60s or 70s-Australia, at a garage sale. Thanks Miles!"
Be sure to catch Monnone Alone when they hit East Coast (of Australia) with shows in Melbourne, Canberra, and Sydney this month and and in April.
Monnone Alone "Do It Twice" Tour Dates
Friday 29 March – Secret Collingwood location Melbourne VIC
Supports: TBA
Follow Monnone Alone Facebook for secret location.
Friday 12 April – Polish White Eagle Club, Canberra ACT
Supports: Dog Name + Petre Out & the Tyreslashers
Tickets&
Sunday 14 April – Botany View Hotel, Sydney NSW
Supports: Even As We Speak
Free Entry
Facebook Event
"Do It Twice" w/ b-side "The Sea and the City" is out digitally since February 22 via The Lost And Lonesome Recording Co in Australia. Limited 7" vinyl available HERE
The single is also available via Emotional Response (USA), Royal Mint (Finland), and Meritorio (Spain).