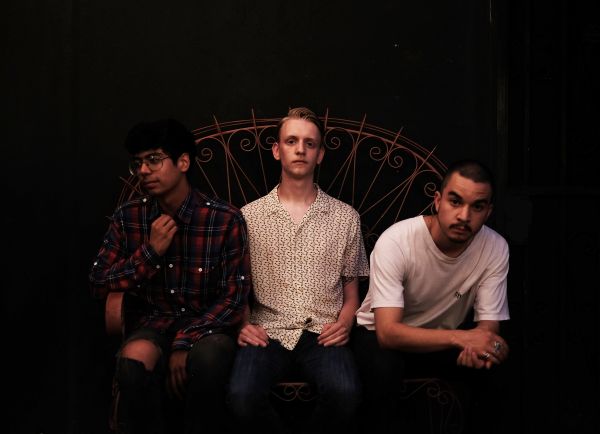 20 March 2019
Sleepspent – Photo Credit: Jesse Corbin Maynes
El Paso-based indie rock trio Sleepspent is a band that manages to simultaneously deliver an intimate and lively presence, creating emotional imagery through both their lyrics and their melodic and atmospheric sound. The outfit's founder Austin North floats his voice atop his reverb-drenched guitar riffs, and often soars through bold melodies that reveal the band's indie rock and shoegaze influence.
While North is the heart of Sleepspent, his music project is a full-fledged three-piece in the live setting. Debut EP It's Better If You Don't Speak Or Think was released on May 4th of last year and had its premiere right here at The Big Takeover.
The band released two singles from that record, "Something" and "Come Smile With Me". This past November 8th, they released the standalone single "California" and its moody, nocturnal accompanying video. That number was produced by Chris Common (Chelsea Wolfe, Le Butcherettes, Minus The Bear).
Sleepspent now return with atmospheric and dynamic indie rocker "Noise", North's most personal song to date, and The Big Takeover is proud to host its premiere. The restless, fuzzed-out track marches forward with an emphatic drum beat and is propelled by bass line surges and dreamy to fiery guitar lines. A subdued North quietly intones his lyrics on the verses, but then bursts into a rich and yearning keen on the chorus, arching into an airy falsetto amid his passionate exclamations.
As for the deep and relevant lyrics of "Noise", North reveals, ""Noise" is an important song for me, personally. Writing it was my way of acknowledging my experiences as a gay man, and how my own internalized feelings about my sexuality have developed as I've grown. The song explores the idea of being in the closet, having to hide a key part of your identity, when you so desperately want to express yourself—both from an internal perspective and from an external perspective."
North concludes, ""Are you thinking about boys? I know the feeling and it's all noise" I think that line lays it all out. I felt the need to express myself from the anxieties and uncertainties inherent in growing up confused about your identity, to the sudden realization that one has to take control of their life and own who they are."
TOUR DATES
Thursday March 21st – Ruidoso NM – Enchanted Vines w/ Red Light Cameras
Friday March 22nd – El Paso TX – Monarch w/ Red Light Cameras
Saturday March 23rd – Marfa TX – Lost Horse Saloon w/Red Light Cameras
Sunday March 24th – Santa Fe NM – Tumbleroot Brewery w/ Red Light Cameras
Thursday April 11th – Albuquerque NM – Launchpad More Info
Friday April 12th – Denver CO – Seventh Circle
Saturday April 13th – Ft Collins – Pinball Jones More Info
Monday April 15th – Spokane WA – The Pin More Info
Tuesday April 16th – Tacoma WA – Real Art Tacoma
Wednesday April 17th – Seattle WA – The Crocodile B.B. More Info
Thursday April 18th – Pullman WA – Humble Burger
Friday April 19th – Provo UT – The Rad Shack
Monday April 22nd – Tucson AZ – Dungeon
Website
Facebook
Twitter
Instagram
YouTube
Bandcamp