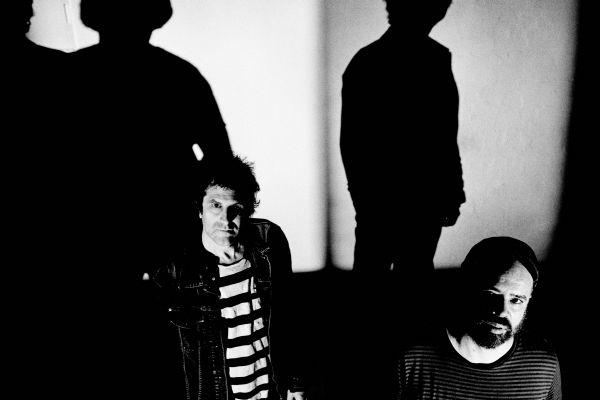 16 November 2018
Swervedriver – Photo Credit: Steve Gullick
"Space travel rock 'n' roll"
That's how Swervedriver initially self-identified their sound. This was back in the 1990s, before the dreams and aspirations of the Computer Age collided with hard and limited reality. Across the four-album arc of their first era – Raise (1991); Mezcal Head (1993); Ejector Seat Reservation (1995); 99th Dream (1997) – Swervedriver made music that was all about the journey.
The band simulated the thrill of propulsion, the euphoria of exploration, the anticipation of going back again (or not), and of moving on. And move on they did. During a 10-year hiatus, Swervedriver's legacy grew, and their music became an influential springboard for countless rising space/psych/desert rock bands.
Swervedriver's sonic trip resumed in 2008, with the group encountering the acclaim they ought to have enjoyed a decade earlier. A fifth album, I Wasn't Born To Lose You, arrived in 2015, some 17 years after its predecessor, and showcased the signature Swervedriver sound: the intricate, combustible guitar warp and weft wending of vocalist Adam Franklin and Jimmy Hartridge, baked hard under a blazing sun and then radiating in monolithic waves by a driving rhythm section.
Now Swervedriver returns to the driver's seat and continues their compelling trajectory with a forthcoming album titled Future Ruins, which takes off on January 25th via Dangerbird Records.
Future Ruins exhibits Swervedriver's fabled widescreen escapism, but with a tension that echoes the sleeve image of Coney Island in skeletal monochrome, like a post-mortem photograph of a failed utopia.
Franklin, Hartridge, Mick Quinn (bass), and Mikey Jones (drums).began tracking the LP began in October 2017, with a two-week stint at MAKE Records Studio in Los Angeles. There quickly followed a further 10 days of vocals and overdubs at Seaside Studios in Brighton. Stoking the creative energies was engineer TJ Doherty, a Grammy winner for his work on Wilco's A Ghost Is Born. The final 10 tracks were then mixed this past spring while the band was on a European tour.
The Big Takeover is super-psyched to host the premiere of the video for "Drone Lover", a socio-politically relevant track off of Future Ruins. The song actually predates the last album and is a comment on the depersonalized nature of 21st century technological warfare.
Franklin divulges some details about recording "Drone Lover" and its meaning, revealing, "I have no recollection of where this tune came from. It's a song that's been knocking around for a few years, but for some reason had never been presented to anyone until we were in the studio this time and I clicked play on the demo while searching for something else. TJ and Mikey both went, "What's this?" and then, "So why aren't we recording it?" – and so we recorded it. The lyric mentions love, but it's really about war – remote war and killing from a distance whilst chomping on last night's leftover pizza or something."
The bleak lyrics of "Drone Lover" are delivered in Franklin's recognizable dreamily languorous vocal tone that is touched with a world-weariness that fits perfectly with the song's stark theme. The winding and laid-back sonics follow Frankin's ruminative, lightly melancholic vocal approach, pushing forward at a thoughtful pace. Waves of gritty guitar flow and spiral outward amid a subdued rising and falling bass line, constant tambourine jingle, and emphatic drum and cymbals strikes.
The video for "Drone Lover" is just as hazy and wandering as the song, gliding through a slow-blur of static band performance images (Polaroids from Charlie Miller), grainy film visuals (from 1973's Heavy Traffic on VHS tape), and found footage of deserted, bombed-out buildings, which are just as much casualties of war as the living.
Pre-Order Future Ruins HERE
Website
Facebook
Twitter
Instagram
YouTube