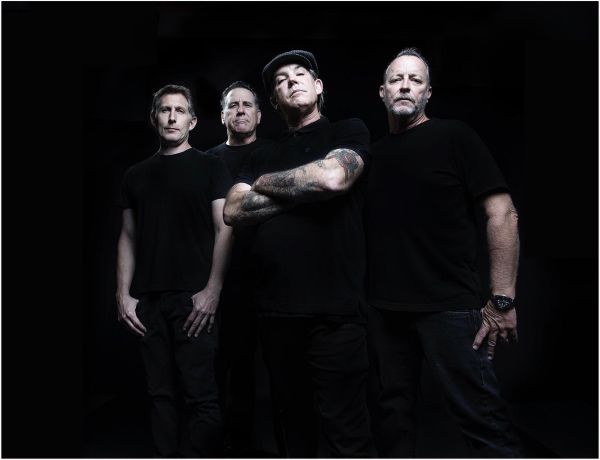 22 March 2021
Infamous Stiffs – Photo Credit: John Gilhooley
So, it was the summer of 2020 at the peak of the Covid 19 global pandemic. California was on lockdown. So what do you do if you're Infamous Stiffs and just finished recording your album? Make a video with all of your favorite friends – socially distanced and safely, of course!
And Big Takeover is mighty stoked to host the premiere of the aforementioned vibrant and eye-catching music video for "Freak Parade" today that's jam-packed with a Who's Who from the punk rock realm.
Shot in LA, "Freak Parade" is a tribute to all of us, young and ahem, older, who for better or worse have to live life our own way. The irrepressible video clip was directed by Gabby O'Neill and edited by Nathan "Karma" Cox, with Christopher Blauvelt as director or photography and Jack Grisham of TSOL is the narrator.
The wired-up, fired-up circus-themed video starts off with an intriguing and big Rocky Horror Picture Show nod, showcasing a mouth in red lipstick forebodingly talking against a black backdrop.
The clip suddenly cuts to the raucously rollicking song as it punches out with tuneful exclamatory chants, jagged guitar riffs, low-end bass line, and high-kicking drum hits
The guest appearances fly by fast 'n' fun 'n' furious – Jack Grisham (TSOL), Noodles (The Offspring, Axel G. Reese), The Gears, Johnny 2 Bags (Social Distortion), Rikk Agnew (Adolescents), Tim Armstrong (Rancid, Transplants), Greg Hetson, (Circle Jerks), Bad Religion, Howie Pyro (Dgeneration, Danzig, Marko 72 (Sugarcult), Farrell Holtz (Decry), JP Sin (Narcoleptic Youth), Jula Bell (Bulimia Banquet), Clint Weinrich (Guttermouth), Shepard (Pigmy Love Circus), Annie Hardy (solo artist), Alisa Wood (solo artist), and Jeff Hilliard (YouTube personality).
The behind-the-scenes Big Top setting is the perfect setting for celebrating those who don't fit the cookie-cutter mold, as each musician brings his or her unique visual stamp to the vaudevillian proceedings. So step right up and join the party carnival!
Those of you who are young'uns, or haven't followed the evolution of punk rock music over the past, gulp, 50 years, may be scratching their heads and wondering just who are the acclaimed and influential members of Infamous Stiffs?
The outfit itself formed relatively recently, in 2019 in Southern California but its members have spent decades playing punk rock 'n' roll in various incarnations…with all roads leading to the sonic union that is Infamous Stiffs.
The band unleash a relentless assault of loud noise, infectious hooks, and dynamic energy that will shake your body down to the bones and have you jonesing to kick out the jams.
Here's the rundown of Infamous Stiffs' members:
Scott Wilkins (vocals): AKA Snotty Scotty, the former voice and snarl in front of CD2 (Condemned to Death), Verbal Abuse, Electric Frankenstein, and Hollywood Hate.
Jim Perrault (bass): Last known for his affiliation with Orange County's notorious Graceland Mafia, as well as doing time with The Legendary Swagger and The County Stars.
Mark Pananides (guitar): Also a Hollywood Hate alumnus. Other previous bands include, Nardcore's Rat Pack, The Living End (U.S. band pre-dating the Australian one), as well as a stint in Junkyard as a stand-in on a string of dates.
John Gilhooley (guitar): Formerly of Huntington Beach ska-punk faves The Zero Class, and he's also a longtime and not so infamous SoCal music photojournalist.
Ryland Steen (drums): Ex- Reel Big Fish and current drummer of classic rock band America (yes, America!).
Infamous Stiffs signed to Die Laughing Records / Golden Robot Records in December of 2020. Their first single is "Freak Parade," which comes from their debut album Kill For The Sound that was produced by David Irish and will be released on digital platforms throughout the universe on March 22nd. A full 13-song digital release and a limited edition 12" vinyl LP will follow.
For all of your tooth-chipping', boot-stompin' punk rock 'n' roll needs, Infamous Stiffs have got you covered.
DOWNLOAD/STREAM "Freak Parade" on your favorite platform HERE
Website
Facebook
Twitter
Instagram
Die Laughing Records Website
Golden Robot Records Website