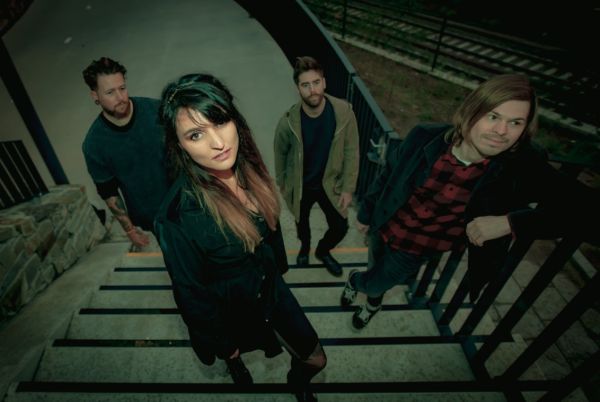 19 March 2021
Slow Crush – Photo Credit: Elke Damen
Slow Crush is a compelling and abrasive heavy to ethereal shoegaze band hailing from Belgium. Their successful debut full-length Aurora was released in 2018 to much acclaim, selling 4000 physical copies and going into its 4th pressing.
On the LP the outfit showcases their aesthetics of contrasting sounds. The emotionally vulnerable and softly floating voice of Manchester, England's Isa Holliday (bass) hover over, or at times is submerged in layers of grungy shoegaze-inspired noise pop and dreamrock.
She's joined by Jelle Ronsmans (guitar) and newer members Jeroen Jullet (guitar) and Frederik Meeuwis (drums), who replace original guitarist Jan Jouck and drummer Steve Commaerts. The band specialize in driving guitar scintillation, hollowed-out bass lines, and pounding drum tempos.
Aurora has resonated with fans and music critics alike, with the track "Glow" racking up nearly 500,000 streams alone. Slow Crush have been touring relentlessly throughout North America, the UK, and Europe, playing over 180 shows in 2019-2020. They consistently sell out shows at venues such as LA's The Echo, Brooklyn's Saint Vitus, and more.
Now on the label Quiet Panic in the US and newly emerging Church Road Records for UK/EU distribution, Slow Crush is reissuing Aurora in all its captivating glory today.
Big Takeover is deeply pleased to host the premiere of the reissue in its entirety, and also has an exclusive interview with Holliday where she details the changes that have taken place since the original release and what's in store for the future.
For fans of the the shoegaze movement that happened in England in the early 1990s, it's sometimes difficult to embrace newer acts that take on the shoegaze mantle. There are some high standards that were set with Slowdive, My Bloody Valentine, and early Ride songs and many 'nugaze' groups don't rise to the occasion.
But once in a while a band will achieve the shoegaze sound without totally emulating it – a fresh breeze that introduces other music styles to the mix while keeping the shoegaze blueprint as a foundation. Slow Crush are in this rare realm – using shoegaze guitar textures and dynamics with beautifully swooning vocals, but also adding a gritty and noisy heaviness as ballast, creating a shifting sound that moves from massive to delicate and back again in an instant.
Album-opener "Glow" is an exhilaratingly propulsive cruise, while "Drift" grinds away with a woozy MBV-like vibe. Holliday's hushed and bittersweet vocals drape over the airily reflective "Tremble," which eventually sweeps into a sustained high of spiraling guitar lines.
The restless sway and chop of "Shallow Breath" segues into the ponderous churn of "Aid and Abet," while "Collide" is rife with fragile rumination from Holliday's sighing vocals and distant guitar chime.
The brisk "Beach" runs on bashed drum beats, shimmering cymbals, and a dashing bass line. LP-ender and title track "Aurora" radiates a subdued aura that lifts up with a marching drum beat and burnished guitar intensity.
Isa Holliday generously replied to a bunch of questions we had about the band, this LP reissue, and what's on the horizon for Slow Crush in the exclusive interview below:
Big Takeover: Hello! You're reissuing Aurora on today (March 19th) via Quiet Panic. Your album was originally released in 2018 through Holy Roar. What sparked the decision for the re-release?
Isa Holliday: "After we broke with Holy Roar and the label disbanded, we thought re-releasing Aurora would be a good way to launch the clean start and collaboration with Quiet Panic (US) and Church Road (UK). Copies of the 3rd press are almost sold out, so it's nice that we can replenish our stocks with the new labels listed on the artwork".
BT: Have you changed anything about the LP for the reissue? Are tracks remastered and/or are there any addition songs or remixes?
Isa: "Everything within the grooves is the same, but the reissue comes with refreshed artwork (debossed spot gloss on the cover art), as well as some brand new "Moon Phase" and "Purple Rain Splatter" vinyl color variants."
BT: How did you connect with Quiet Panic?
Isa: "For those unaware, following accusations against Holy Roar's label founder (Alex) of sexual abuse in August 2020, all bands and staff broke connections with the label. After the announcement, we were approached by various labels, big and small. With the world still on hold and the recording of our second full length delayed due to corona restrictions, we were under no pressure to make any rushed decisions of where to call our new home. We allowed ourselves the time to review the options and meet (long live the rise of video calls in 2020!) with the labels that caught our interest. From the first second, meeting with Quiet Panic, there was an immediate click with Ryan and Mike. Their genuine enthusiasm and shared vision for our future won us over from the get-go."
"During the Holy Roar exodus, Justine was a legend, maintaining a professional relationship between Alex and the bands to make sure that all bands' needs were met in the severance, which was no small feat to accomplish in only a matter of weeks with no prior notice. Afterwards, she joined forces with her husband, Sammy, to co-run Church Road Records. Teaming up with Church Road for UK/EU distribution was a no-brainer. Having worked with Justine before, we know how passionate and hard working she is."
"It's going to sound cliché but we couldn't be happier to work with such an amazing, caring team."
BT: Your sound is massive, densely textured, propulsive, and expansive with ethereal vocal musings floating over and at times diving into the fray. Shoegaze and noise rock are balanced equally in many of your songs (IMO). What inspired you to create this type of music?
Isa: "It was a bit of a fortunate accident that revived Jelle's longing to start a '90s-inspired Indie band, having played in a multitude of heavier hardcore and metal bands over the years. When our previous doom metal band came to an end, we attempted a Windhand-esque three-piece, with me on vocals. Turns out my voice doesn't lend itself well to that powerful style of singing, but is very naturally soft, airy, and dreampop-esque instead. So we turned our attention back to the music we we grew up with and bands we were listening to at the time with vocals that were close to mine – early Smashing Pumpkins, Pity Sex, Mumrunner and Jaguwar – [and] started playing around with some covers to get the feel, and then shortly after had the songs written for our EP, Ease."
"The sound and flow of our music has developed and evolved naturally. Nothing forced. All elements are a representation of each band member, which is probably why there's a heavier, darker undertone to our music in comparison to other bands in our style."
"We wanted to make music that we love, music to entrance and envelop you. The songs on Aurora do just that. Well, for us at least! It's very easy for us to get lost in the music on stage and have heard from some fans that they have had transient other-worldly experiences as well. Mission accomplished!"
BT: You also recently released a new music video for "Aid and Abet." Tell us a bit about the backstory/meaning of this video clip.
Isa: "For the video, we got in touch with our talented and very good friend, Bobby Pook. He's made a few videos for us before, all fantastic, so we knew we wouldn't go wrong asking him to make this one. He had the idea of recreating the lift scene from Breaking Bad for a long time. When he pitched us the idea, we all felt that it fit "Aid and Abet" perfectly. Needless to say, we were all blown away with the result. He and the crew did a great job."
BT: Isa, you're originally from Manchester, England. Have you gone back there to live or is Belgium your permanent home?
Isa: "Belgium is my permanent home. I originally moved out here from the UK, with my family, as my dad got a job over here. It was meant to be temporary but we ended up sticking around much longer than the initial 3-year plan."
BT: Touring is a big part of your musical lives and that's not happening now with the pandemic halting most live events. How are you coping with not being on the road and playing shows?
Isa: "It's been rough on us, as it has all musicians. To have gone from touring non-stop to not being able to leave the house from one day to the next was a shock to all our systems. That being said, we're fortunate enough to have means to keep ourselves afloat and have remained productive in the absence of live shows."
BT: What's next for you after the re-release of Aurora?
Isa: "We made the most of our corona "down time" to focus on finalizing the songs for our second album, which we were finally able to record in January. If all goes to plan, it should be released later this year."
"What the future holds for live shows in 2021 is still uncertain. We'd love to get back out there, as soon as we can, as soon as it is safe for everyone again. Until then, we'll continue to keep you posted on anything exciting we get up to through our socials!"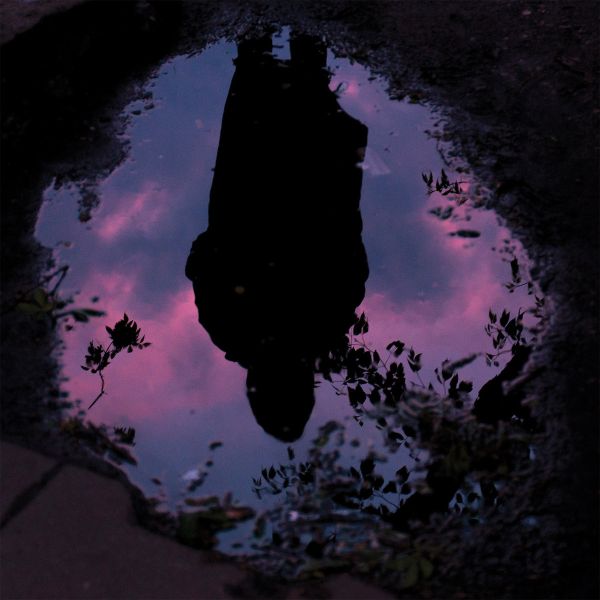 Quiet Panic has re-issued the out-of-print Aurora at their official Website.
Slow Crush
Website
Facebook
Instagram
Twitter
YouTube
Quiet Panic
Website
Facebook
Twitter
Instagram