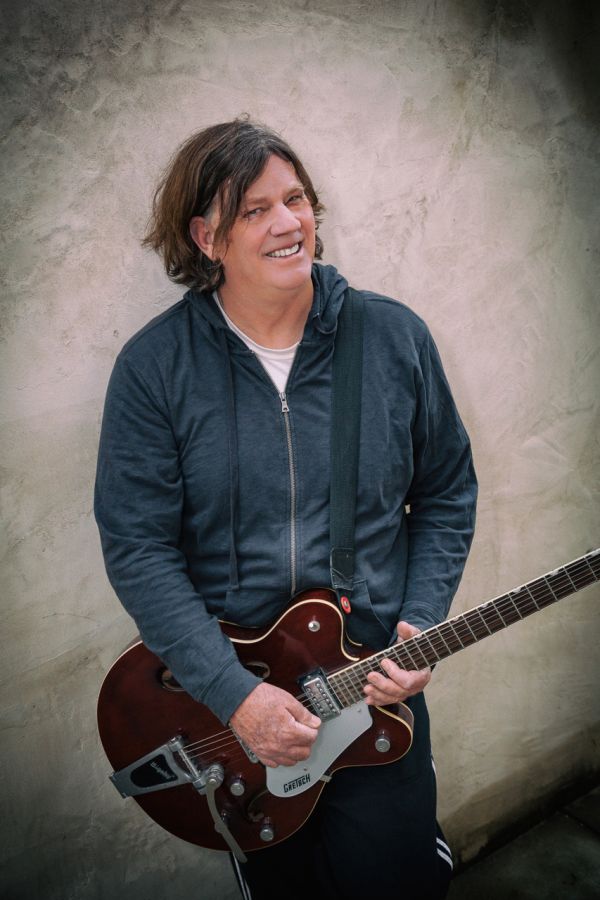 18 April 2019
John Andrew Fredrick of the black watch – Photo Credit: Brendan Holmes
Renowned veteran musician and the black watch founder John Andrew Fredrick (guitars, keyboards, percussion, vocals) and his longtime bandmates who consist of Scott Campbell (bass, drum programming), Andy Creighton (lead guitar, bass, drums), and Rob Campanella (guitar, melotron), have joined up once again for upcoming album Magic Johnson.
The LP arrives on June 21st, along with three other records of theirs:
Single Disc Compilation: 31 Years of Obscurity: The Best of the black watch: 1988-2019
Rare Music Re-Issued: The Vinyl Years: 1988-1993
Career Retrospective: The Completed Works: 1988-2019 (Every the black watch song ever released available only on a Limited Edition USB Thumb Drive exclusively sold at Atom Records
The Big Takeover is thrilled to take part in the celebration by hosting the premiere of a video for "Get Me Out of Echo Park", a track off the upcoming LP. Fredrick and his colleagues have created an uptempo album that is different than its 16 predecessors – something new, something intended, and something freeing for the band.
"Get Me out of Echo Park" radiates good vibes all the way through, from its glistening reverb guitar waves, lightly beaten drums, and cymbals sparkle. Call it a mix of indie rock and dream-pop, a combo of grit and gloss, of rough and smooth that flows with ease. Fredrick brings it down to earth with his direct, dry vocals, wryly musing about someone who is, "…lonely, but never alone."
Fredrick goes into interesting and entertaining detail about the backstory of the song and video, relating, "The song itself was occasioned by a party I went to with my son who has played on a few of our LPs. It was in the Hollywood Hills, actually, but there were lots of Echo Park/Silver Lake types there. And Chandler, visiting from NYC, asks me sincerely why everyone's in a costume ('60s motifs, you know) when it's not even Halloween; and of course I laughed madly and jovially countered that every hip person in his city's in costume all the time, seemingly, as well: that all-black look and stuff. Me, I'm still in the Lacoste shirts I wore on stage in the late '80s when I started the black watch. And [what] I kind of mean [is that] I still have/wear those shirts! I never liked Talking Heads until only recently, but back then I sure did relate to the preppy way they looked."
Fredrick continues, "Directed by an ex-student of mine, Frank Weinert, the video's meant to make not-too-terribly-caustic fun of the innumerable hipsters in my very own neighborhood, the super-gentrified Echo Park. It really does seem like it's Coachella here every blessed day, but I don't let it get to me too very much – save when I overhear some "likespeak-spewing" (as the song observes) personage spewing likespeak. When even really highly educated people pepper their speech with "like", I just can't listen. I'm sorry; I can't. It's a peeve [of mine] and I seem to have to pet it every time I go out my front door and walk to the lake or the bookstore."
"The line about Los Angeles being a place where one really can feel "always lonely though never alone," I must admit I lifted from a lovely, sweet ex – the only actress I've ever dated, or for that matter ever will," Fredrick concludes.