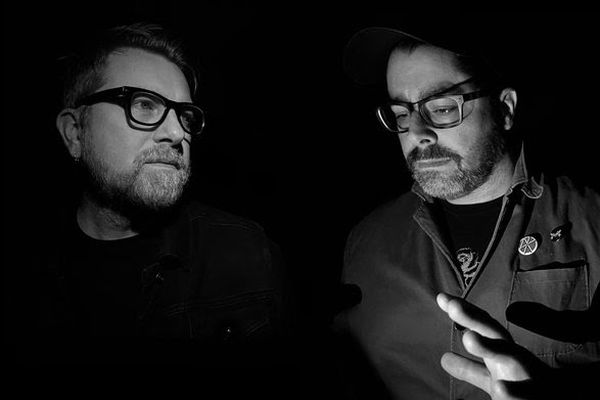 5 January 2021
Golden Streets of Paradise – Photo courtesy of Golden Streets of Paradise
Steadfast Records is set to release the latest album from Cleveland, Ohio's Golden Streets of Paradise, Throes, on January 15th.
Throes takes the Goth-tinged aesthetic that Golden Streets of Paradise have established with prior releases and wraps it with an anxious new urgency. Subtle hooks touch a gray-washed sadness while hints of influence from The Police, Skinny Puppy, and Sade help inform the bands most unrestrained work yet.
Recorded and self-produced throughout the last year and a half, Throes avoids excessive digital processing in favor of organic sounds, live synths, and un-eq'd drums to craft an incredible new collection of songs.


Myk Porter (guitars, vocals, percussion, synth) and Adam Boose (drums, synths, programming, sampling

) present the listener with a snapshot of a universally relatable sorrow, one honed in isolation, loss, and fear.
Big Takeover is pleased to host the premiere of the atmospheric music video for the compelling "Heavy Hands."
An emphatic drum rhythm propels the song along, while Porter's bittersweet vocals are drawn out over the taut pace. A sharp ache runs through his vocal delivery and is surrounded by industrial noises and hollowed out reverberating guitar buzz.
The video clip is stamped with a 'flashing lights' warning, so be mindful of that. The performance vid has the Porter and Boose passionately playing/singing "Heavy Hands" while drenched in saturated colors of ultraviolet, indigo, infrared, and neon green, and sporadically streaked by a blinding white light.
Boose reveals some details about the song and the new album, commenting, "We had a vision for this record shortly after our first one came out. We wanted to do something slower and also faster, a lot of acoustic guitar, feedback, and percussion; something honoring that early '80s Siouxsie and the Banshees stuff. Heavy Hands was written in my old apartment near the lake, with both of us on acoustic guitars, working out the basic dynamic builds. I love how relentless it ends up getting, like a foot on your chest. Lots of drum overdubs utilizing Brian Straw's giant concrete stairwell for reverb, which ultimately informed the sound of the record."
Throes is available on three vinyl variants, blue w/black swirl (ltd to 150), purple w/pink swirl (ltd to 100), and standard 150g black (ltd to 50). The albums include a printed inner sleeve and are packaged in a reusable gold stamped blue tint poly bag. Also available on limited edition eco-wallet CD and blue shell cassette.
Pre-order Throes