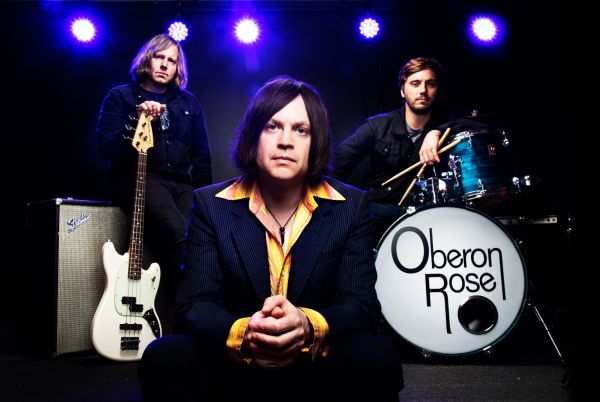 4 January 2021
Oberon Rose – Photo Credit: Tracey Kroll
Nashville-based rock, folk, and pop outfit Oberon Rose is built around the songwriting team of Tommy Oberon and Rebecca Rose. In the manner of Elton John and Bernie Taupin, Oberon writes the music and Rose pens the lyrics.
Heavily influenced by the British Invasion and the guitar playing of bluesman Peter Green, Oberon strives to bring "my love of melody, harmony and electric guitar" to the listener.
Coming from a background in theater, lyricist Rose adds a spin on traditional storytelling and likens her lyrics to "black-box theater…stripped down and raw and left to your imagination."
The band's upcoming album, Holographic Blues, will see release on January 15th. The LP was produced by Oberon, who made sure that he and Rose had fully realized songs to bring into the studio, before any of the recording and producing process started.
Oberon explains his method, commenting, "…when you look back at the songs that will stand the test of time, the kernel of the song exists before any production was added. The production was used to embellish what was already there. My goal as producer is to go into the studio with a song that can hold its own with just an acoustic guitar and a melody."
Oberon (lead and background vocals, guitars, bass, percussion) and Rose are joined by Chris Listorti (background vocals) and Glen Metcalfe (drums).
Big Takeover is pleased to host the premiere of "Sinner," a crackling and uptempo cut off the forthcoming album. The rockabilly-like "Sinner" kicks it up a notch with its hard-smacked beat, low-register bass line pluck, sharp ring of fast-strummed guitars, and richly swirling, psych-tinged harmonies.
Oberon gives some details about "Sinner," stating, "This song was really born out of the lyrics, which were originally going to be used for a different song. Once we found the right direction to take it, all the music just fell into place. It's a fun song with a good swing and a rootsy vibe."
Lyrics for "Sinner"
Sinner gonna take you further
than you want to go
Sinner gonna tell you more
than you want to know
Keep you from the cold
keep you from the rain
water to flame
the Ancient Of Days
Sinner gonna keep you longer
than you wanna stay
Sinner gonna charge you more
than you wanna pay
Keep you from the wind
keep you from the pain
water to flame
the Ancient Of Days