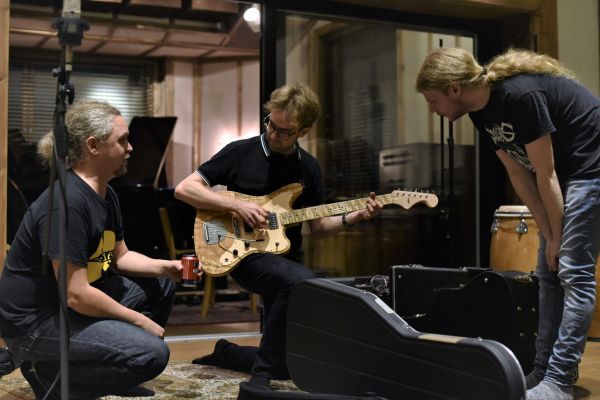 4 May 2021
Pennies By The Pound – Photo Credit: Raisa Krogerus
Finland may be best known, musically speaking, for such artists as HIM / Ville Valo, Nightwish, The Rasmus, Apocalyptica and post-punk pioneers Musta Paraati, but alas, psychedelic love is in the air everywhere and Finland has its fair share of the psych rock vibe, just as any other country. So let's turn our attention back to this Nordic country to discover its sonic richness.
Case in point: Pennies By The Pound. Natives of the capital (Helsinki), this trio has recently formed and have impressed at least two legendary producers enough to work with them on their second album.
What to expect: the band drops their new album Heat Death of the Universe on May 21 via Lilith Records. but today we have the pleasure of premiering the album's lead track 'Indigo Screams'.
This first offering of 2021 is a welcome discovery and out to really please fans of such artists as Sebadoh, Bob Mould, Marillion, Frank Black, Afghan Whigs, and Guided By Voices. It would seem that Pennies By The Pound have more in common with '60s psych-driven rock and '80s American college rock than with their Fenno-Scandian peers. Such a big and extravagant classic psychedelic rock. Wherever they may draw their influences from, one thing is for sure: this is brilliant music for here and now, wherever that may be.
Pennies By The Pound is Johannes Susitaival (vocals, drums, keyboards, rhythm guitar), Vesa Ranta (lead guitar, rhythm guitar), and Tomi Laaksonen (bass guitar). Alexander Meaney also provides additional lead guitar.
Written by Johannes Susitaival and Mikko Maksimainen, This long-player was mastered by Ride frontman Mark Gardener at his OX4 Sound Studio and produced, recorded, and mixed by Rauli 'Rake' Eskolin, a producer considered to be legendary in his native Finland, having produced many notable releases over the past two decades, including over a dozen records that have achieved No. 1 status in Finland.
"Lyrically, there is a loose theme on the album about the way people continue to actually socially distance themselves from others (even without or before the pandemic) due to the influence of social media and maybe the internet in general. The album title is a nod to that, the "heat death of the universe" being the lack of and eventual end of real-life social connections between people," says Johannes Susitaival.
While still part of a punk rock band, Johannes formed the band in 2016 while exploring some quite different musical avenues, which led to the self-produced Bloodshed and the Blinding Sunlight EP in 2018. Having found their ideal producer after several years of searching, they began recording demos in 2019 for what would become this album. Due to the pandemic, they were finally able to record these tracks in autumn of 2020.
"This album is rooted in the fact that I became heavily interested in '80s Marillion a few years ago, especially the 'Clutching at Straws' LP. You can definitely hear the influence on the record, but there's a lot of '80s Rush too, spiced up with contemporary influences like Muse and Radiohead. As an artist, I've always been hesitant to make records that sound the same as the previous ones I've done, so the sound keeps evolving," says Johannes Susitaival.
"I wanted to make a record that is borderline ridiculous, in some ways, and definitely not very contemporary. Then again, for the first time in my life, I had a chance to work with a producer, whose work I have admired since the turn of the millennium and this definitely influenced the album and its sound."
'Indigo Screams' is out now, available everywhere digitally, including Spotify The full Heat Death of the Universe will be released on May 21.
TRACK LIST
01. The Waters
02. Strange Matter
03. Strange Stars (Lies Closer To Truth Than Beauty)
04. 139
05. Indigo Screams
06. San Francisco Skyline
07. Heat Death
CREDITS
Johannes Susitaival – vocals, drums, keyboards, rhythm guitar
Vesa Ranta – lead guitar, rhythm guitar
Tomi Laaksonen – bass guitar
Alexander Meaney – additional lead guitar
Written by Johannes Susitaival and Mikko Maksimainen
Arrangements by Pennies by the Pound and Rauli Eskolin
Produced, recorded and mixed by Rauli "Rake" Eskolin
Recorded at E-Studio, Sipoo, Finland and Soundtrack Studio, Porvoo, Finland
Mastered by Mark Gardener in OX4 Sound near Oxford
PENNIES BY THE POUND
Facebook
Bandcamp
Instagram
Twitter
SoundCloud
Spotify
Apple Music