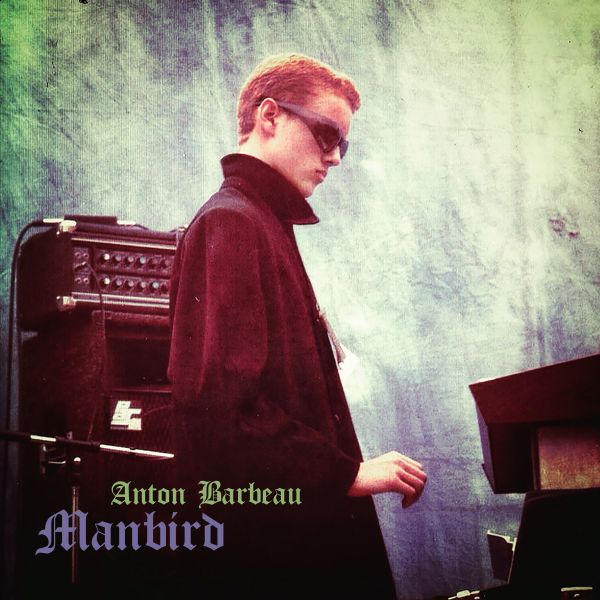 1 May 2021
Anton Barbeau – Manbird back cover
In September 2020, Anton Barbeau released his 33rd album, Manbird, which MOOF Magazine called "a concept trip about leaving the nest, traveling the world and finding home."
Manbird is an autobiographical double album, with songs describing Barbeau's childhood and teenage years in Sacramento, and his current life as an alleged tour-weary rockstar in Berlin, all wrapped up in a Jung-friendly musical travelogue.
An eternally underground figure, Barbeau has worked with the late Scott Miller, the Bevis Frond, members of XTC, the Soft Boys, and Cake. He's toured the UK with Julian Cope. The British stand-up comedian and culture critic Stewart Lee, writing in the Idler, says, "Anton Barbeau plays homeschooled acid pop. (His) illuminated beam has burned for three decades now, unheeded by the passing trends that wreck on the rocks below."
Big Takeover is pleased to host the premiere of the trippy performance music video (with a visual collage of other performers and an audience of… dancing human-pigeons!) for "Across The Drama Pond," a peppy number from Manbird.
"Across The Drama Pond" is the second single from Manbird. Barbeau explains: "In our pre-pandemic vision, the 'Drama Pond' video was to be a crowded Top Of The Pops style send-up, with an awkward and bored audience of lens-looking dancers, and a bored and awkward band trying too hard to be anywhere but on stage. Covid cleared that deck and instead, Julia and I found ourselves having to be both the band and the audience."
"As we settled into filming – doing the standard lip-sync takes and such, we found a VHS tape of my teen band, The Fabian Society, winners of the possibly backhanded 'Best Visual Band' award at the Skip's Music 1983 Stairway To Stardom battle of the bands. Anyway, this 'found footage' became a key to our video, with various versions of long-haired contemporary me suddenly in dialogue with my golden buzz-cut teenage self. We used the found footage as background material and pulled the neon color palette from the glitchy VHS transfer."
While Manbird is still dear to his heart, the prolific Barbeau has a busy schedule as ever. 2021 will see the release of Oh The Joys We Live For, a collection of post- Manbird odds and ends on the Big Stir Records label.
Also coming out on Big Stir, the second release from Salt, the French band Barbeau is in with Ken Stringfellow.
Meanwhile, Barbeau is putting finishing touches on Power Pop!!!, an album featuring guests Donald Ross Skinner, Rosie Abbott, and Of Montreal's Bryan Poole.