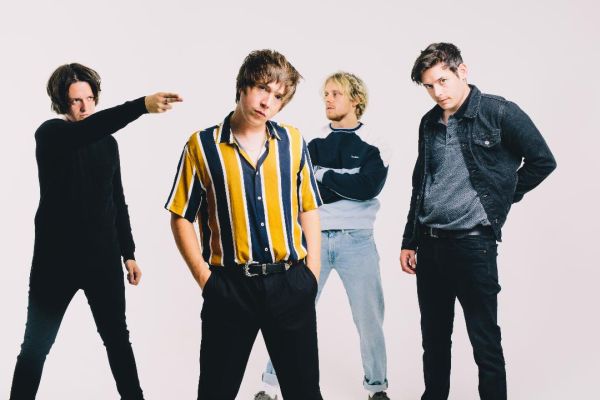 7 April 2021
The Luka State – Photo Credit: Rob Blackham
If there were a modern incarnation of the British Invasion, it would undeniably include The Luka State. Comprised of Conrad Ellis (vocals, guitar), Sam Bell (bass, vocals), Jake Barnabas (drums), and Lewis Pusey (guitars), The Luka State is one of the UK's most exciting up and coming rock 'n' roll bands.
The band members, who hail from Winsford in Cheshire (a town halfway between Liverpool and Manchester), released their debut album Fall In Fall Out this past January via AntiFragile Music.
In 2020, The Luka State released their first single, "Feel It," which was mixed by writer/producer Tarek Musa (Circa Waves, The Big Moon). The rip-roaring track introduced audiences to Ellis's soaring vocals, boldly complemented by the band's raw energy and sheer musicianship.
With momentum from the popularity of "Feel It," the band then released "Bury Me" and "[Insert Girls Name Here]," both of which keep the adrenaline pumping. At their heart, The Luka State tell stories, but it's the members' real-life chemistry and natural camaraderie that's propelled them so far.
In the 12 months prior to the lockdown due to the COVID-19 pandemic, The Luka State played nearly 70 shows around the UK. To date, the band has amassed over ten million streams on Spotify.
Big Takeover is pleased to host the premiere of the energetic performance music video for the equally dynamic track "[Insert Girls Name Here]," a vibrant number that fires on cylinders, from the urgently driving pace to Ellis' passionate exclamations.
Speaking about the meaning behind the song, Ellis reveals, ""[Insert Girls Name Here]" is about escapism. It's about two characters that just want to leave everything behind. They want to pack up and go leave their mundane lives and never look back. And it comes with the idea of escapism coming from a small town and boredom and sheer boredom, and I often used to daydream about what would it be like if we just packed up and left. What would it be like if you yourself just decided right now to get up go never look back?"
"I think that's quite an exciting and interesting concept that we are capable of doing that, and we can do it; anybody can do it, but sometimes we just haven't got the guts."
"So, I often used to fantasize about it and again it comes into that thing about story-writing, and this is what it's about – It's about those two characters looking at each other and going, "Look, things aren't working out here. Let's go. Let's just pack up leave and we'll start again somewhere else."
"Quite a scary thought, that, isn't it, when you think about it, but yeah, it's all about rock and roll this one, and go on, put it on again – You know you want to."
The video clip showcases the intuitive connection between the four musicians and friends as they lay it all on the line, playing as if their lives depended on it. The camera circles around the foursome multiple times as they go for the gusto and come up aces. This is a band that needs to be seen in the live environment, so here's hoping that can happen really soon.
Regarding the music video for "[Insert Girls Name Here]," Ellis states, "Whenever you make a music video, it always feels like you're standing to attention and putting yourself on display for the audience. With this video we wanted to feel like a stolen moment, like the audience isn't supposed to see this side of us. We only ever play in a circle facing each other in rehearsals and it's where we feel most at home as musical brothers, so we wanted to let the audience in to that experience."
Website
Facebook
Twitter
Instagram
YouTube
Spotify
Apple Music