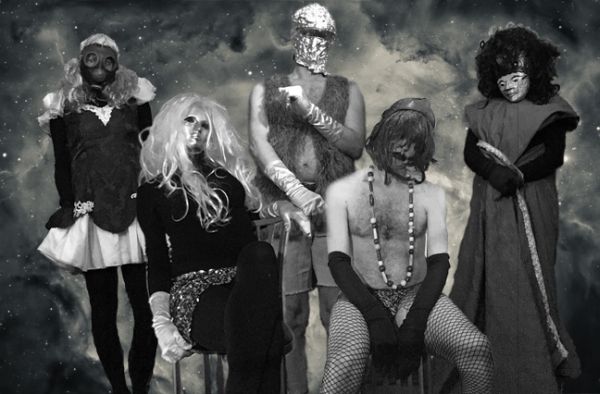 6 April 2021
Galactapus – Photo Credit: Galactapus
Galactapus are a recording collective from Minneapolis who play and sing far-out psychedelic and punk-steeped experimental music self-described as space-aquatica" that includes elements of exotica and Spaghetti Western styles.
Although a vocal group, their songs contain no meaningful words. The substance of their song is fluid, like everything else in the universe. This abstract approach to the lyrics is also present in the instrumentation, which reviewers have compared to Can, the Residents, Chrome, and the Screamers, among others.
Galactapus' inspirations are esoteric and elemental (water, gravity, birds, wind, aluminum foil, and such), and the band members enjoy stoking the imagination with their music and leaving their histories a mystery. As with most performances, their shows, which are a sight and sound to behold, are on hold for now.
Big Takeover is pleasingly unsettled to host the premiere of the wild performance video for the boldly noisy, but rhythmic track "Aquatron Brother."
The outlandishly dressed-up and masked (not the pandemic kind!) band members get in-yer-face with the trippily filmed footage that also includes a colorful and swirling design backdrop, and at times the kaleidoscopically shot unfurling of slimy octopus tentacles.
Regarding the video for "Aquatron Brother," one Galactapus member comments, ""The entire production of 'Aquatron Brother' was done literally in-house by the band. Everything we do is produced in our home studio, and to some extent our backyard. And per usual, it's brazenly amateur but ambitiously visioned. The title refers to one of our 8-track players, a particularly ominous and retro-futurist design."
"Much like the song. Galactapus are big enthusiasts of imaginary sci-fi from across the decades. And of course tapes. Open reel, cassettes, VHS are all integral to our art. Much of the video background was hand recorded from TV playback of old rave videos and aquatic documentaries."
"Other than that, the meaning is all liquid, the lyric is glossolalia jibberish. Making lip-syncing a challenge, naturally. We were timid to interfere with the listener's own visuals by having a video, so we tried to side-step that with a bazooka-style bombardment of images that the brain couldn't retain."
"We were conscious of the arc of colors though, which is important to us. We compose primarily with our collective synethesia. That's to say we have the arc of colors, shapes, voices, and temperatures totally laid out before we start the actual music. Sounds a bit mystical I guess, but it's served us well."
Galactapus' debut album I Intend To Stay is available on vinyl and digital at their official website and Bandcamp.