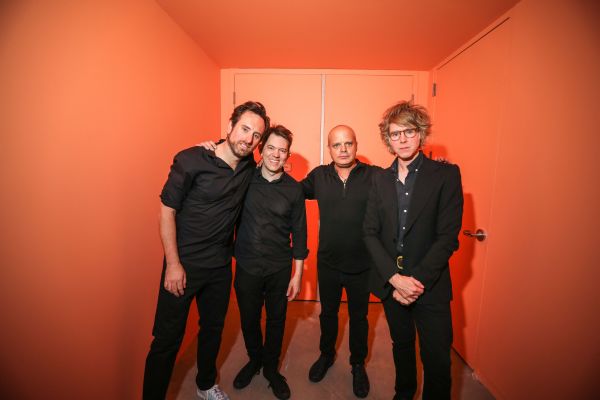 28 August 2019
Mellotron Variations – Photo courtesy of Mellotron Variations
The all-mellotron outfit Mellotron Variations is comprised of a mix of indie rock musicians, a funk guy, and a contemporary classical composer. The illustrious artists behind the instruments are very well-known, actually: Pat Sansone (Wilco, The Autumn Defense), John Medeski (Medeski, Martin & Wood), Robby Grant (Vending Machine), and Jonathan Kirkscey (Memphis Symphony Orchestra, Blueshift Ensemble, Won't You Be My Neighbor soundtrack).
The released their self-titled debut album together on July 26th via Spaceflight. The LP was recorded live in concert at a sold out show on April 21, 2018 by Memphis' non-profit Crosstown Arts organization, which also has multiple music venues inside of the new Crosstown Concourse (as well as a fellowship program), .
Neither the project nor the album would have happened without Crosstown Arts' involvement; they are supporting innovative new music in Memphis, both for musicians and listeners, in a way that's never happened before. Crosstown Arts has residencies from 10 days to 3 months where musicians of all genres can live, compose, be fed five days a week, record, collaborate, and perform.
For those who don't know what a mellotron is, here's the explanation: a proto-synth where each key sets off a few seconds of tape to make a sound. It was most famously used on "Strawberry Fields Forever," but also by Pink Floyd, The Moody Blues, Wilco, and Big Star.
The Big Takeover is psyched to host the premiere of the video for the Western-classical track "Into the Sunrise." the cinematic instrumental features the shivery, drawn out mellotron lines that sound like they come straight from a film's soundtrack.
At times suspenseful, and at others, delightful, the score is mirrored by a trippy video that runs clips of various vintage footage that is seemingly projected from an old-fashioned TV set. Visuals range from a John Wayne-led western to a nature film and tennis instruction video. These moving images are punctuated by bright graphic designs and kaleidoscopic effects.
Robby Grant gives some insight into the song composition and video creation: "Our theme song to a lost spaghetti western. For the show/record, we tried to have a mix of composed, arranged songs and spacey, open pieces. This is an example of the former. It features pitched down guitar as the lead, classic mellotron strings and more! For the video, Ben Rednour (director) was at the mellotron show and mentioned he would be interested in working with us. I told him to pick any song and go for it. I didn't hear from him for a while but then he sent me this video for "Into the Sunrise." After watching it, I am convinced he was abducted by aliens and they are trying to send us a message through this edit. Send help!"