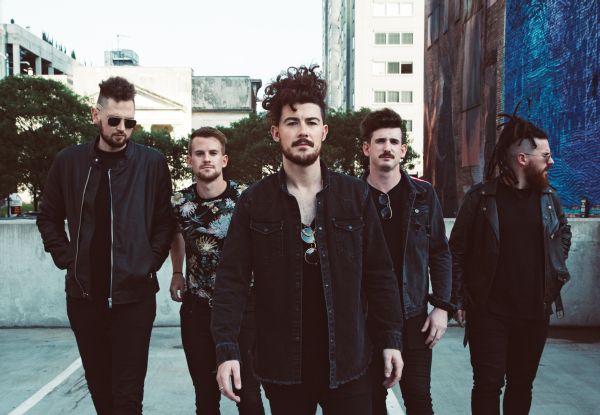 23 October 2018
Castlecomer – Photo Credit: Anna Webber
Australian indie rock/pop band Castlecomer has been making gigantic waves internationally as of late. The now-U.S.-based (by way of Sydney) act just released their debut self-titled album on October 5th via Concord Records. Castlecomer is equal parts rock and roll abandon and meticulous pop craftsmanship. Chock full of contagious, arena-ready anthems, the LP conjures up its own escapist world of young love and big dreams, all fueled by explosive guitars and hypnotizing grooves.
The lead single from Castlecomer, "All of the Noise," was released earlier this summer, supported by the band's first North American headlining tour. With ticket sales for each show increasing with every subsequent concert, the band was tapped by SiriusXM to join the ALT Nation 2018 Fall Tour, which is currently going on.
The five-piece has performed hundreds of shows and festival dates Down Under, building up a devoted fanbase and honing their set into a concentrated blast of pure energy and ecstasy. By the time they got to SXSW in 2017, Castlecomer was ready to take America by storm, and over the course of eight shows in three days, they laid the groundwork that landed them management, a booking agent, a publishing deal, and a record contract.
Castlecomer also know how to create a captivating live atmosphere in the studio. They've recorded a live acoustic/electric session at Historian Recording Co. and Peppermint Studios which displays the more subdued and reflective side of the band. Until the end of the song, that is, when they take vivid flight.
The Big Takeover is mightily pleased to host the premiere of the live acoustic, and then electric, rendition of "Leaving." Lead singer Bede's delicately mercurial vocals find a harmonious home with Tommy (guitar) and Joe's (bass) backing vocals. Neely adds lightly hit piano notes and Patch sprinkles on a wash of shimmering cymbals and soft drum strikes. The contemplative calm is suddenly dispelled by sweeping instrumentation at the end of the track, adding an expansiveness and urgency to the bittersweet message of "Leaving".
Website
Facebook
Twitter
Instagram
YouTube
Spotify
iTunes
SoundCloud
comments powered by