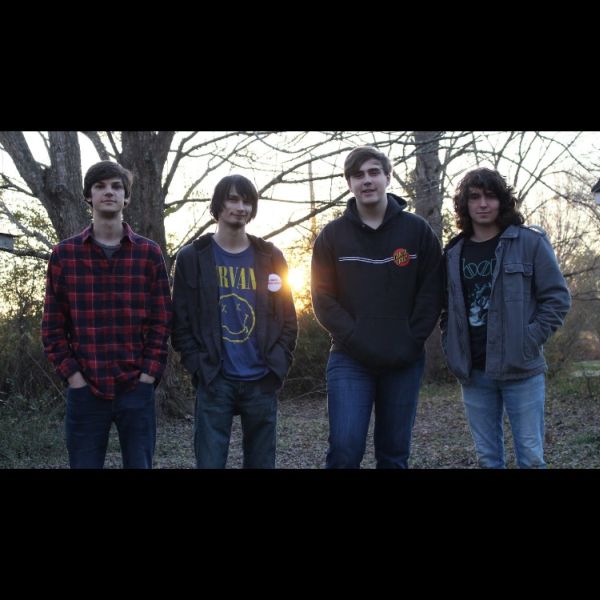 16 January 2020
Drop Diver – Photo courtesy of Drop Diver
Drop Diver are a young underground Huntsville, AL-based garage/indie/alt-rock band that uses sixties style writing and analog recording techniques, yet craft tracks that appeal to a modern audience. They wear their hearts on their sleeves and their musical touchstones on their t-shirts (just take a look at their pic with Nirvana and The Doors t-shirts).
The band consists of lead guitarist Evan Ohlsen, singer and rhythm guitarist Garrison Lemmond, bassist Dylan Coty, and drummer Gage Stepp. Drop Diver originally formed in 2018, however they didn't regularly play shows or have a consistent lineup until early 2019. Since then the band has released a single and their full-length self-titled debut album.
The Big Takeover is psyched to host the premiere of the video for "Leisure Suit," a rousing garage rock 'n' roll track that bristles with gritty guitar lines, chugging bass line, kinetic drum-work, and cheekily defiant exclamations.
In the video the band members are shown throwing themselves into performing the number, with overlapping images of them playing their instruments floating in front of a backdrop of the studio setting with Lemmond shouting enthusiastically into the mic.
Lemmond offers some details about the song, commenting, ""Leisure Suit" draws influence from bands like The Rolling Stones and The Stooges and excerpts an energy of apathy and self indulgence. The song features crisp sounding guitars and bombastic vocals in the spirit of early garage rock recordings. "Leisure Suit" was tracked on an analog tape recorder at Clearwave Studios in Decatur, Alabama and was produced by audio engineer Jeremy Stephens."
Instagram
Facebook
Spotify
YouTube