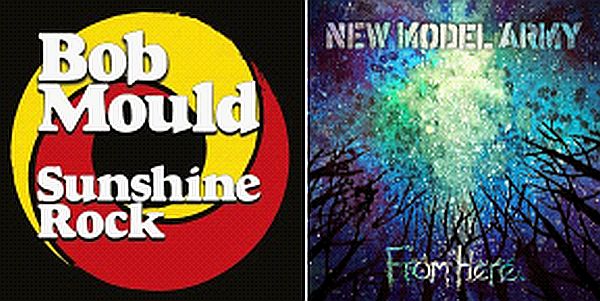 15 January 2020
Hi folks!
Since I have now completed my two countdown radio shows for the top 50 albums of 2019 — click on "The Big Takeover Show" button in the banner above to hear one song from each from my 2-part best-of radio show — here is my complete list of the 160 best albums, 50 best archive/retrospective/reissue releases, and 70 best stand-alone singles and EPs of this previous year — my best bets on another great year for music, old and new. (Never mind the cranks, here's the good stuff as ever.)
Hope this little list inspires you to find, or give a second look to, a few cool releases you might miss otherwise that you end up truly loving. Otherwise, lists are for time-wasting. Not my bag. But as I listened to all of these a great deal this year, perhaps you might like some of them, or will be glad to see them recognized if you are already enjoying them.
Cheers to you all and Happy New Year!
Jack Rabid's Picks, 2019's 160 Best Albums (New Recordings):
1 TIE Bob Mould – Sunshine Rock (Merge)
1 TIE New Model Army – From Here (Attack Attack/Earmusic)
3 Swervedriver – Future Ruins (Dangerbird)
4 Bad Religion – Age of Unreason (Epitaph)
5 DIIV – Deceiver (Captured Tracks)
6 Pernice Brothers – Spread the Feeling (Ashmont)
7 Ride – This is Not a Safe Place (Wichita)
8 Piroshka – Brickbat (Bella Union/PIAS)
9 Shana Cleveland – Night of the Worm Moon (Hardly Art)
10 Jeanines – Jeanines (Slumberland)
11 Mammoth Penguins – There's No Fight We Can't Both Win (FIKA)
12 Robert Forster – Inferno (Tapete GER)
13 Vivian Girls – Memory (Polyvinyl)
14 Tacocat – This Mess is a Place (Sub Pop)
15 Elizabeth – The Wonderful World of Nature (Our Golden Friend Australia)
16 Versus – Ex Voto (Ernest Jenning)
17 The Who -WHO (Polydor)
18 Sebadoh – Act Surprised (Dangerbird)
19 The Muffs – No Holiday (Omnivore)
20 I Was a King – Slow Century (Coastal Town NORWAY)
21 Gospelbeach – Let It Burn (Alive Natural Sound)
22 Slowness – Berths (Schoolkids)
23 Dead Horse One – The West is the Best (Requiem Pour Un Twister)
24 The Aints! – Play the Saints (73'-78') Live Official Bootleg 12" (Fatal Australia)
25 The Feeders (Sam Vicari) – Rip Your Heart Out (Sip City)
26 Belle & Sebastian – Days of the Bagnold Summer (Matador)
27 Guided By Voices— Sweating the Plague / Zeppelin Over China (double) / Warp and Woof (GBV Inc.)
28 New Pornographers – In the Morse Code of Brake Lights (Collected Works/Concord)
29 The Successful Failures – Saratoga (FDR)
30 The Black Watch – Magic Johnson (ATOM)
31 The Persian Leaps – Electrical Living (Land Ski)
32 Fontaines D.C. – Dogrel (Partisan)
33 Idlewild – Interview Music (Empty Words U.K.)
34 Weyes Blood – Titanic Rising (Sub Pop)
35 The Proper Ornaments – Six Lennons (Tapete GER)
36 Sleaford Mods – Eton Alive (Extreme Eating U.K.)
37 The Specials – Encore (Universal Island)
38 Duncan Lloyd – Outside Notion (Afternoon In Bed U.K.)
39 Schizophonics – People in the Sky (Pig Baby)
40 Willie Nelson – Ride Me Back Home (Legacy/Sony)
41 Danny & the Doorknobs – Jukebox in the L.A. River (Poison Summer)
42 Tony Molina – Songs From San Mateo County (Smoking Room)
43 Gretchen's Wheel – A Moth To Lamplight: A Tribute To Nada Surf (Futureman)
44 Sleeper – The Modern Age (Gorsky U.K.)
45 Mythological Horses – YYYMF! (Hovercraft)
46 Bedroom Eyes – Nerves (Dome A)
47 Black Swan Lane – Vita Eternal (Wanderland/Eden)
48 Foxhall Stacks – The Coming Collapse (Snappy Little Numbers)
49 Jesse Malin – Sunset Kids (Wicked Cool)
50 The Soft Cavalry – The Soft Cavalry (Bella Union)
51 Fawns of Love – Permanent (Test Pattern)
52 In Deed – Everest (Big Stir)
53 Faux Co. – Radio Silence (Midwest Action)
54 Emily Fairlight – Mother of Gloom (Fishrider New Zealand)
55 Wilco – Ode To Joy (DBPM)
56 Black Nite Crash – Conflict of Disinterest (Neon Sigh)
57 Dave Smalley & the Bandoleros – Join the Outsiders (Little Rocket U.K.)
58 Lemonheads – Varshons 2 (Fire)
59 Thigh Master – Now For Example (Goner)
60 Rocketship – Thanks To You (Darla)
61 The Junior League – Adventureland (Greenleaves Sound/Kool Kat)
62 New Age Healers – Debris (New Age Healers)
63 Black Ferns – Devices (Northern Light)
64 Deniz Tek & the Godoys – Fast Freight 12" (Career)
65 Brent Loveday & the Dirty Dollars – Hymns For the Hardened Heart (Brent Loveday)
66 Magic Shoppe – Circles (Little Cloud)
67 Donovan's Brain & Fraudband – Burnt Trees In the Snow (Split 12") (Career)
68 True Primitives – Revolutions (Comet Rock)
69 The Futureheads – Powers (Nul U.K.)
70 Woolworm – Awe (Mint Canada)
71 The Proletariat – Move (Radiobeat)
72 Latvian Radio – Give In To the Night (Belpid)
73 The Wedding Present – Tommy 30 (HHBTM)
74 Joe Jackson – Fool (Edel AG)
75 Moving Panoramas – In Two (Modern Outsider)
76 Martin Frawley – Undone at 31 (Merge)
77 Echodrone – Everything Starts To Be A Reminder (Dome A)
78 Peter Perrett – Humanworld (Domino)
79 The Courtneys -The Courtneys II (Flying Nun New Zealand)
80 Quivers – We'll Go Riding On the Hearses (Hotel Motel)
81 Loose Wing – Loose Wing (Loose Wing)
82 Vicious Blossom – Solace (Vicious Blossom)
83 Aldous Harding – Designer (4AD)
84 Silver Bars – Center of the City Lights (Shifting Sounds)
85 Doug Tuttle – Dream Road (Burger)
86 Guest Directors – Dream the Currents (Guest Directors)
87 Mikal Cronin – Seeker (Merge)
88 Static Daydream – Cracked Inside (Custom Made)
89 Steve Gunn – The Unseen In Between (Matador)
90 Comet Gain – Fireraisers Forever (Tapete Spain)
91 Split Moon – Slow Satellite (Stow House)
92 Nyles Lannon – The Clouds and the Sea (Badman)
93 Screaming at Traffic – I Don't Like Sports (Little Rocket U.K.)
94 The Prits – These Prits Are Making Me Thirsty (Cassette) (GP Stripes)
95 Steven Bradley – Summer Bliss and Autumn Tears (Porterhouse)
96 Bark – Terminal Everything (Cool Dog/Striped Light)
97 Moving Targets – Wires (Boss Tuneage/Dead Broke)
98 Ty Segall & Freedom Band – Deforming Lobes (Live) (Drag City)
99 Surf Friends – Doin Your Thing (Flying Nun NZ)
100 Thayer Sorrano – Wings Alleluia (Guildwater Group)
101 The Armoires – Zibaldone (Big Stir)
102 The James Clarke Five – Parlour Sounds (The Beautiful Music Canada)
103 The Menzingers – Hello Exile (Epitaph)
104 Green Palm Radiation – For Fear (Green Palm Radiation)
105 Sharon Van Etten – Remind Me Tomorrow (Jagjaguwar)
106 Beau Jennings & the Tigers – The Thunderbird (Clerestory AV)
107 Frankie Cosmos – Close It Quietly (Sub Pop)
108 River Drivers – Big Oak Road (River Drivers)
109 Dime Box – Happy (Avebury)
110 Lil Smokies – Live At the Bluebird (United Interests)
111 Scary Hours – Live To Serve (Pyrrhic Victory)
112 Armstrong – Under Blue Skies (Expanded Edition) (The Beautiful Music Canada)
113 Bevis Frond – We're Your Friends, Man (Fire)
114 Elva – Winter Sun (Tapete)
115 Possible Humans – Everybody Split (Hobbies Galore Australia)
116 Charming Disaster – Spells + Rituals (Charming Disaster)
117 Dream Syndicate – These Times (Anti-)
118 Stafraenn Hákon – Aftur (Vogor/Darla)
119 Redd Kross – Beyond the Door (Merge)
120 Longwave – If We Ever Live Forever (Bodan Kuma)
121 Young Guv – Guv I / II (Run For Cover)
122 Preservation Hall Jazz Band – A Tuba To Cuba (Sub Pop)
123 Altin Gün – Gece (Glitterbeat)
124 The Subhumans (U.K.) – Crisis Point (Pirate's Press)
125 Agent Blå – Morning Thoughts (Kanine)
126 Radwaste – End Times Mixtape 12" (Happy Squid)
127 Car Seat Headrest – Commit Yourself Completely (Live) (Matador)
128 David Kilgour & the Heavy Eights – Bobbie's A Girl (Merge)
129 Jenny Hval – The Practice of Love (Sacred Bones)
130 The Paranoid Style – A Goddamn Impossible Way of Life (Bar/None)
131 The Long Ryders – Psychedelic Country Soul (Cherry Red U.K.)
132 Sleater-Kinney – The Center Won't Hold (Mom + Pop)
133 The Flesh Eaters – I Used To Be Pretty (Yep Roc)
134 The Dub Foundation – The Good, the Bad and the Dubby (Smooth Sailin)
135 Iggy Pop – Free (Loma Vista)
136 The Hickoids – All the World's a Dressing Room: Live In L.A. 08.24.2018 (Saustex)
137 Lisa Mychols – Sugar (Strataplastic)
138 The Minus 5 – Stroke Manor (Yep Roc)
139 Juliana Hatfield – Sings the Police (tribute) (American Laundromat)
140 The Ocean Blue – Kings and Queens / Knaves and Thieves (Korda)
141 A Cast of Thousands – Sleeping World (Record Records)
142 Girl Ray – Girl (Moshi Moshi)
143 The Jasmine Minks – Step By Step (A Turntable Friend)
144 Gudrun Gut – "Moment" (Monika Enterprise Germany)
145 Teenage Bottlerocket – Stay Rad! (Fat Wreck Chords)
146 Angel Olsen – All Mirrors (Jagjaguwar)
147 Greg Antista & the Lonely Streets – Shake Stomp and Stumble (Primal Beat)
148 Flight of the Conchords – Live In London (Sub Pop)
149 Radio Supernova – Tähtiin (Soit Se Silti Finland)
150 Jellybricks – Some Kind of Lucky (Wicked Cool)
151 Neil Young & Crazy Horse – Colorado (Reprise/WEA)
152 Pip Blom – Boat (Heavenly)
153 Blankenberge – More (S/R)
154 Jane Weaver – Loops in the Secret Society (Fire)
155 Le Big Zero – Ollie Oxen Free (Le Big Zero)
156 Kiki Lane – Bandwagon (Kiki Lane)
157 Kazu – Adult Baby (Adult Baby)
158 Chrissie Hynde With the Valve Bone Woe Ensemble – Valve Bone Woe (BMG Rights Mgmt)
159 Girlpool – What Chaos Is Imaginary (Anti-)
160 Desert Ships – Eastern Flow (Desert Ships U.K.)
Jack Rabid's Picks, 2019's 70 Best Singles & EPs (Mostly Stand-Alone/Non-LP!):
1 The Aints! – 5-6-7-8-9 12" EP (ABC/UNI Australia)
2 The Shambolics – "Chasing A Disaster" (Creation 23 U.K.)
3 Proper – Welcome to This Town EP / Sinister EP (Proper U.K.)
4 Mini Meltdowns – Destined For Disaster EP (Good Land)
5 Joy Cleaner – "Easter Tuesday" (7", cassette) (Dromedary)
6 Jet Black – "Hunted" 7" (Jet Black)
7 Wire – Mind Hive (pinkflag)
8 Versus – Ex Nihilo EP (Ernest Jenning)
9 Rolling Blackouts Coastal Fever – "In the Capital" (Sub Pop)
10 The Eyelids (with Larry Beckett) – "Found At the Scene of a Rendezvous That Failed" (Jealous Butcher)
11 Swervedriver – "Spiked Flower" (Dangerbird)
12 T.S.O.L. – "Ghost Train" 7" (Slope)
13 Mercvrial – The Stars, Like Dust EP (Mercvrial)
14 A.M. Nice – "Scooter" 7" (Phratry)
15 Nada Surf – "Something I Should Do" / "Looking For You" / "Song For Congress" (Barsuk)
16 Fotoform – Park Time Punks Session EP (Dismal Nitch)
17 The Black Watch – "One Hundred Million" / "Julie" (Eskimo)
18 Peel Dream Magazine – Up and Up EP (Slumberland)
19 The Blankz – "It's A Breakdown" 7" (Slope)
20 Flyying Colours – "Goodtimes" (Poison City Australia)
21 Bromide – "Magic Coins" / Split 7" With Easter (Scratchy U.K.)
22 Lake Ruth – "Extended Leave" (Slumberland)
23 The Gallerys – "On the Other Side" (The Gallerys U.K.)
24 Rufus Wainwright – "Trouble In Paradise" (BMG)
25 Fake Laugh – "Honesty" (Headcount U.K.)
26 The Electric Soft Parade – Stages (Chord Orchard U.K.)
27 The Cabin Fever – Alone Together 10" EP (The Cabin Fever)
28 Innocence Mission – "Mary Margaret In Mid-Air" (Bella Union)
29 Lost Ships – All of the Pieces EP (Lost Ships U.K.)
30 Paul McCartney – "Home Tonight" (Capitol)
31 Drive By Truckers – "Armageddon's Back In Town" (ATO)
32 A Girl Called Eddy – "Been Around" (Elefant Spain)
33 Flower – "Names" flexi (Ernest Jenning)
34 Sore Points – Not Alright EP (Slovenly)
35 Positive No – "Teenage Waistline" 7" (Dromedary)
36 Johnny Marr – "Armatopia" (New Voodoo)
37 Autumnfair – Watching the Sky 10" EP (Autumnfair)
38 Hinds – "Riding Solo" (Mom + Pop)
39 Bodega – Shiny New Model EP (What's Your Rupture?)
40 Robyn Hitchcock – "Sunday Never Comes" (Tiny Ghost)
41 Best Coast – "For the First Time" (Concord)
42 The Nats – Something New By the Nats EP (The Nats)
43 Sansyou – When We Become Ghosts EP (Sansyou)
44 Stuyvesant – Aardvark 7" (Dromedary)
45 Channel 3 – Bellwether 12" EP (Hostage)
46 Blank Pages – Into the Ether EP (FDR)
47 The K's – "Aurora" (Creation 23 U.K.)
48 Teenage Fanclub – "Everything Is Falling Apart" (Merge)
49 Camelphat & Jake Bugg – "Be Someone" (RCA)
50 The Carvels NYC – "Santa Had To Get A Day Job" (Die Laughing)
52 Cliff & Ivy – Deathmask Devotion EP (House of Extreme Darkness)
52 The Wedding Present – "Jump In the Water's Fine" (Come Play With Me U.K.)
53 Greg Hoy & the Boys – Enjoy the View EP (30 Peak)
54 Linda Guilala – "La Inseguridad" 7" (Elefant/Test Pattern)
55 Death Cab For Cutie – The Blue EP (Atlantic)
56 The Orange Kyte – "Distractions" (Little Cloud)
57 Un.Real – "Blue Garden" (3 Robots)
58 Wild Billy Childish & CTMF – Marc Riley Session 2019 7" EP (Damaged Goods U.K.)
59 Michael Stipe – "Your Capricious Soul" (Futurepicenter)
60 Interpol – A Fine Mess EP (Matador)
61 Film School – "Go (But Not Too Far)" (Hauskat)
62 The Illicits – "In What World" (Creation 23 U.K.)
63 Purple Heart Parade -Desolation Angel EP (Club AC30 U.K.)
64 Ryan Weitzel – Skies EP (Exit Stencil)
65 John Davis & Matthew Caws – "We Are in the Wild and We Are Home" (S/R)
66 Disturbed Furniture – Continuous Pleasures EP (Arevarc)
67 Rogers & Butler – "Diana Dors" EP (Zip)
68 Peach Fuzz – "The Outside Looking In" (Skeleton Key)
69 Amanda Palmer – "Everybody Knows Somebody" (Amanda Palmer)
70 Wild Nothing – "Blue Wings" (Captured Tracks)
NOTABLE Honorable Mention: Billie Elish – "The End of the World" (Rob Dickinson cover, BBC Radio One Piano Sessions)
Jack Rabid's Picks, 2019's 50 Best Releases of Old Recordings & Reissues:
1 The Beatles – Abbey Road 50th Anniversary Deluxe Edition (3 CDs) (Capitol)
2 D.O.A. – 1978 (double 12") (Sudden Death Canada)
3 The Kinks – Arthur (Or the Decline and Fall of the British Empire) 50th Anniversary (box) (BMG)
4 Wipers – Land of the Lost 12" reissue (Zeno/Jackpot)
5 Various – Big Gold Dreams; A Story of Scottish Independent Music 1977-1989 (box) (Cherry Red U.K.)
6 Buzzcocks – Another Music in a Different Kitchen (Remastered) 12"/Love Bites (Remastered) 12" (Domino)
7 The Go-Betweens – B Stands for Go-Betweens (box) (Domino)
8 The Joy Formidable – A Balloon Called Moaning (double reissue) (Hassle)
9 Echo & the Bunnymen – The John Peel Sessions 1979-1983 (Korova/WEA)
10 The Damned – Black Is the Night Best-Of (BMG Rights Mgmt U.K.)
11 The Black Watch – 31 Years of Obscurity: The Best of 1988-2019 / The Vinyl Years: 1988-1993 (ATOM)
12 Chip & Tony Kinman – Sounds Like Music (Omnivore)
13 Professor Longhair – Live On the Queen Mary (reissue) (Harvest/Ume)
14 Secret Shine – Beyond Sea and Sky/Elemental (Saint Marie)
15 Dead Kennedys – DK40 (triple CD) (Manifesto)
16 Springfields – Singles 1986-1991 (Slumberland)
17 Bob Dylan & Johnny Cash -Travelin' Thru, 1967-1969: The Bootleg Series Vol. 15 (Columbia/Legacy/Sony)
18 Bob Dylan – The Rolling Thunder Revue: The 1975 Live Recordings (box) (Columbia/Legacy/Sony)
19 Motörhead – 1979 (box) (BMG)
20 Creedence Clearwater Revival – Live at Woodstock (Craft)
21 The Upsetters – Clint Eastwood/Many Moods of 'the Upsetters' (double CD) (Cherry Red U.K.)
22 Adrenalin O.D. – Let's Barbeque (Millennium Edition 12" reissue) (Beer City)
23 Hollywood Stars – Sound City (Burger)
24 John Lee Hooker – The Country Blues of John Lee Hooker 12" (Craft)
25 Jefferson Airplane – Woodstock Sunday August 17, 1969 (triple LP) (Real Gone)
26 Fur – Find What You Like & Let it Kill You 12" reissue (Conquest of Noise Australia)
27 Television Personalities – Some Kind of Happening: Singles 1978-1989 (Fire)
28 The Bar-Kays – The Definitive Collection (Robinsongs/Cherry Red U.K.)
29 The Posies – Amazing Disgrace (Double Deluxe) (Omnivore)
30 Curtis Mayfield – Keep On Keeping On: Studio Albums 1970-1974 (box) (Rhino)
31 Lee Hazlewood – 400 Miles From L.A. 1955 -56 (Light in the Attic)
32 Poison Idea – Pick Your King 12" reissue (Jackpot)
33 The Dream Syndicate – The Days of Wine and Roses 12" reissue (Fire)
34 The Nazz – The Complete Nazz (triple CD) (Purple Pyramid/Cleopatra)
35 Bert Jansch – Avocet (40th Anniversary Ed.) 12" (Earth)
36 The Fall – Live At the Witch Trials (box) (Fall Sound Archive/Cherry Red U.K.)
37 Peter Laughner – Peter Laughner (box) (Smog Veil)
38 Blake Babies – Innocence and Experience 12" reissue (American Laundromat)
39 The Mentally Ill – Gacy's Place (Starbeat Sessions) 12" (Last Laugh)
40 The Replacements – Dead Man's Pop [Don't Tell a Soul box] (Rhino)
41 The Pop Group – Y (Definitive Collection) (Mute)
42 Scott Morgan's Powertrane With Deniz Tek & Ron Asheton – Ann Arbor Revival Meeting (double 12" reissue) (Grown Up Wrong!)
43 Gordon Lightfoot – The Complete Singles 1970-1980 (Real Gone)
44 Sonic Youth – Battery Park NYC July 4 2008 (Matador)
45 Alex Chilton – Songs From Robin Hood Lane / From Memphis To New Orleans reissues (Bar/None)
46 Richard Thompson – Across A Crowded Room – "Live At Barrymore's" 1985 (Real Gone)
47 John Coltrane – Coltrane '58: The Prestige Recordings (box) (Craft)
48 The Revenge – The Revenge 12" EP (In the Red)
49 Mississippi Fred McDowell – The Best of (Nub)
50 The Scientists – Not For Sale: Live 1978/79 (Grown Up Wrong! Australia)
HONORABLE MENTIONS:
Spoon – Everything Hits at Once: The Best of Spoon (Matador)
Big Brother & the Holding Co. – Sex, Dope & Cheap Thrills (double CD) (Columbia Legacy)
Bunk Johnson & Leadbelly – At New York Town Hall 1947 12" (ORG Music)
The Shins – "When I Goose Step" reissue (Sub Pop)