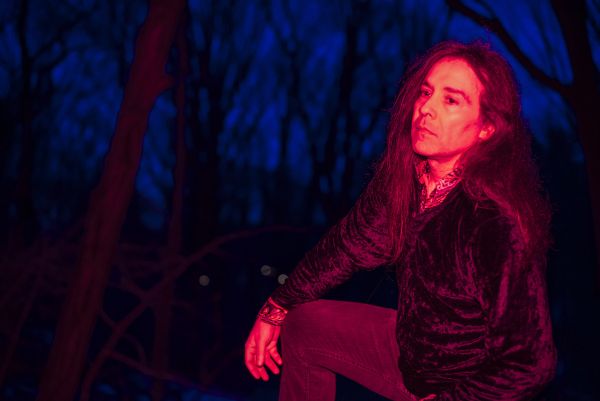 31 March 2020
Martin Bisi – Photo Credit: Nicole Capobianco
Earlier we introduced you to the legend who is Brooklyn-based producer Martin Bisi in relation to the 'BC35' compilation, marking the 35th anniversary of his BC Studio and involving improvisational music from people who have been part of that history, including members of Sonic Youth, Swans, White Hills, JG Thirlwell, Cop Shoot Cop, Live Skull reunion, Pop 1280, The Dresden Dolls, and many more. Pitchfork described it as "a sonic embodiment of risk-taking, rule-breaking, and antithesis that celebrates the endurance of a man and a space tied directly to New York's noise, art-rock, punk, free jazz, hip-hop, and alternative movements."
Today, Big Takeover has the pleasure of premiering the video for 'Let It Fall' single, a tripped out track lifted from his new Solstice album. His first solo record in five years, this is actually the sixth full-length album and his ninth release overall for the self-proclaimed cultural antagonist. This is a dark psychedelic ride featuring eerie operatic vocals throughout, along with effects-driven guitar, keyboards, electric viola, and trance-like drumming. The effect is a disorienting landscape on the edge between that which is fearful and full of anticipation.
A central figure in NYC's musical history for the past four decades, Martin Bisi founded BC Studio in Gowanus, Brooklyn in 1981 with the help of Brian Eno and Bill Laswell.
Bisi, best known as the principal engineer, producer and caretaker of the BC Studio since parting ways with co-founder Bill Laswell in mid-'80s, has empowered many artists that are now well-known and part of the fabric of NYC's underground. He's produced seminal albums by Sonic Youth, Swans, The Dresden Dolls, John Zorn, and even Herbie Hancock with his infectious 'Rockit'.
Bisi has forged a truly incredible career, recording and shaping eclectic trailblazing music that's influenced multiple genres. Apart from indie rock, he also contributed to the sound of early hip-hop (with Afrika Bambaataa and others), as well as avant-garde (Naked City, Fred Frith, Foetus).
An underground luminary in his own right, Bisi has also been recording and releasing music of his own since 1988. Noisey says "Bisi has presided over recordings that defined seminal scenes, counting downtown NYC's avant-garde jazz scene, '80s art-rock and '90s Bowery scum-rock. A glance at his stunning, across-the-genre-board discography results in minds blown".
Ultimately, his role as producer has shaped him as a musician. "I draw influence in large measure from what comes through the studio. It's like a giant sieve of this NYC stuff. I don't advertise, so I record people who are drawn to me for various reasons. I think engineering/ producing has been an essential part of my path as a musician."
As far from trends as any of his work, this psychedelic opus through light and dark sees Bisi team up with video director Scott Kiernan of the mobile TV studio E.S.P.TV, famed for his video and sound multimedia installations around NYC.
"I've always felt music was a pathway to something primal, not completely knowable, and connected to our essence personally and collectively -an essence connected to all life, and the planet. I wanted to do an album that reflected on our planetary cycles, hence 'Solstice' has Winter and Summer solstice sides – each with different energies," says Martin Bisi.
"With the opening track (and video), I wanted to go to the beginning of human society. 'Let It Fall' itself is a call to the cosmos for rain. The song also speaks of seeking control of nature, so i wanted the video to have a futurist look, to bridge our beginnings to an unknown future."
Mostly born out of improvisation, Solstice presents dense layers of sound that combine in cacophonous and electrifying ways. Think early Sonic Youth crossed with Bitches Brew. A stomping post-punk vibe churns beneath a wild array of tones and rhythms – operatic vocals, effects-driven guitars, keyboards, electric viola, drums, and more. Rapturous melodies and anthemic lyrics emerge from the din.
To record this album, Bisi traveled to California, New Jersey, and the UK so that he could track in person with his various collaborators. He subsequently assembled and mixed the album in his BC Studio in Brooklyn, which he then presented to Fred Kevorkian (Iggy Pop, Debbie Harry, Peter Murphy) for mastering.
Martin Bisi's Solstice LP is out now, available digitally across key online stores and online streaming platforms, including Bandcamp. It can also b ordered on red vinyl HERE
CREDITS
Martin Bisi – vocals, guitar
Amanda White – soprano vocals
Diego Ferri – baritone guitar
Genevieve Fernworthy – electric viola
Oliver Rivera-Drew – drums
Recorded at The Laundry Rooms, Sheffield UK by Dave Hadley and at BC Studio, Brooklyn by Martin Bisi
Produced and mixed at BC Studio by Martin Bisi
Mastered by Fred Kevorkian
Also check out 'Save Sludgie The Whale Of Gowanus' from the compilation BC35 Volume Two, the second installment of two to mark the 35-year anniversary of BC Studio
Earlier, Bisi's work and studio were the subject of the film 'Sound & Chaos: The Story Of BC Studio', squeezed in by the approaching gentrification of his neighborhood, with commentary by Lee Ranaldo (Sonic Youth), Bill Laswell, Michael Gira (Swans), Bob Bert (Sonic Youth), Jim Thirlwell (a.k.a. Foetus) and Brian Viglione (Dresden Dolls), among others. Check it out here:
MARTIN BISI
Website
Facebook
Instagram
Twitter
SoundCloud
Spotify
Apple Music