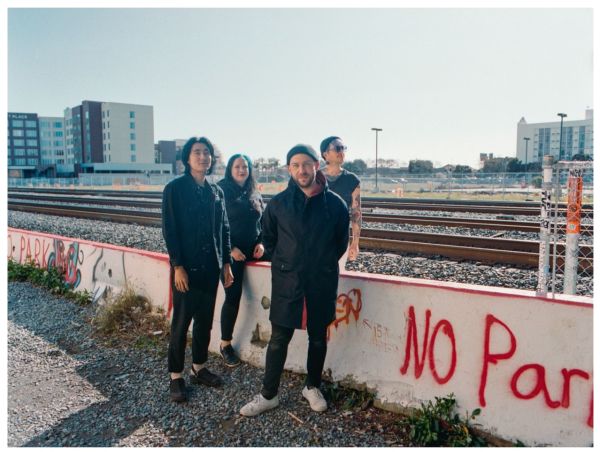 13 October 2021
States of Nature – Photo Credit: Christopher Strum
Sell The Heart Records (U.S.) and Engineer Records (UK) will be releasing a "new" full-length album from the Bay Area's own States of Nature on November 19th. The album collects the quartet's three previous EPs and offers two additional brand new, unreleased tracks.
Featuring members of Dead To Me and Everybody Row, San Francisco's States of Nature blends '90s-era Dischord attitude with modern-day punk-influenced indie rock to bring a fresh take on a familiar sound.
Eric Urbach of Everybody Row is on guitar/vocals, Lindsey Anne is on bass and vocals, Dennis Orason is on guitar, and Isa Knife of Dead To Me is on drums. Dueling vocals, shouty, yet memorable hooks, and strong counterpointed movements are the result of States of Nature's rock n' roll frenzy.
States of Nature began in 2018 self-releasing and recording three EPs while captivating audiences around California with awe-inspiring live performances. Playing alongside the likes of Shutups, Pardoner, Sarchasm, Samiam, Decent Criminal, and many others, States of Nature are among the most exciting bands of the recent wave of indie rock emerging from the Bay Area.
Big Takeover is pleased to host the premiere of the dynamic music video for the urgent and passionate (post-)punk number "Light and Seed."
The song careens by with scrambling and angular guitar lines, shadowy bass line, relentlessly pounding drum beat, crashing cymbals, and fervently exclaimed vocals.
The stark black 'n' white music video spotlights the band, all dutifully wearing their masks against viruses (and other contagions), but trying to eat, drink, smoke, and even apply lipstick despite having their mouths covered.
Eric Urbach dives into the meaning behind the music video, explaining, "The video is trying to comment on the surreal nature of our current reality, each action each band member does is a normal everyday sort of thing. but there's clearly something off about it and that pretending things are normal and ignoring our reality comes at our detriment; similar to the 'This is fine' meme if you will."
"I'd like to think if we made this say pre-covid, people may think it was artsy, but in covid, it just seems normal that we're all wearing masks trying to make it work."
"Lyrically the song touches on those themes as well; feeling out of control of what's going on in the broader world but still trying to find some hope in a dark time. Feeling constrained by external forces but still trying to find a way to grow and be better."
Upcoming shows:
October 16th at Thee Parkside in San Francisco w/The Younger Lovers, Strange Light. Tickets HERE
October 23rd – Livestream from The Complex San Francisco – HERE
January 12th at Bottom of the Hill in San Francisco w/Spud Canyon + 1 TBA. Tickets HERE
Pre-Order Links:
UK at Engineer Records
Website
Facebook
Bandcamp
Instagram