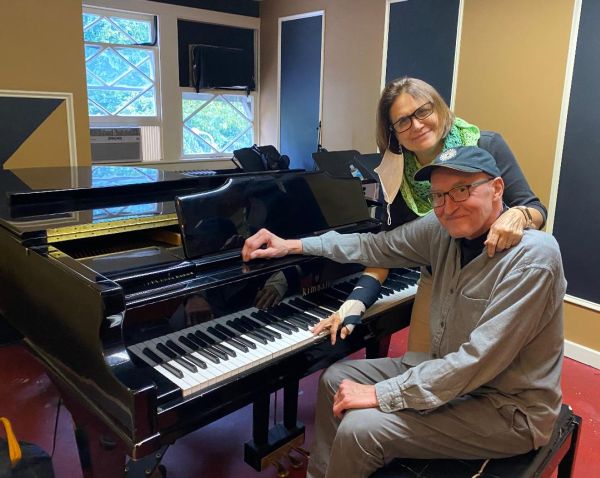 13 October 2021
Speed the Plough – Photo courtesy of Speed the Plough
"The Other Side" is the latest video released from Before & After Silence, a collection of songs written and recorded by Speed the Plough founders Toni and John Baumgartner and remote collaborators far and wide; from Beirut to New York to Florida and California, who all responded beautifully.
Toni and John Baumgartner created and recorded the album during much of 2020 and into 2021 when live music, or even getting together to jam or rehearse, was out of the question.
Guests on this album include Jon and Deena of The Cucumbers, Rebecca Turner, and Dan Francia who are featured on "The Other Wide," as well as Mayssa Jallad of Safar, Matt Piucci of The Rain Parade, Tara Key of Antietam, Brenda Sauter and Stanley Demeski of The Feelies, Scott Anthony, Ed Seifert, Matt Davis, and STP alums John Demeski, Ian Francia, Marc Francia, Christopher O'Donovan, and Richard Barnes who appear on other tracks.
Speed the Plough is a New Jersey-based chamber pop/indie rock band founded by John and Toni Baumgartner and Marc Francia that has been playing since 1984. The band rose out of the ashes of The Trypes, a mainstay of the early '80s Hoboken scene, which included most members of The Feelies, many of whom continued with STP through the band's first decade.
Speed the Plough has released 9 full-length albums on Coyote/Twin-Tone, East Side Digital, Dromedary, and Bar-None Records, a limited-edition single on French label Acetone, and a self-released EP. They have had songs featured in two independent films, Strangest Dreams (1990) and Paradise Park (1993).
Their 2013 release, The Plough & The Stars (Bar-None) is a 30 year retrospective of the band. Their eighth album – Now – marked the relaunch of ground-breaking label Coyote Records in early 2016. And their ninth release, 2018's …And Then, features two bonus tracks by the original members of The Trypes.
Big Takeover is pleased to host the premiere of the heartfelt and harmonizing performance music video for the pastoral "The Other Side." The video's footage also includes various scenes set in the natural world, from the flow of ocean waves to the swaying of green trees. The overlapping vocals create a hypnotic effect, while images of the environment soothe the mind…