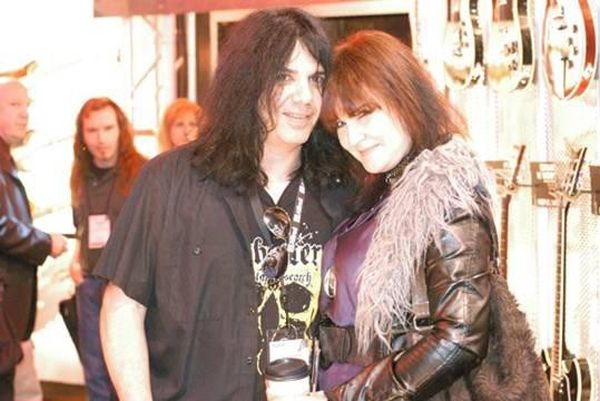 13 November 2018
Michael and Tish Cirvavolo at NAMM – Photo Credit: J. Adams
Being one of the nation's music capitals, it's no surprise that such diversity comes out of Los Angeles. However, rarely do you find so much diversity and talent in one single project as can be discovered on the debut album offered by a powerhouse collective known as Beauty in Chaos.
If you ever were a fan of 4AD artist This Mortal Coil, you will easily grasp the concept of this project – one key artist, one key producer, and a rotating cast of other notable musicians, weaving in and out of songs as is fitting. In the case of This Mortal Coil, the core duo was Ivo Watts-Russell and producer John Fryer. For Beauty in Chaos, it is guitarist Michael Ciravolo and producer Michael Rozon, who was also recently nominated for a Grammy award for his work on the most recent Ministry album.
On November 30th they will release their debut album Finding Beauty in Chaos on limited edition heavyweight, colored vinyl via 33.3 Music Collective. Beauty in Chaos are offering nearly 80 minutes of music, and it will also be available on that date as a deluxe CD.
This brings us to today's premiere of their new single "Look Up" feat. Tish Ciravolo. Michael Rozon also plays drums and bass guitar here. Known for playing in numerous bands including Rag Dolls, The Velvets, They Eat Their Own, StunGun, and eventually her own band Shiksa and the Sluts, Tish Ciravolo is best known as founder of Daisy Rock Girl Guitars and a touring member of Michael Aston's Gene Loves Jezebel. Since 2000, she has been combining a lifelong passion for making music with a desire to "level the playing field" for dedicated female guitarists and bassists of all ages.
Ciravolo's focus on female empowerment in music has been immortalized by her induction into the Museum of Making Music, the world's premier museum on the history of the music products. In 2009, Tish participated in NAMM's Oral History project and received Guitar Goddess Magazine's "Trailblazer Award." In 2010, Daisy Rock was inducted into The Musical Instrument Museum in Phoenix, AZ, and Tish received the Searchlight Scholar award from the Women's Executive Leadership Summit at the University of Wisconsin School of Business.
Tish Ciravolo was honored with NAMM's "She Rocks Award." Ciravolo has spoken at Ted talks, the Musicians Institute, and NAMM and has been featured in national and international media outlets such as USA Today, People, Time, Newsweek, CNN, MSNBC, ABC, NBC, FOX, VH1, the Premier Radio Network, BBC Radio, and the Associated Press.
"Look Up" is a brilliant slice of shoegaze that recalls all the most glorious moments in shoegaze history. While there are certainly elements of Lush, My Bloody Valentine, and Chapterhouse here, Tish Ciravolo's vocals and lyrics markedly set this apart. Striking and full of innocence, her delivery recalls the kinder, peace-loving time of 1960s San Francisco and numerous French vocalists from that era. Together, this is a potent cocktail of sonic reverie and brilliantly constructed song craftsmanship with production par excellence.
"Once I set up my turntable, I immediately listened to a bunch of vinyl from the late '80s 4AD period and shoegaze. Cocteau Twins, Lush, Slowdive and, of course, My Bloody Valentine. Inspired, I picked up my guitar and run it through an excessive amount of delay and reverb. Once I hit on that main riff, I knew it would be a perfect song for my wife to sing. I thought she delivered a melodic and lyric homerun," says Michael Ciravolo.
The accompanying video for "Look Up" was produced by Industrialism Films and directed by Vicente Cordero. We see angels and demons, flashbacks of beloved familial children, and much visual representation laced in bliss and dreamery.
"When you randomly meet someone and instantly know that you want to create a history with them, that is what I call magic. Everyone's family history is different but I wanted to change what I had grown up in and create a loving home life including dogs, cats and kids," confides Tish Ciravolo.
"My fear is now, with the advent of cell phones, that people are so busy looking down at their phones they are missing life. See the moon outside my window? See the stars up in the sky? There is magic in the air – don't miss that magic, that chance in life to randomly meet someone that you want to create a history with and LOOK UP."
Earlier Beauty in Chaos previewed the singles "Man of Faith" feat. Wayne Hussey of The Mission and Simon Gallup of The Cure, as well as "Storm" feat. Ashton Nyte (The Awakening, MGT) and "Un-Natural Disaster" feat. dUg Pinnick and ICE-T.
Originally from New Orleans and now based in Los Angeles, Michael Ciravolo has played guitar in Human Drama for the past 30 years, most recently on Broken Songs for Broken People (2017). Perhaps best known as President of Schecter Guitar Research, he has also played live and recorded with Michael Aston's Gene Loves Jezebel since 1998. In 2015, he was joined by wife Tish Ciravolo on stage.
The debut album Finding Beauty in Chaos also features a beautiful collection of music luminaries, including Wayne Hussey (The Mission), Simon Gallup (The Cure), Robin Zander (Cheap Trick), Al Jourgensen (Ministry), Pete Parada (The Offspring), dUg Pinnick (Kings X), ICE-T (Body Count), Michael Aston (Gene Loves Jezebel), Michael Anthony (Van Halen), Dirk Doucette (Gene Loves Jezebel), Ashton Nyte (The Awakening), Pando (A Flock of Seagulls), Evi Vine (Evi Vine), Betsy Martin (Caterwaul / Purr Machine), Marc Danzeisen (The Riverdogs), Kevin Kipnis (Purr Machine / Kommunity FK), Rudy Matchinga (Red Scare), and Johnny Indovina (Human Drama).
Finding Beauty in Chaos will release on vinyl on November 30th, but is already available on CD and digitally, including on iTunes, Spotify, and Bandcamp. CDs and vinyl can be ordered from the Beauty in Chaos website
SINGLE CREDITS
Tish Ciravolo – vocals
Michael Ciravolo – guitars
Michael Rozon – live drums and bass guitar
Written by Michael Ciravolo and Tish Ciravolo
Recorded, mixed and produced by Michael Rozon
TRACK LIST
1. ROAD TO ROSARIO ft. Michael Aston
2. STORM ft. Ashton Nyte
3. MAN OF FAITH ft. Wayne Hussey & Simon Gallup
4. 20th CENTURY BOY ft. Al Jourgensen
5. DRIFTING AWAY ft. Robin Zander
6. MEMORY OF LOVE ft. Johnny Indovina
7. LOOK UP ft. Tish Ciravolo
8. UN-NATURAL DISASTER ft. dUg Pinnick & Ice T
9. THE LONG GOODBYE ft. Wayne Hussey
10. BEAUTY LIES WITHIN ft. Johnny Indovina
11. BLOODLESS AND FRAGILE ft. Ashton Nyte
12. I WILL FOLLOW YOU ft. Evi Vine
13. HELIOTROPE ft. Betsy Martin
14. FINDING BEAUTY IN CHAOS ft. Ashton Nyte
Also enjoy the previous video for 'Storm' feat. Ashton Nyte, as well as the full debut album;
BEAUTY IN CHAOS
Website
Blog
Facebook
Instagram
Twitter
SoundCloud