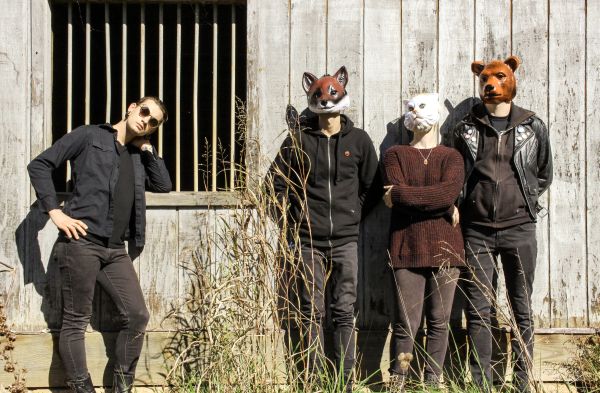 13 November 2018
Crooked Ghost – Photo Credit: Rome Widenhouse
Asheville, North Carolina is home to many artists, one of which is the collective Crooked Ghost. This five-piece indie rock/post-punk group will be releasing their new album Skeleton House on CD on November 23rd. This will be followed by a limited edition 12" vinyl release in February 2019.
Today The Big Takeover has the pleasure of premiering their new video for the "Sleepwalker" single. The clever video that was created for this, directed by Rome Widenhouse, is dark and perplexing, with imagery featuring the core band members seemingly representing a disturbing reality in parallel with what we actually see and do. This clip is definitely worth viewing.
The band comments, "The music video was shot over several weeks, and includes shots of that eclipse everyone was so excited about. The video is a bit surreal and has a sort of Twin Peaks meets the X-Files vibe. It was a lot of fun to shoot, even the traipsing barefoot through the woods in nothing but a bedsheet and getting poison ivy part. At one point our director took a tumble down a cliffside and we thought he was done for!"
Following in the footsteps of the original generation of '80s icons like Echo & The Bunnymen, The Cure, and The Smiths, Crooked Ghost has developed their own distinct sound, owing in large part to Ray Clark's distinctive and tremolo-laden timbre and vocal style. Here we feel vocal dynamics similar to Morrissey, Brett Anderson of Suede, Matthew Bellamy of Muse, and even Chris Isaak. "Sleepwalker" is a brilliant gem worth repeating over and over.
Skeleton House is the band's second long-player – a noir and hazy dreamscape of lush and angular melody, with a stark lyrical rawness touching upon such subjects as addiction, trauma, loss, superstition, and everything that gets left behind after a catastrophic event. The album consists of eight tracks, ranging from dreamy and playful to anguished and harrowing. Billowing vocal patterns weave intricate stories between shimmering guitar crescendos, cascading synths, and mathematical percussion.
This album follows up their debut LP Strange Burial Rituals, released in March of last year. This new offering has two distinct halves: the first is lighter, the second darker. The whole thing plays out like a story, or rather, two opposite stories that are intertwined.
"The song "Sleepwalker" was one of the first written for the new album, and everything about it just worked. The song itself is in reference to addiction and a dissolution of one's sense of self, and of self-medicating and numbness. I wanted to bring light to something dark, yet still tell an honest story. Something about this song has always stood out for us," says Ray Clark.
Formed by Clark in Seattle in 2013 as an acoustic side project, Crooked Ghost was initially a channel for leftover songs that didn't seem to fit in any of the other bands he was involved in, but quickly became the focal point of Ray's creative energy. Ray soon fled the musically-saturated Seattle scene to find himself in the intensely creative heart of Asheville, North Carolina.
With a guitar case full of lyrics of songs never intended to be heard by anyone, somehow, something had begun to spark again. Intimidated by the idea of a solo project, Ray joined with Chris Saldin, who would play bass, and bought an electric guitar, set on bringing Crooked Ghost to life. Together with drummer Jon Wyatt, the songs came to life. A few months later, they entered the studio to record their debut album.
They were eventually joined by Charles Reed on guitar and Alex Cannon on keyboards before recording the heavily emotive and dreamily lush Skeleton House. With the power-pop punch of "Catch Fire", the dark-disco punk breakdown of "Roadkill", to the angular yet dreamy swoon of "Sleepwalker", Skeleton House will impress and even haunt you.
Clark reveals, "These songs were inspired by the loss of someone I loved to a fire. The idea that something like a fire could destroy so much, but still leave something behind was so inticing to me. I wanted these songs to represent resilience and strength, and to be able to process loss in a healthy way. I wanted to find a way to bring light to the darker things I was experiencing, and to arrange the pieces into something beautiful,"
"We recorded this album up in Black Mountain [of North Carolina] in the dead of winter. The snowy and icy landscape definitely added to the album's atmosphere. This is also our first release on vinyl, making it very special for all of us. As kaleidoscopic as it sounds, I feel we very much achieved the piece of art we were wanting to make."
As of November 23rd, Skeleton House will be available on CD. It can already be ordered via Bandcamp and is also available across music stores and streaming platforms such as iTunes and Spotify.
TRACK LIST
1. Body In Stars 02:42
2. Sleepwalker 04:04
3. Only Nightmares 03:45
4. Catch Fire 05:26
5. Witch Heart 02:45
6. Black Cat 05:56
7. Roadkill 04:07
8. Skeleton House 06:18
CREDITS
Lyrics by Ray Clark
Music written and performed by Crooked Ghost
Recorded and engineered by Edward Maddill at El Rancho Morbido
Produced by Edward Maddill and Crooked Ghost
Vinyl mastered by Adam Boose at Cauliflower Audio
Pressed via Palomino Records
CD and MP3 versions mastered by Ray Clark
Ray Clark: guitar/vocals
Charles Reed: guitars
Chris Saldin: bass
Alex Cannon: keyboards
'Sleepwalker' video directed by Rome Widenhouse
Videographer: Will Osigian
Lighting: Sam Shumate
A GodsDog Films Production
Photography by Rome Widenhouse
Also enjoy more from the new album;
CROOKED GHOST
Facebook
Bandcamp
Instagram
Twitter
SoundCloud
YouTube
iTunes
Spotify