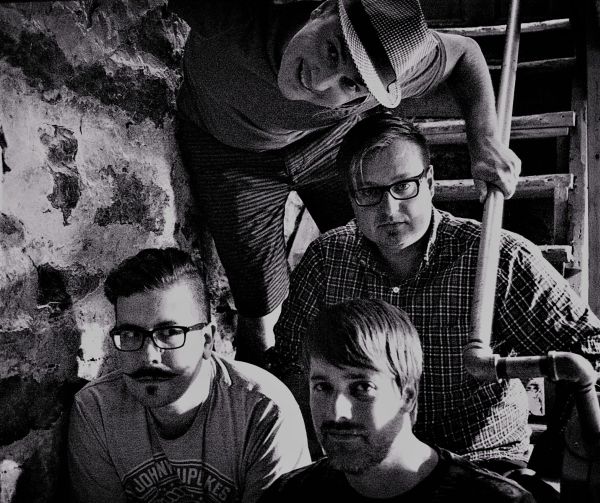 10 February 2021
The City Gates – Photo Credit:Suzy Guevin
After unveiling three singles off their forthcoming album that will be released this year (which feature on several Best Of lists for 2020, including DKFM Shoegaze Radio's Velvet Hum radio show, and From an Extreme to Another), Montreal-located post-punk/shoegaze outfit The City Gates revisit their previous Forever Orbiter full length with the hypnotic music video for their atmospheric song "Maddening Ride," which Big Takeover is pleased to host the premiere of today.
"Maddening Ride" was first released in 2016 and appeared on a special sold-out limited cassette edition EP. The song also features on the absorbing and transporting Forever Orbiter, the band's second LP, which premiered here at Big Takeover, and released in 2018 on the Canadian post-punk/shoegaze label Northern Light Records.
DKFM Shoegaze Radio states, on the song's premiere, that "Maddening Ride" offers, "Cavernous vocals overlay a wall of guitar expanse, and if you're a fan of the genre you immediately feel right at home. The hook draws you into the soundscape, and this feels like a song you've known all your life, even though you're hearing it for the first time."
"Maddening Ride" offers a prodigious blend of post-punk and shoegaze elements, including shimmering guitars melting into reverb and a vintage Aria PS-10 Phase Shifter pedal. According to an interview from The City Gates' guitarist and singer Maxime on The Blog that Celebrates Itself, ""Maddening Ride is one of my favorites on the album. I am pretty happy how the final mix version turned out. Thanks to our guitarist Frank for that. He did a great job. I like that obscure dark melancholy sound, which reminds me a little bit of Jesus And Mary Chain and The Sisters of Mercy. The lyrics, which were written by our bass player John [AKA Jean-Sebastien] and myself, are also pretty deep."
Jean-Sebastien delves into the meaning of the song, revealing, "Highway 10 is the road that I take to go at our rehearsal space, which is based on the Montreal South Shore, is notoriously foggy at night. Most of the band members live around the area. Therefore, it's a place I get to drive through, often very tired and weary. The main idea of the song had already been laid down by Maxime and François [i.e., Frank], both guitar players and singers of the band."
"I can't really recall what it was about", continues Jean-Sébastien. "But the feeling was very melancholic. The rhythm was there, the feeling too, and it all came very clear to me. I wrote lyrics about those rides home, on a foggy highway, passing through small sleeping villages, driving back to a crumbling relationship that has been decaying forever. They are about the sad acceptance of all those hopes and dreams dying."
Looking at the video for "Maddening Ride," the clip takes a deep dive into The City Gates' recent tours, before the COVID-19 pandemic put a stop to the band's latest tour. Made by guitarist and signer Maxime, the video focuses only on footage taken by the band during the last few years. The video comprises shots filmed in the U.K. (in Manchester, and Wales), the US, and Canada.
"I worked on the theme of "Maddening Ride" from different angles", says Maxime. "The video is about parallel worlds, lost souls who try to find themselves in a maddening ride."
Youtube:
Song Lyrics:
Which way is the highway
How will I get home
It's hard to breathe in the fog
It's hard to dream in the rain
Sadly I am aware now
And this road leads to sorrow
Everywhere I go
Shadows stand behind me
Won't you tell me please
What's the name of this town
Have I ever been here
Why bother settling down
Will you be my partner
On this maddening ride
I feel the weight of the bricks
Underneath your ruins
Lick the dust of my wound
Let me haunt this old house
The City Gates have a lot more planned for this year. While their North American West Coast tour has been canceled, the band members are not idle during the pandemic.
They've played two live streaming performances recently, one for the South American Independencia Sónica Festival (alongside Seatemples, Jaguar Sun, Aerofall, and Resplandor) and DKFM's DreamGaze World Wide Festival (with Tears Run Ring, 93MillionMilesFromtheSun, Tennis System, Laveda, and New Age Healers).
The City Gates are now in studio to work on the new album that will be released this spring season. François and Maxime also run the DIY post-punk/shoegaze/coldwave label Velouria Recordz.
Bandcamp
Facebook
Twitter
Instagram
SoundCloud
Velouria Recordz Bandcamp