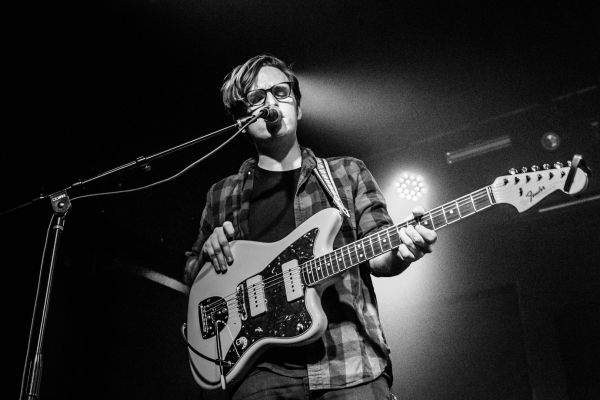 8 April 2019
Jackson Wargo of Snowball ii – live – Photo Credit: Kat Bing
Los Angeles-based shoegaze band Snowball ii have announced their new record Eaton Super 10, the fourth installment of their discography. The EP will drop on April 12th via Doughnut Records.
To accompany the upcoming release of Eaton Super 10, Snowball ii produced a comically droll infomercial called "Music You Can Hear!", which features members of the acclaimed bands Spacemen 3, Lilys, Maroon 5 (Whaaa??!), Surfer Blood, Collapsing Scenery, The War on Drugs, Atreyu, comedian Gregg Turkington (Decker, On Cinema, Neil Hamburger), Colleen Green, and many more artists who give brief, usually blasé, and amusing reactions to Eaton Super 10.
The quick clips build up the giggles due to the compacting and rapid succession of responses into a montage bordering on the absurd. The title of this teaser video kinda gives the viewer an idea of the type of humor Snowball ii for – and the type of high caliber tunes to expect from the laid-back enthusiasm of their musical pals. Oh, yeah, and you can hear some music in the background!
Snowball ii-leader Jackson Wargo played nearly every instrument on the EP, as well as took on all production and mixing responsibilities himself. Among his remarks on the production process: "Making that dumb infomercial was way more work than making the record." Wargo brought Annie Hardy (Giant Drag, Deftones) into the studio to sing backing vocals on Eaton Super 10.
World renowned artist Stephen "ESPO" Powers (David Byrne, Kurt Vile) spray painted the EP's cover art on a wall downtown in Philadelphia.
Snowball ii released the first single off of Eaton Super 10, "Lost In Juarez", a couple of weeks ago. Take a listen below:
The outfit will be hosting an EP release party on May 4th at The Resident in Los Angeles, featuring performances by Snowball ii, Neil Hamburger, and other special guests. Get tickets HERE