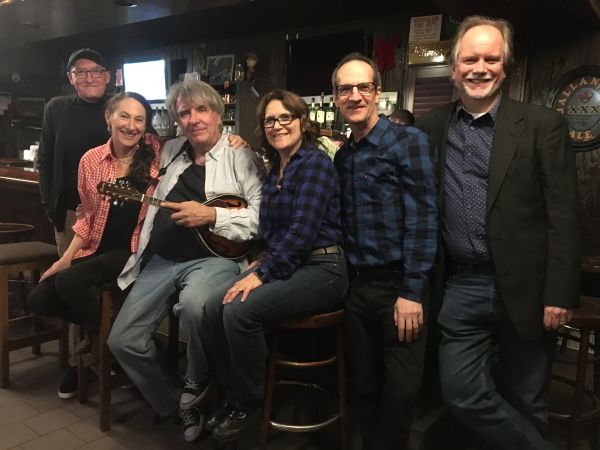 8 April 2019
The Campfire Flies – Photo courtesy of The Campfire Flies
The Campfire Flies are a songwriter's dream sextet, bringing together some of New Jersey's most acclaimed indie rock writers and performers: John and Toni Baumgartner and Ed Seifert (Speed The Plough), Deena Shoshkes and Jon Fried (The Cucumbers,) and Matt Davis (The Thousand Pities). The outfit released their debut album, Sparks Like Little Stars, on March 22nd via OverPop Records.
The eleven songs on the album were produced by the band. Tracks were engineered by Rob Friedman (Dan Zanes, Jackson Browne, Lou Reed) at David Cossin's (Bang on a Can) studio, mixed by Don Sternecker (The Feelies, Railroad Earth) at Mixolydian Studios, and mastered by Scott Anthony at Storybook Sound. Additional recording was handled by John Baumgartner at Ruff Studios, Shoshkes at the J-Club, and Scott Anthony.
The Big Takeover is pleased to be hosting the premiere of the first video from the LP for the gently reflective and wistful acoustic track "Waiting To Shine". It's a nostalgic look at the past as black 'n' white vintage home videos roll along in the background against the moving image of what looks like a Van de Graaff generator (the hair-raising electrostatic machine).
"Our first rehearsal was by candlelight in John and Toni's living room," recalls Fried. Longtime friends and admirers of each others' work, the band formed one stormy night. A ferocious storm felled trees and knocked out the power in Haledon, NJ, the evening the group had set aside to play through each other's songs for fun. "There was a glowing, warm magic to the mood and the acoustic sounds, and we all couldn't wait to get together and do it again," says Davis.
Each songwriter comes to the group with a long rich history and collection of songs. Each had songs that never quite fit into their existing bands, or saw their way into the world in just the right fashion. All of The Campfire Flies are multi-instrumentalists and everyone sings. Key to the band's sound are layered harmonies and four distinct, well-loved songwriting voices, enabling the band to create a broad spectrum of acoustic textures.
After a year of performing at clubs and festivals in New York and New Jersey the group decided to record an album. "New songs keep bubbling up among us, and we felt we needed to document what we had," says Shoshkes.