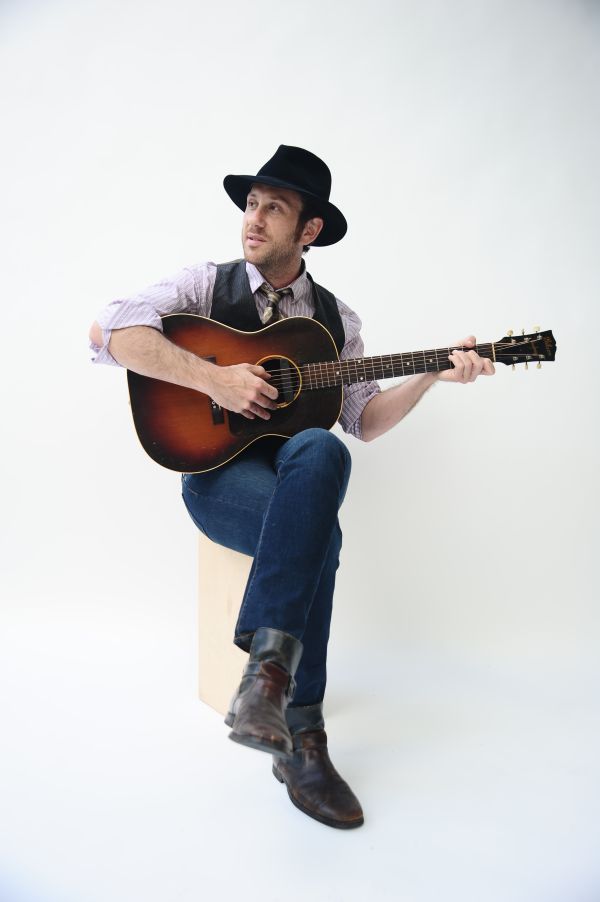 14 September 2021
Kris Gruen – Photo Credit: Jeff Forney
It was in Vermont's rural backcountry woods, mountains, and fields that surround his family's organic farm, that Kris Gruen began writing his fifth studio album, Welcome Farewell. The LP will be released by Mother West on September 24th.
"I felt like a naturalist," says the alt-folk songwriter, who had spent much of the previous decade on the road, strumming his songs to crowds on both sides of the Atlantic. "For a traveling musician, it can be rare to choose a place in the world where you can put down your roots in this most concrete of ways. I now have a big physical commitment to home — to the farm that my family built from scratch, where my wife grows Brussels sprouts and my grandmother is buried. It was while hiking in the nearby woods that I found the reflection and context needed to write about the people and relationships that make up my family and community life. When I removed myself physically from my home to write, I could write about home more genuinely."
Welcome Farewell finds Kris Gruen spinning autobiographical stories of family, community, and the farm life within which he is immersed. It's a memoir of sorts, filled with names, places, and other details sourced from his own experience. Gruen has always been a storyteller, but he's rarely been this personal before. The central characters who occupy Welcome Farewell's songs are real people, including his late grandmother and his wife.
All the songs on this album, which was produced by longtime collaborator Charles Newman (Magnetic Fields, The Bones of J.R. Jones, Kate Vargas), are made earnest by the writer and producer's allegiance to their acoustic soul, but are energized and affirmed by the swooning pedal steel, horns, keys, and a rock-solid rhythm section that deliver stellar and personalized performances throughout.
Big Takeover is pleased to host the premiere of the engaging music video for catchy and loping country-tinged folk-rocker "Nothing in the World."
A call to stay focused on your roots and vision, and not be swayed by temptation and the supposedly easy pathways in life, the track is smooth, yet always pushing forward with looping guitar and bass lines and an emphatic drum beat. Gruen's plaintive and heartfelt vocals and perceptive lyrics hit home amid the brisk and upbeat instrumentation.
The music video was directed and edited by Martin Hedman and shot by Zach Zorn at Orca Media, Montpelier, Vermont. It spotlights Gruen performing the song to the camera in an all-black ensemble, looking like a slick sideshow barker, except that his come-on is a wake-up call to to stay true to yourself.
Footage of rolling slot machines and game shows on TV screens is interspersed throughout the video, symbolic images that dovetail into a track that warns against gambling with your future.
Gruen goes into the deeper details of the song, stating, "Much of this new album is about the passing of those we love, conversations with them once they've crossed over, and the cornerstone sentiments they leave behind. "Nothing In The World" is borne out of such conversations and sentiments, but of all the songs on this record that are similarly inspired, this one is the thriller — a dark parable about staying loyal to your calling and working hard at it. It suggests that nothing worthwhile comes easy, nor should it, and those that try to get away with "something for nothing" pay a high price."
"My grandmother had the power to inspire dreams, or crush them with very few words. It's her advice I'm receiving in this tune, but post-mortem, and the dark bluesy melodies set a "this is your last chance" type of vibe. All that said, the final words of the choruses are positive ones, telling the listener not to give up on themselves as the well-spring that manifests what they need and want. When imagining a concept for the video with Martin Hedman (producer), vintage game show reels quickly rose to the top as a fun way to portray escapist, freeloader culture and our infatuation with kitchy materialism. We may have ended up with something a little lighter than the deeper story line and vibe of the tune, but it really seems like an ironic bullseye for the big picture moral."
Pre-order Welcome Farewell HERE
Facebook
Twitter
Instagram
YouTube