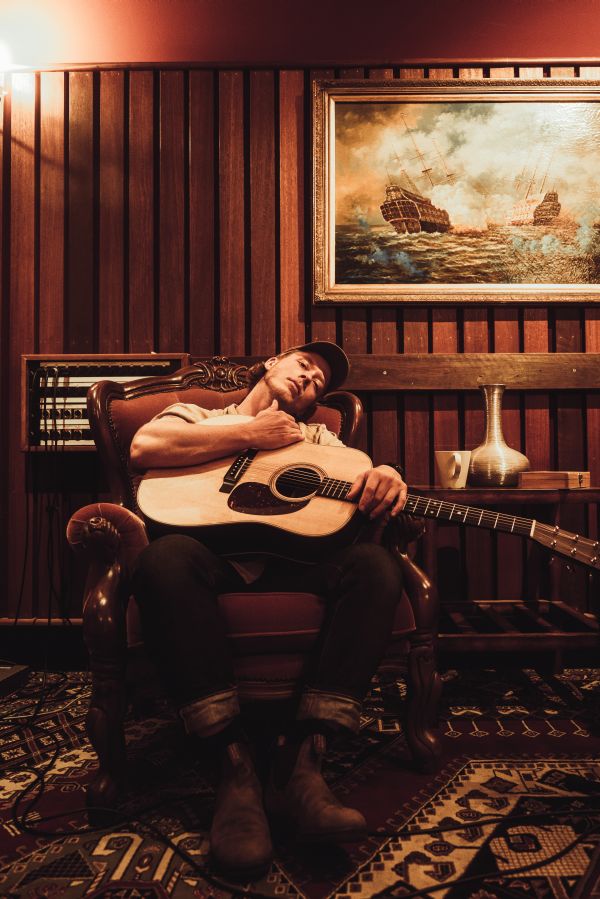 1 June 2021
Lawson Hull – Photo Credit: Angus Bell Young
Australian singer-songwriter Lawson Hull will be releasing his upcoming EP, Hangin' Out With Cowboys, on August 27th.
Hangin' Out With Cowboys is the follow-up to Lawson's 2020 EP Dreaming is Easy, and is a musical culmination for him; proof that he can step up and actualize his dreams.
Drawing inspiration from artists like Bon Iver to Bombay Bicycle Club, Lawson's indie folk/rock/pop songs land in the sonic midst of fellow Australian artists like Kita Alexander, Angus and Julia Stone, and #1 Dads. His lyrics speak of breakdowns and confessionals with heart-breaking realizations.
Lawson recently unveiled wistful indie rock single "Mexico," which was written during lockdown, out of a wish to be somewhere else amidst foiled plans to travel.
Big Takeover is pleased to host the premiere of the music video for Lawson's engaging new single, "Parking Lot." The bright and upbeat jangle popper streams with brisk acoustic guitar strum and shining electric guitar lines. Lawson's gentle vocals sweep by like a light breeze, touched with pensive reflection that's buoyed by the restless nature of the number.
In the music video, a laid-back to energized Lawson performs in the middle of an pandemic-hit, emptied-out city, playing his acoustic guitar and singing in various deserted parking locations. He brings the song to life of his own accord, despite the absence of an audience or the hustle and bustle of city life.
Lawson gives insightful details about the song and video, commenting, "The music video for "Parking Lot," shot by Angus Bell Young, perfectly sums up the song. Parking lots, for some reason, are daily reminders of how boring my life is. You show up, fight over a park[ing spot], try not to scratch other cars, go do your shopping or whatever mundane task you need to do, then get in your car and try get the hell out of there without pissing anyone off. It's always a cross-section of soccer mums, homeless people, and tradies."
"The song came about when I was sitting in my car having a breather after rushing around all day, and I just sat there and observed people. Sometimes a moment of being present, sitting in your car, makes you think, What am I doing here again? Maybe "Parking Lot" is the bigger brother to "College Town" off my first EP, Dreaming is Easy. Small town vibes, ya know."
"Angus and I surprisingly had heaps of fun driving around to six different car parks in Sydney, one boom gate after another. Fairly typical kind of performance piece but it's the isolated feeling that does it. 'This is my life now' kind of thing. Hanging out in parking lots like the rest of the world. We actually call them car parks in Australia though.. not sure why I called it that."