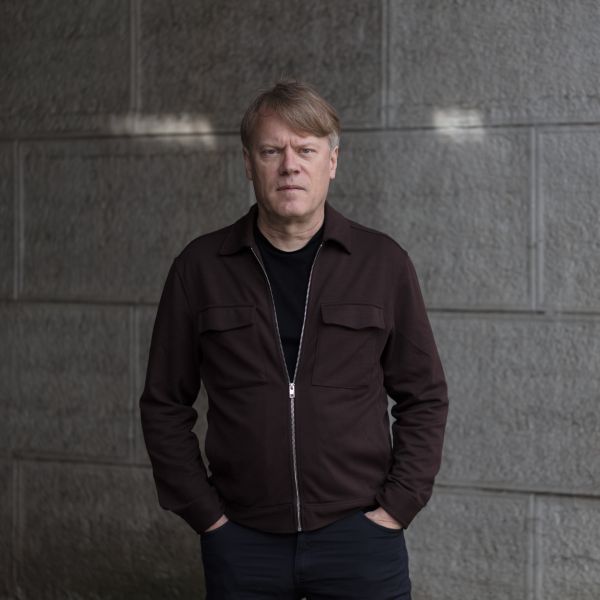 28 May 2021
Chris Eckman – Photo Credit: Jaka Babnik
Chris Eckman recently resurfaced with the song "Then There's the Rain" on Seattle label Drums & Wires Recordings' thoughtfully curated first compilation Songs Collected. It was the sumptuous heart of the already generous sampler, feeling both more holy and grittier than anything it accompanied.
As Trouser Press once described his work with his most well-known band The Walkabouts, it showcased his "darkly layered sound … mining a rich shadowy strain of Americana." I thought "Then There's the Rain" was going to be one of my very favorite singles of the year, to put into playlists as a survivor's romantic reminder of the existential valley we barely escaped. And that would be that.
But Drums & Wires Recordings is making good on its promise by making a brilliant decision to release a whole set of Eckman's new songs. This is reason to celebrate, as Eckman's Where the Spirit Rests is a perfect example of the almost "secretly famous" Pacific NW treasure of versatile musicians with sharp observational songs, more at home in the world of adult creativity resplendent in the European independent scene.
Co-produced by British electronic composer Alastair McNeill (Roísín Murphy, Yila), Eckman's fifth solo release Where the Spirit Rests involves a conspiracy of like-minded folk-subversive collaborators: Chuck Johnson ("pedal steel maverick"), Catherine Graindorge ("avant-garde violinist"), Seattle utility player Jon Hyde (also on pedal steel), and even keyboardist Chris Cacavas from Dream Syndicate and Green on Red (and who has never made a record not worth owning).
"These times are tough on love / tough on sex and swagger," Eckman sings on opener "Early Snow," which marvelously describes our literal distance from most other's hearts and bodies through this bizarrely transitional season for the world. "There's a lesson buried here deep and dark," he burrs, and his descriptions are as devastating as when Leonard Cohen had opened his 1992 album The Future with a similar feel of winter soul apocalypse.
Eckman references the Frank Sinatra mid-'50s concept album In the Wee Small Hours in the tumbling threnody "Cabin Fever," and that is quite a tell. That LP was made of songs based on an autumnal eternity one finds at 3 or 4 AM, and that aching after hours feeling extends all over Where the Spirit Rests, which at seven songs feels like a classic double album of conceptual, spiritual meditations. It may mostly be slow, but it never bores and is delectably listenable with every lyric zero to the bone, as Sinatra himself had intended on his own revelatory leap from band leading entertainer.
Speaking of musical bellwethers, Eckman's career is glimpsed in his lyrical aside "they call it the curse of this town," which may or may not be a quick glimpse at his own origin story. Forming The Walkabouts in the mid-'80s with Carla Torgerson, who he met as a co-worker in an Alaskan cannery, the kind of horrible soul-crushing jobs young Seattleites would take to make money to live on when they came back to the city to drink at the Rendezvous, make art or music or read poetry in Belltown or Pioneer Square, or watch soap operas with housemates above the rehearsal spaces in Ballard group houses.
This was Seattle waiting to happen. In such a scene, they began to craft "true to your bones" songs together, and for their first gig they were paid $35 to open for punk band The Refuzors at the Emerald City's notorious Gorilla Gardens.
In The Walkabouts and in other groups, playing and producing from Seattle to Slovenia and throughout Europe and even North Africa with Dirtmusic, his band with Bad Seed alumni Hugo Race, Eckman flexed his voice and chops. To underscore this, The All Music Guide calls Eckman "one of the most underrated U.S. songwriters, a man who can pack a short story into some image-laden lyrics."
And again referring to a concept album (Tommy by The Who), this one feels like "A pinball wizard who got back his sight." He's aware how beautifully and powerfully this cycle of songs hangs together: one can hear the depth of his life's scars in his voice, and the meditative joy of his playing, burning with intelligence and dark emotion. You never want to live through some things again, but great art captures exactly what happened, no matter how chilling or terrifying, and it's what you'll find on Where the Spirit Rests.
- Written by Chris Estey
Order Where The Spirit Rests at Drums & Wires Recordings Website
and at BandCamp