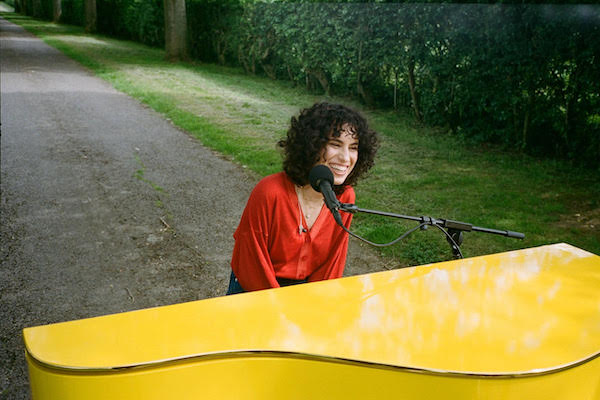 7 February 2022
Sonia Stein – Photo Credit: Aaron Bevan-Bailey
If you haven't heard of Sonia Stein yet, today is an opportune one to be introduced to the skilled, London-based singer/songwriter who has already created a great deal of buzz with her hypnotizing vocals.
COVID be darned, the last couple of years have found Stein busy issuing a slew of successful releases, including her January 2020 EP, See Me Now, with longtime collaborator producer Liam Howe (FKA twigs, Adele, Jessie Ware); and her December 2020 EP, Letters.
In 2019, Stein had the chance to go on a world tour alongside globally acclaimed artist Dido. Naturally, she seized the opportunity, and the trajectory for this talented singer-songwriter has only been up ever since.
Last year, Stein began releasing a series of videos from her secretly recorded "Stein Away Sessions," featuring her performing in unique, nature-filled environments with her yellow piano. Today, the Big Takeover is pleased to host the premiere of the Stein Away Session video for "Philosophical," a track whose studio version appeared on Letters.
The video pulls in the viewer as they hear Stein playing the piano with the sounds of birds and nature fluttering in the background. Her sultry voice immediately follows and floats over the musical canvas, bringing into focus Stein and her yellow piano.
Much like her past releases, Stein opened herself up and drew from her personal life when writing "Philosophical." Bringing her life experiences and emotions to create the song allowed her to connect with anyone who has felt the same way as her, she recently said. 
" 'Philosophical' is a song I wrote at the beginning of the very first lockdown," Stein said. "I think I was coming to terms with who I am and the kind of stuff I get excited about and how that doesn't necessarily align with the people and the places I had been going to up until that point. The song has some of my favorite production on it, and it was really fun figuring out how to make it work on piano alone."
Watch the Big Takeover's exclusive premiere of the video right here:
Check out Sonia Stein's social-media profiles for more on the artist:
Sonia Stein website
Spotify
Facebook
Twitter
Instagram
SoundCloud
YouTube