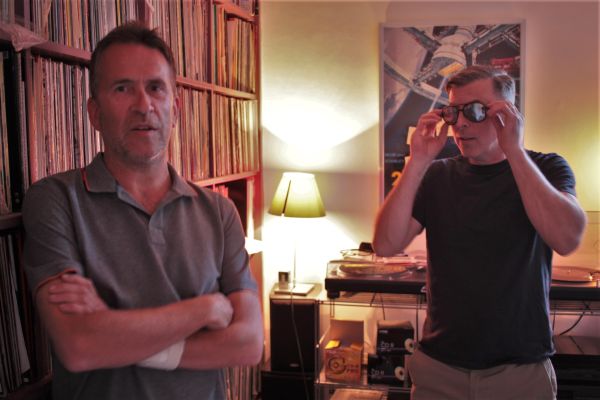 21 May 2019
Rude Audio – Photo Credit: Ali Ingle
London has long been a hotbed of the electronic music scene and today we delve into that just a bit deeper. The subject of the matter – the exploratory sonic force known as Rude Audio. In fact, Big Takeover is no stranger to their music, having premiered their video for 'To The Sun' a few years back. Now, they've returned with word of their impending release of a new long-play. While Street Light Interference isn't out until mid-July, nobody could expect them to disappear for very long.
Today we have the pleasure to present the video for the album's lead track 'Repeat Offender', a vibing track that would make for a summer soundtrack of chilling out, sexy dancing, trance-laden exploration and a captivating combination of dub drum effect, synths, beats, random founds and arpeggios. Catchy as heck! Here we find dub with modern and shiny positive London trance vibe.
Created by Ali Ingle, the accompanying video brings a juxtapositional element, where we see the video's star – Matty Ratcliff – several years older than we last saw him in the video for 'To The Sun', all immersed in work and business tasks. Quite the opposite chill effect felt from the music alone.
Street Light Interference runs the gamut from dub to techno and features four original tracks and four remixes of tunes from their latest Rude Redux EP, which was premiered by Andrew Weatherall on his radio show. That release followed up their Rudest EP.
Based in South London, Rude Audio is a collective with a history of putting on fantastic underground parties, releasing the occasional dubby Balearic opus, engineering for the disparate likes of Paul Weller, Lemon Jelly, and Royal Blood and generally mooching about anywhere that doesn't have bouncers or operate a dress code. Fans of Andrew Weatherall, Duncan Gray, Adrian Sherwood, On-U-Sound, Hot Chip, Jagwar Ma, The Orb, and Future Sound of London will dig this.
The core of the collective are Mark Ratcliff (whose releases have been played by the likes of Andrew Weatherall, Laurent Garnier, Kris Needs, Don Letts, Graeme Park and Rob de Bank, as well as BBC Radio 6's Nemone and Gideon Coe), Owain Lloyd (mixing engineer for everyone from Oakenfold and Weller to Niall Horan), and Dave [The Rave] Brennan (ex The End recordings and key player at tech house dons' label, Bombis).
"I had half an eye on some of the underground but outdoor summer parties proliferating in my manor when pulling together various elements on the release, although the likelihood of engaging with a blissful, sun kissed milieu in South London during July and August is less likely than engaging with a dirty rave in a damp squat, where everyone's complaining about why we aren't having a summer this year," says Mark Ratcliff.
Anyone who enjoys more open minded dance floors, or even has hazy memories of the transition from a Balearic ethos to something more progressive minded on '90s dancefloors, will find something on here to float their boat.
Street Light Interference will be released on July 15 across online stores, such as iTunes, and streaming platforms like Spotify. Already now, the album can be pre-ordered via Bandcamp
TRACK LIST
01 Repeat Offender
02 Don't Follow Me
03 Rude Alert
04 Rude Mission
05 Rumble On Arab St (Kitsch Kub remix)
06 To The Sun (Bedford Falls Players Hugest Remix)
07 Rumble On Arab St (Valtow Dub)
08 Pipeline Screaming (Zar Remix)
Also check out the Bedford Falls Players remix of 'To The Sun' by main man Mark Cooper, who takes it into a dark room and given it a right old working over.
Now rewind a few years to see Matty Ratcliff exploring the possibilities of virtual reality
RUDE AUDIO
Website
Facebook
Bandcamp
Twitter
SoundCloud
YouTube
Instagram
Spotify
iTunes