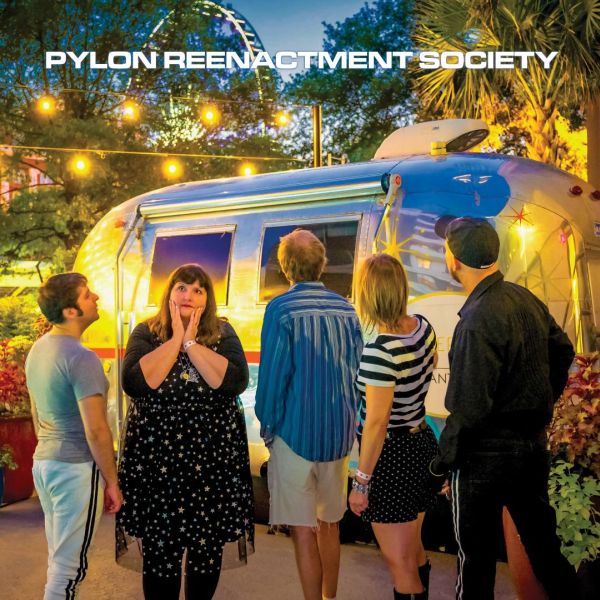 21 May 2019
"Messenger" / "Cliff Notes" by Pylon Reenactment Society
It's official – the legendary Athens, GA band Pylon Reenactment Society will be touring this summer. Their announced live dates include their first appearance at the much revered Primavera Sound Festival in Barcelona, Spain on Thursday, May 30. This actually is also the first time the band has played on mainland Europe. The original Pylon also had not played any European dates outside of the UK back in 1980. Thus, fans in Europe will be treated to this rare opportunity to see Vanessa Briscoe Hay and her new band perform a mix of Pylon songs and new original material.
Pylon Reenactment Society formed from the ashes of Pylon, one of the first trailblazers who put the Athens, GA house party college-rock scene on the American underground map in the 1980s, along with The B-52's and R.E.M. Over 30 years ago, these three bands were heavily featured in the original feature documentary Athens, GA: Inside/Out, propelling them into the international spotlight. Today, PRS upholds and builds on the legacy of these fiercely independent, art school-bred post-punks.
Very soon now, PRS will be touring in support of their latest 'Messenger / Cliff Notes' 7" single, for which the band has issued a special 'tour edition' on gold-colored vinyl, to be made available at shows.
Pylon Reenactment Society is fronted by former Pylon front woman Vanessa Briscoe Hay, whose inimitable vocal textures and phrasing define Pylon's sound for most listeners. A sonic powerhouse, Hay also numbered among Paste Magazine's list of The 25 Greatest Front Women of All Time.
Pylon Reenactment Society (a.k.a. PRS) was founded in 2014, five years after Pylon's celebrated history came to a sudden end in 2009 with the death of guitarist Randy Bewley. Since then, PRS has turned into a tight touring unit having performed at festivals and venues on both coasts, the Midwest and the Southeast.
In addition to Hay, PRS is rounded out by Jason NeSmith (Casper & The Cookies) on guitar, Kay Stanton (Casper & The Cookies) on bass guitar and backing vocals, Damon Denton (Big Atomic) on keyboards, and Joe Rowe (The Glands) on drums.
PRS released their Part Time Punks Session EP in 2017 via Chunklet Industries, a hip Atlanta-based tastemaker record label founded by Henry Owings. At the end of 2018, they released a 7" vinyl single of two original songs – 'Messenger' and 'Cliff Notes', with distribution more widely following in 2019. It is now available at various independent record shops and online stores HERE and also Bandcamp
PRS is putting the finishing touches on a full-length recording of all new and original material. Hay is also close to finalizing a deal for the reissuing of the Pylon catalog on vinyl. The band continues to receive rave reviews for their releases and their live shows. Fortunate concert-goers can catch them live here and there. Get tickets HERE
May 26 at 7:00 pm – Athens, GA at Hendershot's (with The Vassar Blondes)
May 30 at 11:30 pm – Barcelona, Spain at Primavera Sound Festival, Your Heineken Stage
June 22 at 8:15 pm – Augusta, GA at Athfest Sampler, Miller Theater (with The Producers and The Pauses)
June 23 at 4:30 pm – Athens, GA at Athfest Music Festival, Washington Street Stage
August 17 at 9:00 pm – Decatur, GA at The Vista Room
Also check out the video for 'Messenger', which was directed by Tony Brazier, co-director for the documentary Athens, GA…30 Years On and their Part-Time Punks EP
PYLON REENACTMENT SOCIETY
Website
Facebook
Twitter
SoundCloud
YouTube
Instagram
Spotify
Chunklet Bandcamp