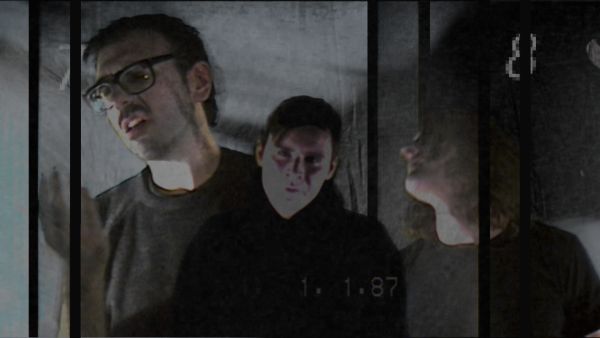 2 September 2019
Another Heaven – Photo courtesy of Another Heaven
Minneapolis-based sludgegaze band Another Heaven have risen from the ashes of gloom-pop heavyweights Hollow Boys. Another Heaven takes that previous band's explorations of hazy, dreamy post-punk and mixes them with doom, sludge, and shoegaze styles to create a sound that is equally star-gazing and earthbound.
Another Heaven will release their second EP, FOR EVER FOR EVER FOR EVER FOR EVER FOR EVER FOR EVER, in the near future. Ahead of the record drop in September, The Big Takeover is thrilled to host the premiere of a video for the band's mesmerizing cover of Kate Bush's classic "Running Up That Hill."
The band is now operating as a trio comprised of Ali Jaafar and Cole Benson (both of whom were in Hollow Boys and have collaborated on dozens of recordings at Ecstattic Studio, including Cole's doom metal band Livid), and Aaron Lemay of numerous bands including International Espionage, Mark Mallman. and Black Sam Malone.
Everyone shares vocal and songwriting duties and the band put all of their energy into creating a crushingly heavy, yet intensely melodic collection of songs that casts a jaundiced eye on the modern American wasteland.
While Another Heaven's spellbinding, slow-burning version of "Running Up That Hill" won't be found on the upcoming EP, the song is true to the heavy and dark sound of the record. Musing male vocals, a deep-end bass line, and drawn strings open the track on a pensive note and it only goes even more profound from there.
The burgeoning weight of sludgy guitar immolation, continuously chugging drum beats and cymbals crash, and a reflectively planing guitar line carves cavernous contemplation out of Kate Bush's more sprightly take of her lyrics. Absolutely captivating
The video captures some of the the mystery and poignancy of the cover, reveling in dark and light images and their contrast, touched up with hand-drawn designs, fast-flicking film reels, and various pieces of footage of the band members themselves.
They explain the reason why they chose to cover "Running Up That Hill": "We picked this song not only because it's an all-time classic banger, but also because Cole realized that it has the same emotional and musical tone that we were going for when we made FOR EVER. Once we transposed it to our weird tuning and moved that iconic lead line to guitar, it sounded eerily like one of our songs. "Running Up That Hill" is a strange song; it's really earnest and direct – like a desperate plea for joy amidst unending misery – but it's also bathed in bizarro '80s, high-concept audio production. To us, turning it into a sludge metal song was only natural."
They also reveal a bit of the backstory for how the video came about, commenting, "As for the video, it was a product of unlikely yet fortuitous influences: running around in parks at night, driving into empty fields, the astounding animation of our friend Michelle Brost, an old security camera, a pallet of art materials that was accidentally delivered to us, etc…"
FOR EVER… releases on vinyl on September 7th via the mpls ltd record label. The vinyl edition Includes a 7" of the cover of Kate Bush's "Running Up That Hill", extra digital tracks, a booklet, and a hand-screened sleeve. The EP will be available as a cassette tape and via digital/streaming through the Ecstattic Studio record label.