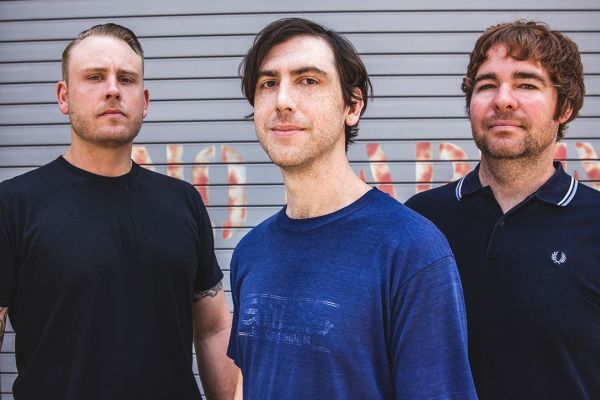 1 September 2019
All Eyes West – Photo courtesy of All Eyes West
All Eyes West are no newcomers to the D.I.Y. scene. Formed in 2010, the Chicago trio immediately made a splash with their distinctive brand of alt-rock on their self-titled 2011 debut album. The band built a reputation for putting on an energy-filled live show and made a point to tour relentlessly across the United States and Europe.
Along the way they have supported Bob Mould, The Joy Formidable, Alkaline Trio, Samiam, Seaweed, Knapsack, OFF!, Rival Schools, Braid, Local H, and Amusement Parks on Fire, and have made appearances at The Fest, SXSW (Death Match 2013 sponsored by Converse & Thrasher Magazine), and other events.
All Eyes West followed up their debut album with a handful of EP releases, including one on the legendary SideOneDummy Records and another that featured Wade Neal of Seaweed on guitar. In 2014, All Eyes West entered the Magpie Cage to work with J. Robbins (Jawbox, Jawbreaker, Lemuria) on their second album. The end result was Doomer, which featured twelve tracks that highlighted the band's raw, but melodic sound and captured the intensity of their live shows.
After taking a much needed breather from touring, All Eyes West are now back with their third album, Like Lightning. The LP comes out tomorrow, August 30th, via Jump Start Records and is the first album to feature drummer Ronnie DiCola (The Arrivals) alongside original members Justin Miller (vocals, bass) and Jeff Dean (guitar).
Like LIghtning is by far All Eyes West's most aggressive album and shows that the band has not lost any steam in their time away from the road. They come out swinging with the pummeling "As I Bleed," crank it up, but keep it tuneful on "Simple You," and blast off on "Interference" – and that's just the first three tracks off the LP!
The battering drums, ominous bass line, burning guitar whirl, and Miller's emotive exclamations strongly mark each number. This is passion and intensity and catharsis put down on record. "Too Alive" continues the accelerated pace and restless sonics and vocals.
"Kick the Clouds" careens to the cliff's edge, while "Dream of a Nightmare" is like standing on its dizzying precipice. Through it all Miller expresses the turmoil of rocky personal relationships – betrayal, blame, indecision, and breaking away from it all.
"Death Wave" goes pure hardcore thrash with heavily shouted out vocals, while the staccato to driving "Chasing Light" sounds just like its title. Trying to salvage a damaged relationship is the focus of the more melodic "Holding on a Holdout" and the punchy "Cast Iron Life" reels with roiling guitars, a racing bass line, and forceful drumming.
Album-ender "Bruised" turns up the bass line and agitated guitar riffs at its start, before slamming through with emphatic drum strikes. The focus, however, is always on Miller vocals and the lyrics – on this song and all the others. The perfect balance of the album's production allows for all of the high-power instrumentation to co-exist with Miller's vocals and relevant lyrics that could otherwise be drowned out in the potently stormy sonics.
Miller gives some insight into the main theme of Like LIghtning, stating, "Like Lightning is a kind of dark album, especially lyrically. It was written and recorded over a span of time that also coincided with a lot of "life" stuff happening for all of us. So the songs hold all of the tension and emotions we were going through at the time. For me, that's what I love about it! It's like a perfect document of all the heavy stuff. It was kind of perfect that we recorded it on our own, with [bandmate] Jeff Dean behind the board. We've got great chemistry. The three of us just kind of went in and fed off of each other. Kind of an "Us versus Everyone Else" type of vibe. Sort of like we do when we play live, I suppose. Just shut everything out and lay it all down."
Pre-Order Like Lightning
Website
Facebook
Twitter
Instagram
YouTube