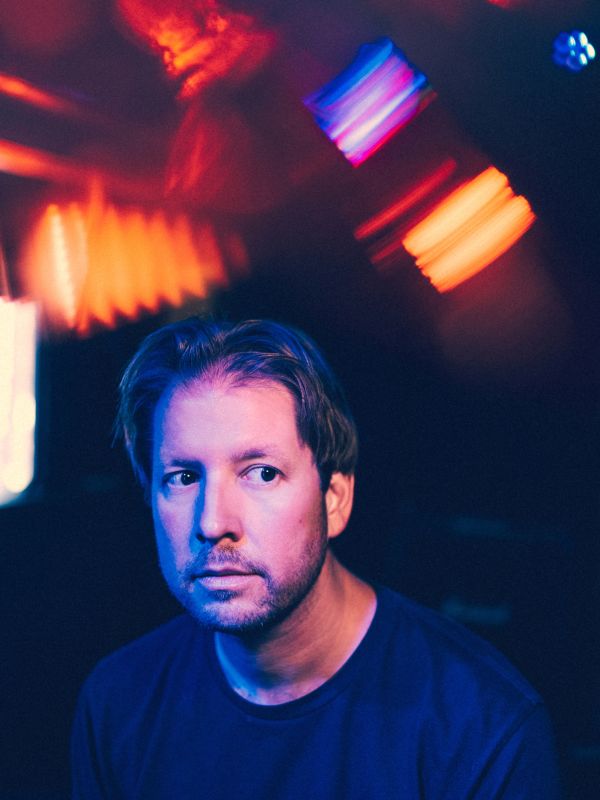 1 October 2018
Jared Putnam of The March Divide – Photo Credit: Josh Huskin
You think we'd know Jared Putnam by now.
Over the course of three catchy albums, five ingenious EPs, numerous singles, and a batch of cover songs in a mere half-decade, Putnam's mostly one-man project The March Divide has delivered a seemingly unending stream of songs that have established the San Antonio-based artist as one of the best rock songwriters working today.
Putnam's fourth and latest album as The March Divide is Anticipation Pops and it arrived on August 24th via Slow Start Records. It's his best work to date, mostly because the ten songs here reveal a greater emotional depth, along with performances, and lyrics, that go beyond anything that Putnam has offered up before. Perhaps his near-manic recording and touring schedule was a prologue that has led to the relatable sensitivity that is this album. "This record feels like a new direction," Putnam says.
Recording at home on the fly, and skipping his usual demo and pre-production process, has allowed Putnam to maintain a spontaneous feeling that informs these songs, and it kept him from overthinking lyrics or anything else that stood in the way of a group of tunes that could be called raw if Putnam wasn't so good at producing himself.
The Big Takeover is pleased to host the premiere of a video for a track off the LP, the emotively heartfelt and lyrically perceptive and gripping "Spinning". It's an engaging performance video focused on Putnam and his changing environment, following him through a clearing in the forest to a skate park, the city of El Paso at night, a bar, and finally, on stage.
"This was the last song I wrote for the record, and I didn't even write it for the record," explains Jared Putnam of The March Divide about "Spinning" from his recently released new album Anticipation Pops.
"I have a friend in El Paso that has a studio with a two-inch tape machine," Putnam continues. "I was in town and wanted write a song that I could go in there and track in just a few quick hours, and that's what I did, but without the usual expectations or pressure I put on myself. I wanted to keep it fun, so I tried to approach the vocals with "She Don't Use Jelly" by Flaming Lips and "I Got A Girl" by Tripping Daisy, in mind".
The video for the song was made with some other El Paso friends of Putnam's, while on his seemingly endless tour (see dates extending throughout the remainder of 2018 below).
"It was a lot of fun to make," Putnam says, "Just running around various parts of town. The rest was shot at a Slow Start Records showcase, the night before. We sped the song up while shooting, so the majority of the video is in slow motion – I felt that effect really mocked my natural awkwardness. It took me showing it to a few friends to realize that that was actually the charm of the video."
Tour dates:
10/05/2018: San Antonio, TX at Fralo's
10/06/2018: Houston, TX at House Show (w/Brightwire)
10/15/2018: Norman, OK at Red Brick Bar
10/16/2018: Tulsa, OK at The Hunt Club
10/17/2018: Oklahoma City, OK at The Root
10/18/2018: Wichita, KS at Kirby's Beer Store
10/19/2018: Colorado Springs, CO at TBA
10/20/2018: Denver, CO at Monkey Barrel
10/21/2018: Boulder, CO at Laughing Goat
10/23/2018: Taos, NM at Adobe Bar
10/24/2018: Albuquerque, NM at Red Door Brewing Company
10/25/2018: Montrose, CO at Intrinzik
10/26/2018: Steamboat Springs, CO at Auram
10/27/2018: Fallon, NV at Telegraph
10/28/2018: Reno, NV at Foxy Olive
10/29/2018: Sedona, AZ at Vino Di Sedona
10/30/2018: Bisbee, AZ at The Quarry
10/31/2018: El Paso, TX at House Show (w/Sleepspent)
11/01/2018: Santa Fe, NM at Tumbleroot
11/02/2018: Amarillo, TX at The 806
11/03/2018: Wichita Falls, TX at Gypsy Uncorked
11/08/2018: San Antonio, TX at Limelight (Full Band)
11/09/2018: Lubbock, TX at Downtown Social Club (Full Band)
11/15/2018: San Antonio, TX at Joe Blues
11/16/2018: San Antonio, TX at Southtown 101
11/17/2018: San Antonio, TX at The Point
12/02/2018: San Antonio, TX at Fralo's
12/07/2018: Ocean Springs, MS at Greenhouse on Porter
12/06/2018: Butte La Rose, LA at Willow Atchafalaya
12/13/2018: Ashville, NC at French Broad Brewing
12/15/2018: Kansas City, MO at The KC House
12/16/2018: Oklahoma City, OK at Sauced
12/18/2018: Tulsa, OK at The Hunt Club
12/19/2018: Oklahoma City, OK at The Root
12/20/2018: Dallas, TX at Adair's Saloon
12/21/2018: Norman, OK at Red Brick Bar
12/22/2018: Wichita Falls, TX at Gypsy Uncorked
12/29/2018: San Antonio, TX at Fralo's
Website
Facebook
Twitter
Instagram
Trumblr
YouTube
Bandcamp
Slow Start Records
comments powered by