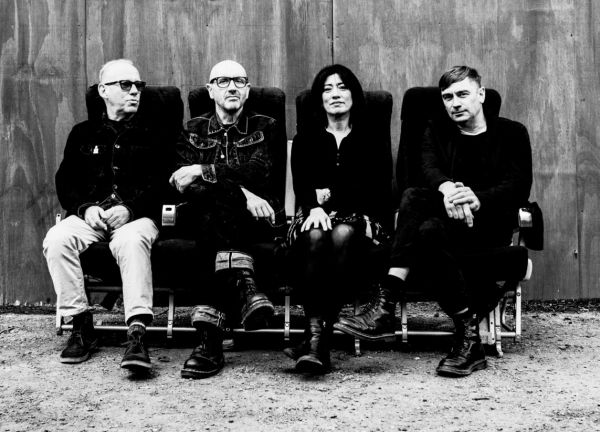 30 September 2018
Piroshka – Photo Credit: Neil Stewart
It is with much excitement that The Big Takeover relays the information that a new band has formed in the musical universe. Named Piroshka, the new band is made up of veteran musicians Miki Berenyi (Lush), Kevin McKillop (Moose), Michael Conroy (Modern English), and Justin Welch (Elastica).
The news, which officially broke late on Tuesday, September 25th, was picked up quickly by several music sites and was met with delighted surprise by music critics/writers/bloggers and fans of the original bands. Those following Miki Berenyi's Twitter feed may have been more in the know, but more details were officially released that Tuesday, including the band's actual name.
Long-time readers of The Big Takeover magazine, and visitors to this site, will know that all of these artists and their respective bands are favorites of ours. In fact, the recently reunited (and now sadly defunct) Lush was featured on the cover of Big Takeover magazine issue #79 – and also way back in 1994 for issue #36!
Back issues of Big Takeover magazine can be ordered directly HERE
While no music has been released yet, there is the sweet promise that it will happen in the (near) future.
Keep up to date on all that's happening with Piroshka by liking and following the band at their official socials:
Also, check out Miki Berenyi's Twitter profile for a nostalgic gaze at the history of Lush, in pictures and text (Miki should compile all her tweets and publish them as a book!).
Meanwhile, while not new music, here's an interesting spin of some rad tunes from the band members' past:
LUSH
Lush's first video for a dream-pop classic:
This video captures Lush's live performance magic:
Lush go up-tempo indie pop-rock:
A reunited Lush released Blind Spot EP on April 15, 2016 and this was the lead single:
MOOSE
Noise and melody in perfect balance…
MODERN ENGLISH
We all know this evergreen…
ELASTICA
Sure, there are the short, sharp, and upbeat numbers "Connection" and "Stutter", but this one is a bittersweet stunner: