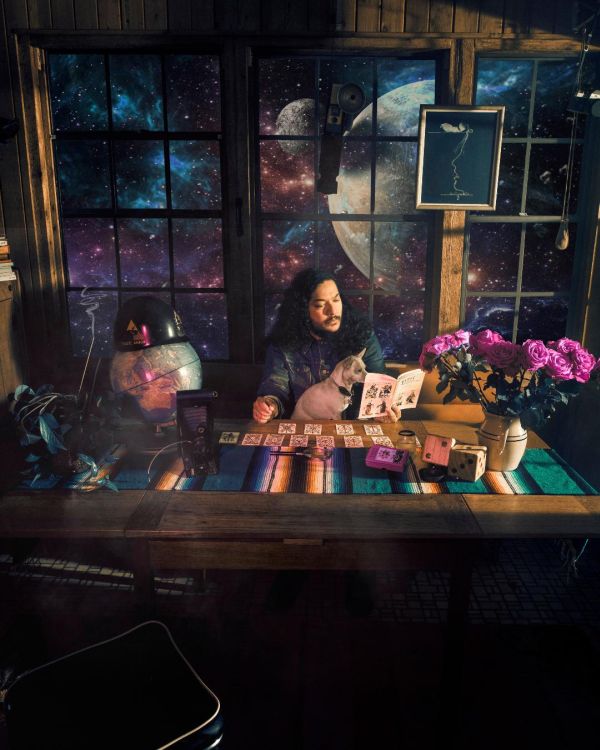 10 March 2020
Margaret Chavez (AKA Marcus Striplin) – Photo Credit: Barbara FG
Austin, TX-based freak-folk/ space rock outfit Margaret Chavez is the psychedelia-steeped project of founder Marcus Striplin.
Margaret Chavez's upcoming socio-politically relevant, folk-rock opus, Into An Atmosphere, will arrive on July 31st via We Know Better Records. The LP was produced by produced by Striplin and Kevin Engle, mastered by Greg Calbi (Bowie, Springsteen, Bon Iver), and also worked on by Striplin's longtime recording partner Stuart Sikes (Cat Power, Loretta Lynn, The White Stripes, Phosphorescent), as well as Paul Williams and Don Cento.
The music is undeniably ambitious, mixing Latin freak-folk rhythms with serious, timely themes. To call this record "folk" or even "folk rock" would be to curtail its progressive ethos, as Striplin weaves reverb-soaked guitars, undulating synths, and effervescent acoustic plucks to create a new Americana sound.
Striplin's barbed wit rises to the forefront, riding his gentle croon and lilting sonics past the kind of cliches that often accompany albums of such deep pathos and political awareness. Mixing elements of modern indie rock, psychedelia, mid-2000s alt-country and folk, Striplin croons over layers of chiming acoustics and burbling electronics, building his songs from comforting lullabies into a kind of cathartic anthem.
The Big Takeover is psyched to host the premiere of the vivid video for "The Croupiers Unite I.C.E.," a scathing indictment of Immigration and Customs Enforcement and the government stooges who enable it. The lyrics stab directly at the jugular of America's corrupt brigade: "Their hands are forged in gold and their hearts are as cold [as I.C.E.]."
Striplin himself pointedly admits that the song "is a 'fuck you' to I.C.E.," and you can hear every inch of his middle finger rising in the way he holds the sibilance while singing "I.C.E.," his clenched teeth barely holding an avalanche of epithets from pouring out onto the tape.
The video itself isn't harsh in the least, but swims in a desert landscapes, starry night skies, and iridescent colored lighting while the camera focuses on Striplin, and at times an unknown woman, singing the song's lyrics directly to the lens.
The flow of the video follows the hazily hypnotic, drawn out vocal deliver of Striplin, creating a sonic and visual dreamworld at odds with the bleak and cutting lyrics about the destruction of our great nation at the hands of hateful and corrupt powers in high places (starting from the top at the White House).
About Into An Atmosphere, Striplin reveals, "I think it's no coincidence it's being released in an election year. Maybe there are people who are still on the fence, and they hear it…are like, 'Oh, man—absolutely!' I really hope it touches people who are lost."
Continuing with the political theme and how it manifests on the song "The Croupiers Unite I.C.E.", Striplin spells out his feelings bluntly and purposefully: "The strength of music can turn around an ignorant mind. This is me trying to serve up a dish that will make the patron stop and think… I literally can't understand how anyone could support this motherfucker. Children in cages is wrong. This song and all the rest are my protest. I am the laser and you are the cat."
Facebook
Twitter
Instagram
Spotify
Website