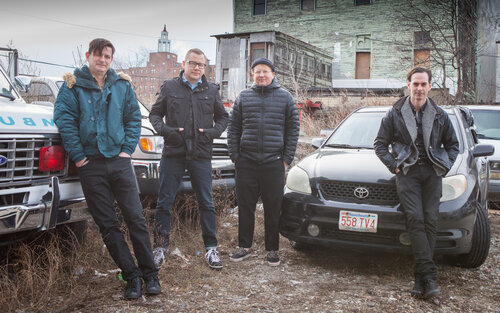 9 March 2020
Eldridge Rodriguez – Photo courtesy of Eldridge Rodriguez
Boston-based rock/post-punk band Eldridge Rodriguez recently released their second album, the powerful and lyrically relevant Slightest of Treason, via Midriff Records.
In 2016, while beginning to write the songs that would wind up on this new album, Eldridge Rodriguez's chief songwriter Cameron Keiber found himself in life-changing upheaval. The first half of 2016 brought the break-up of his longtime marriage, leading to divorce. The second half of 2016 brought the presidential election and swearing-in of Donald J. Trump.
Both events heavily influenced the writing of Slightest of Treason. The themes on the LP reflect the uncertainty, loss, and sensation of being adrift that an individual experiences when a lack of control or stability leads to the feeling that s/he doesn't fit in anywhere anymore. It becomes overwhelming when places once thought of as safe or as home are unfamiliar, and the feeling of being completely lost takes over.
The songs on the album have this common thread throughout, touching on the universality of loss, be it personal or political, while also parsing the differences between the two. If all choices are political, does that extend to the choices made in relationships? Are matters of love and personal loss exempt from politics? Are personal decisions political and are you your own worst enemy/rival?
Slightest of Treason is moody post-punk that is broadly political and decidedly intimate. Sonically familiar while pushing pop's potential to be noisy, the sound is looser and more accessible than band's prior release in 2015, The Castrati Menace, which saw bandmates Cameron Keiber, his brother Clayton Keiber, and brothers David Grabowski and Dennis Grabowski embracing a more upbeat, hopeful, and danceable stance.
The atmosphere is decidedly darker, more raw, and more ruminative, but still bursting out with dynamic fervor and heartfelt passion.
The knives-out relationship-based track "Your Dead Boyfriend" is a prime example with its thoughtful, but sharp lyrics, driving pace, and explosive chorus sections. Stormy guitars, active bass line, and kinetic drum-work surge along with rousing dual vocals from Cameron Keiber and guest Sarah Borges.
The Big Takeover is psyched to host the premiere of the potent performance video for "Your Dead Boyfriend." The music video and cinematography was created by Patrick Ruth, edited by Patrick Breen at Garbagetown Films, and produced by Cameron and Clayton Keiber at Midriff Records.
The video clip is artfully shot with rapid edits featuring the band members and Borges performing against a blinding strobe light that throws the room into shining white and shadowy black contrast. The footage is imbued with a cool-tone steely blue-gray cast and quick close-ups focus on individual band members and their instruments.
At times Cameron Keiber and Borges are shown sitting next to each other, yet apart – lost in separate worlds – not communicating with each other, but emoting directly to the camera. It's an apt image that captures the cutting sentiments of the song's lyrics.