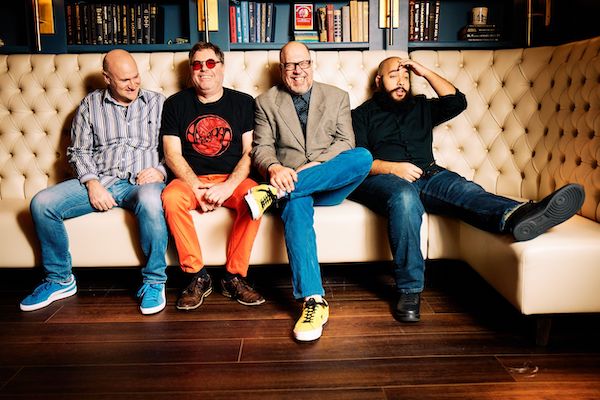 17 January 2022
Speedfossil – Photo Credit: Kelly Davidson
Once Boston's best-kept secret, Speedfossil — the creation of singer/songwriter Garret Vandermolen — are on the verge of breaking out of New England with their third LP and Red on Red Records debut, No Anesthesia. The album will be released Friday, April 8, on CD and audiophile-grade clear vinyl. It will also be available on all streaming platforms.
 
Started before the 2020/2021 isolation of the COVID-19 pandemic and finished during it, No Anesthesia is something of an anomaly in the age of streaming and downloads: It is a collection of ten songs meant to be listened to uninterrupted, as a complete body of work. 
 
Today, The Big Takeover exclusively premieres the video for No Anesthesia cut "The Luckiest Man in the World." The power-guitar/synth-pop track features the lineup of Vandermolen (vocals/guitar/keyboards), Michael Scotti (bass, vocals), Dan Jordan (guitar/vocals) and Hector Saint-Hilaire (drums) — who started working together in late 2018.
The video for "The Luckiest Man in the World" was filmed just outside Boston at The Sanctuary, an old church converted into a music performance space. Created by videographer and editor Harold Stevens at Purple Germs Studios, it is his seventh collaboration with Speedfossil and the first for which Stevens filmed live footage of the band. Speedfossil and Stevens made six other videos during COVID isolation, with the band submitting self-filmed scenes for him to edit.
"The Luckiest Man in the World" also features colorful animation sequences by Myles Vandermolen, son of Garret.
Garret Vandermolen had this to say about the track: "This particular song was so much fun to put together, because it just kind of spilled out. It really celebrates that feeling you get when someone is in your life and just makes it that much better. You get filled with an inexplicable joy and energy that makes you feel like you can do anything. In my case, [I felt like] the luckiest man in the world!"
Pre-save "The Luckiest Man in the World" to your Spotify library right here.