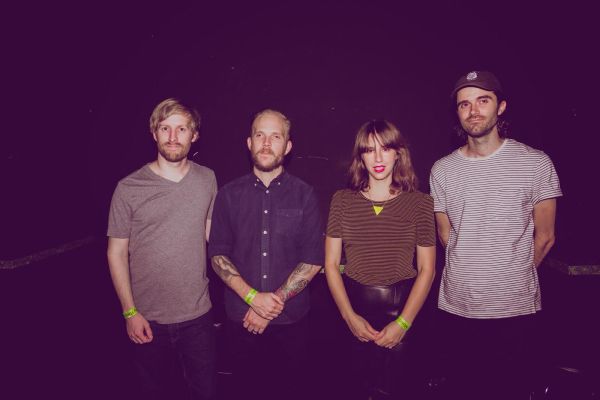 19 November 2020
Sleep Still – Photo Credit: Julia Torchine
Sleep Still's music hinges on the ebb and flow of emotions, slipping right into the magnetic pull between the waves and whims of the heart. The Los Angeles-based band, led by Mariam McCarthy (vocals, keyoboards) and Scotty Whelan (vocals, guitar), thread together dreamy shoegaze warmth, catchy pop, and wide cinematic scope.
Two separate paths converged to bring McCarthy and Whelan together as Sleep Still. McCarthy led Detroit scene staples Silent Violet, who shared bills with artists such as Yo La Tengo and Bittersweet, contributed three songs to the Rosie O'Donnell-produced film America, earned the endorsement of NPR, and landed a spot on the West LA Digital Mixtape.
Whelan made a name for himself playing with alternative rock mainstays Haste The Day, touring the country alongside some of the genre's top artists and building a diehard following, all the while working on the side as a music therapist.
In 2017, McCarthy and Whelan met for the first time, bonding over music from Explosions in the Sky and Slowdive to The Cure and The War on Drugs. Soon they started writing and recording together under the Sleep Still moniker.
Rounding out the band, McCarthy invited Detroit bassist Kelly Ehrenberg, and Whelan enlisted guitarist Chris Kellogg and drummer/producer Jeff Darcy. They locked into a natural chemistry playing the Los Angeles club circuit.
Sleep Still enchants. Big Takeover is pleased to host the absorbing music video for the band's enchanting single "The Panoramic." The spare black 'n' white-filmed video clip follows the hypnotically slow, but expressive moves of a dancer clad in a dark shift against a pale background.
The song initially played over the end titles of The Protestants (available now on Amazon Prime), a film for which McCarthy was interviewed on-screen. Synth echoes wash over an ethereal hum on the track as her vocals are imbued with both vulnerability and vitality.
"I took a short trip to Palm Springs and stayed at a hotel where the view was so panoramic, I felt swallowed by it," McCarthy says. "I was holding my baby daughter on my hip, and I felt so at rest. All of my muscles relaxed. I wrote the song and brought it to Scotty. It's about feeling honest and at ease. It's also about understanding what we can handle and what we can't handle, being okay with it, and knowing you need someone beside you in those moments."
"The progression of the song was inspired by [this] swallowing view; it was like a pause button had been pressed and everything became completely still. A dizzying synth patch and vocal melody were the launching pad. Scott's guitar arrangements set up the environment, followed by the heartbeat of drum and bass. For the audience, it's all up for interpretation, and I think that's what a song should do that for the receiver. In that one moment of time, when everything was still, I was the receiver."
"The music video bloomed out of the credits from a current documentary The Protestants by Jason Wade Hammonds. Principal dancer and choreographer, Xin Ying of Martha Graham Dance Company in New York, created a visual aesthetic of the song that we felt mirrored the emotion and tone."