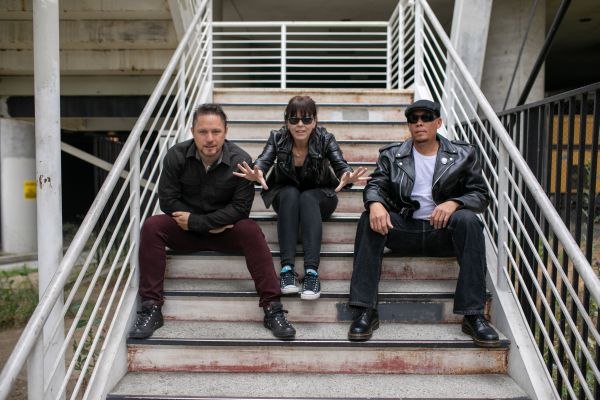 18 November 2020
honeychain – Photo courtesy of Die Laughing Records
honeychain is the sound of tumultuous pop punk, gritty garage pop swagger, and can-do attitude. With a sound soaked in angst-driven alternative rock and sunny power pop, this Los Angeles-based formidable trio have been lauded by music fans and music critics alike.
honeychain is the brainchild of charismatic frontwoman Hillary Burton. What once was a solo project for Burton (playing every single instrument on debut Futura), turned into a full-fledged outfit in 2016.
Burton (vocals, guitar) is joined by Andre Tusques (bass, backing vocals), and Loye Aubrey Jr (drums).
Burton's compositions combine the classic sophistication of the Shangri-La's with the introspective jaggedness of the Buzzcocks. CRUSHED, the band's first full-length album, was produced by Kim Shattuck (the Muffs, The Pandoras) and was released in 2017, along with a handful of videos, including the song "Messy Love" with a cameo by Shattuck, who played lead guitar on the track.
In April of this year honeychain signed to Die Laughing Records and in June they released their latest album, Pocket Full Of Good Luck via Die Laughing and Golden Robot Records.
Big Takeover is excited to host the premiere of the dynamic performance video for the high-energy "Pocket Full Of Good Luck."
The music clip for the track was self-directed and edited by Burton and pieces together footage of the band members playing with gusto. They were each filmed separately due to the social-distancing protocols put in place to combat the current pandemic.
The quickly edited performances are given an added intensity by the ever-changing animated background imagery that swoops by as visual exclamation points. The bold and restless graphics and lively band performance are the perfect match for the punk pop punch of "Pocket Full Of Good Luck."
BUY DIGITAL ALBUM:
BUY PHYSICAL ALBUM:
honeychain
WEBSITE
INSTAGRAM
FACEBOOK
Die Laughing Records
LABEL
Golden Robot Records
LABEL