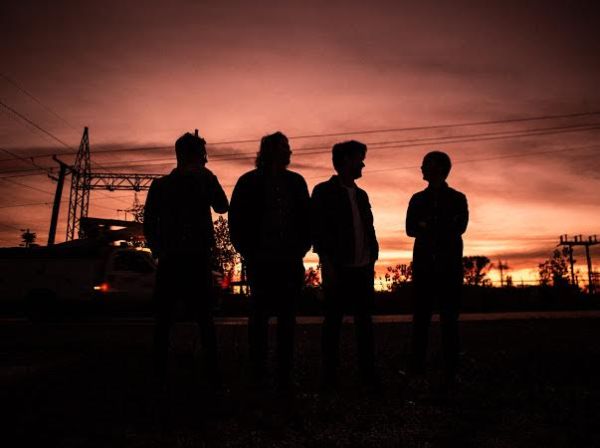 13 December 2018
Tiny Kingdoms – Photo Credit: Alex Zarek
Chicago-based indie alt-rock four-piece Tiny Kingdoms has been constantly on the move with quirky music videos and live shows throughout 2018. The band started the year off strong with the release of Realms in March, an EP that's gritty, catchy, and full of charm.
Tiny Kingdoms formed in 2015 and released their first EP shortly after. With years of musicianship and diverse backgrounds, the band members solidified their sound early on and have a comfortable musical connection that allows them to create with shared passion and understanding. Alt-rock acts that have influenced their style include Taking Back Sunday, Fall of Troy, The Smashing Pumpkins, Mew, Circa Survive, and Say Anything.
The band members are now braving the cold weather to deliver a warm holiday treat in the form of a music video for the acoustic song "The Season", which The Big Takeover is delighted to premiere today.
The sweet and buoyant acoustic tune is wrapped up in rueful lyrics, but the merry video, filmed and directed by Alex Zarek, showcases the inviting camaraderie of a laid-back, but fun Christmas house party.
Holiday-themed ugly sweaters are everywhere (except they're actually not half bad), and so are friendly smiles, yummy cupcakes, fake Santa beards, reindeer antler headbands, and a fluffy cat wondering what all the fuss is about.
In the middle of the get-together that includes Ryan Mitchell (guitar), Nick Collis (bass), and Jake Newling (drums), guitarist and vocalist Nico Miura sings wistfully as he strums an acoustic guitar.
Miura comments on the deeper meaning behind the song, revealing, "When we wrote "The Season" we wanted to stray away from the normal Christmas cheer that occurs in Christmas songs and tailor the song towards those who get caught up in the holiday season. It's easy to get overwhelmed with all the emotional and financial aspects that occur at the end of the year, and we wanted to remind people it's okay to be that way."