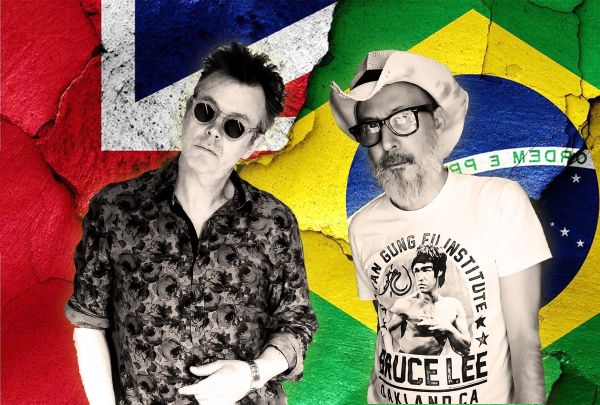 27 July 2021
Harry Stafford and Marco Butcher – Photo Credit: Allie Jade Butcher and Harry Stafford
It's been a quiet hiatus during this past Covid-laden year since we last heard from Manchester blues king Harry Stafford. Finally the urban bluesman is back with a new long-player, which also happens to be a collaboration with guitarist Marco Butcher. While the punk blues veteran now calls Winston Salem, North Carolina home, he originally hails from Brazil, where he developed his original penchant for quirky dusty rock-blues.
On the lead track 'There's Someone Tryin' To Get In', the symmetry between the two artists is remarkable – like sonic brothers from another mother, calling to mind such artists as Tom Waits, Jon Spencer, Nick Cave, Miles Davis and The Gun Club.
This is a refreshing track, meshing the grit of blues with an urban thematic. This is dirty but agreeable, weaving straightforward guitar work through the prism of a junkyard instrument approach. This goes down smooth like a good shot of bourbon, so seamless that you have to remember it takes two to make this tango.
On the forthcoming 12-track album Bone Architecture, listeners will find a fine mix of reworked older material, brand-new compositions and even a dirty blues version of the Pink Floyd classic 'Arnold Layne'.
While Stafford and Butcher have never met in person, they managed to connect with one another during the series of lockdowns characterizing the past year. Exchanging ideas and talking about their own personal musical influences ended up spawning the collaboration and the forthcoming album that we can appreciate today.
The new material is raw and, at times, an unforgiving forage into urban punk blues with fuzzed up jazz and garage trash rock. Here, Harry and Marco's styles have clashed magnificently into a powerful record that crosses a multitude of genres but with a dirty blues makeover.
"For me, this record is a blast of energy with a cool raw groove that I have been itching to express for a while and, with Marco Butcher, I found the perfect collaborator to express it. His garage punk soul music, fused with jazz and swing was the tonic I needed after the doldrums of the last year and a half. The songs we put together fell into place like puzzle pieces in a fuzzed up sonic soundscape," says Harry Stafford.
Best known as founder, guitarist and vocalist of Manchester post-punk gothic rockers Inca Babies, Harry's two most recent solo albums (Guitar Shaped Hammers and Gothic Urban Blues) reflect a cooler, less frenetic vibe, leaning on piano, trumpets and blues guitar. All this made him the perfect collaborator to set words and lyrics to Marco's sonic backdrop.
Marco Butcher is a prolific recording artist, having recently released music with his various acts: The Jam Messengers, Chicken Snake, and The Jesus and The Groupies. Centered around the American underground of blues, jazz, rockabilly, and screaming punk blues, he has collaborated with Hugo Race, as well as members of Tex and the Horseheads, Pussy Galore, Gumball, The Gories, Gibson Brothers, Jerry Teel, The Oblivians and The Workdogs.
"There's something about collaborating that is pure magic to me, cause you're not sharing ideas at the same time and you're in the moment. There's something about the not knowing what the other will bring . . the surprise factor. The fact that music is very elastic and not always the way ya listen to it in your mind but something else, something cooler, greater," says Marco Butcher.
"I guess mutual respect has a lot to do it too, sharing the same type of ideas about music and life… For a period of time, Inca Babies 'This Train' was my bandstand music when I was crossing a very dark and dangerous lifestyle, when I decided NOT to die. This album was the one I listened to the most."
Marco's tracks were recorded at his Boombox Studio in Winston Salem, then shipped by a well-known bulk file sender to Manchester, where Harry laid down vocals, piano and any instrumental tomfoolery he saw fit at Black Lagoon Records. On four occasions, the files also flew to London for supremo trumpet player Kevin Davy to lay some jazz tones into the mix. After the engineering, agonizing, production and debates, they were finally mastered by Marco.
As of August 6, 'There's Someone Tryin To Get In' will be available everywhere online, including Spotify and Apple Music. The Bone Architecture LP will be released on September 3 via Black Lagoon Records, digitally and on CD, which can be pre-ordered at Bandcamp
CREDITS
Harry Stafford – vocals, piano, guitar
Marco Butcher – drums, percussion, bass, sax, guitars, vibraphone
Kevin Davy – horns
Written by Harry Stafford and Marco Butcher
Produced and Mastered by Marco Butcher at Boombox Studio
Catalogue no. BLRCD0055
While you are here, do also indulge yourself in some of the delights from Harry Stafford's previous album Gothic Urban Blues
Harry Stafford
Facebook
Bandcamp
SoundCloud
YouTube
Vimeo
Twitter
Instagram
Marco Butcher
Bandcamp
Twitter