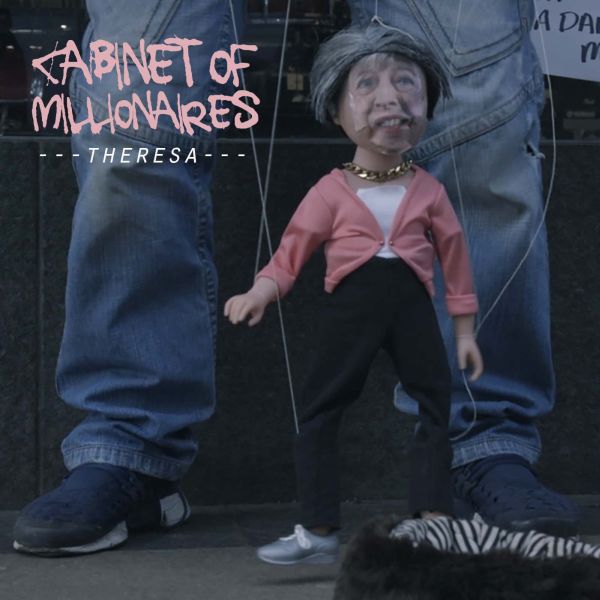 1 January 2019
"Theresa" by Cabinet of Millionaires
Written in response to the failing leadership of Prime Minister Teresa May, the coalition government, and the austerity policies that have been imposed in the UK over the past few years, British electronic act Cabinet of Millionaires recently surfaced with a string of singles that can truly be labeled protest songs.
Far from the familiar 'protest song' sound of Billy Bragg or Bruce Cockburn, for instance, Cabinet of Millionaires finds grounded sound in disco/dance territory with listeners only too happy to follow them there. Beats, drive, a deep soulful voice, and genuine vocal delivery with an important message echoing the sentiment of millions – What's not to like here?
Their latest offering is the single 'Theresa', which, as you can guess, is not an ode or praise to the countries' new Iron Lady. Cabinet of Millionaires bring a scathing attack on the austerity policies of the UK's Conservative Party government, referencing the Windrush scandal, the Grenfell Tower tragedy, and failure to take in enough refugees (all while selling arms), not to mention the dismantling of the country's National Health Service.
"The success of this song shows people are fed up with this government of the rich, for the rich," says CoM's Dave C.
Featuring resplendent and punchy beats, sci fi loony tune hooks, dub basslines, and gospel-tinged soul-rock vocals, this five-song single includes four versions of the title track, plus b-side 'Serve Me'. The cool, rhythmic grooves and slickly fast pace make the pointed lyrics go down smoothly, while the expressively exclaimed lyrics get the message across loud and clear.
The accompanying video pushes the message further, following a homeless busker around Manchester as he desperately tries to earn a bit of money with a useless Theresa May puppet before throwing it in the bin.
Steve Whitfield (The Cure, The Mission, Terrorvision, Klammer) mixed this release at Mead Studios in Leeds. He also contributes guitar on the original version of 'Theresa' and delivers a lush Donna Summer-meets-Underworld dance remix.
Some would label this agit-house, some electro-rock, others social disco. Whatever you'd like to call it, Cabinet of Millionaires is an uncompromising project with a ballsy soulful political message and infectious grooves. Part band, part blog, according to Eddie Gordon (BBC Essential Mix), this is "the kind of dance music that DJ's like Andy Weatherall would turn people onto or the Talking Heads would delight the New York uber cool clubs with".
Based in Huddersfield, the band's first three singles 'Satan's Horses', 'Serve Me', and 'Cabinet Of Millionaires', were met with support from BBC 6 Music's Eddy Temple Morris and Nemone, as well as various American college radio stations.
Vocalist Pat Fulgoni sings across a wide range of genres, Most recently he has been flexing his vocal muscle with massive Drum & Bass artists including Camo & Krooked, London Elektricity, Dexcell, Technimatic, Logistics, 1991, and The Vanguard Project, and for labels including Hospital, Ram, Shogun Audio, Spearhead, MTA, and Medschool. He's toured the planet with various acts from the USA to China and throughout Europe. His activism dates back to the 1990s, when he organised the No Compromize CD against the introduction of tuition fees and collaborated with Tony Benn MP.
Live dates have included shows for Love Music Hate Racism and the Peoples Assembly Against Austerity, even being incorporated into a play (theater) down the road from Conservative Party Conference and live appearances on official demonstration stages in Manchester and Downing St, London.
As of January 25th, 'Theresa' will be available for digital download across online stores and streaming platforms. It can be downloaded on a or pay what you want basis via Bandcamp
TRACK LIST
1. Cabinet Of Millionaires "Theresa"
2. Cabinet Of Millionaires "Theresa" (Steve Whitfield remix)
3. Cabinet Of Millionaires "Theresa" (stripped down mix)
4. Cabinet Of Millionaires "Theresa" (instrumental)
5. Serve Me
LYRICS
Theresa ….. Theresa Maybe,
Theresa ….. I hear you pray
Tell me why you're squeeing on the poor,
Selling arms for illegal wars
Give your austerity a rest
(Come on now) Save the NHS
Talking abut the homeless
Things are getting desperate
Also check out a few of their previous singles:
YouTube
SoundCloud
Bandcamp
Facebook
Twitter
Instagram
iTunes
Spotify